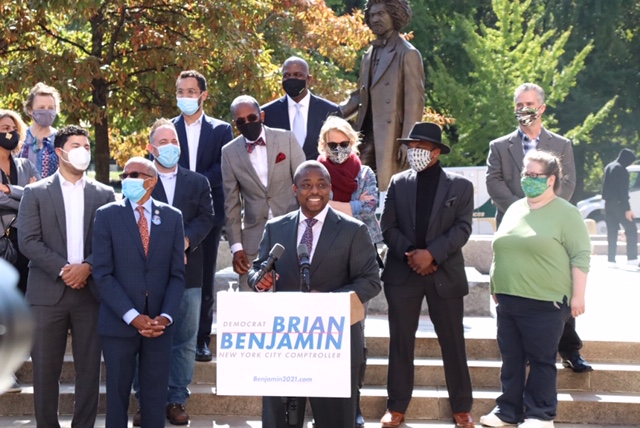 Brian Benjamin at his campaign launch
---
State Senator Brian Benjamin launched his campaign for New York City Comptroller on Thursday, officially entering the Democratic primary for the citywide position of the city's chief fiscal officer.
Stressing his finance background and work in the state Legislature on a variety of issues including police reform, Benjamin held a campaign event in his home neighborhood of Harlem, surrounded by supporters including several other elected officials endorsing him.
Benjamin, who is first on the ballot this fall for another two-year term in the state Senate representing parts of the Upper West Side and Harlem, is the first candidate to formally launch his campaign for city comptroller, a race that will culminate in November 2021 but is likely to be decided by the Democratic primary in June given the party's immense voter registration advantage.
City Council Member Brad Lander of Brooklyn has been campaigning and fundraising for many months, while Queens Assemblymember David Weprin and Brooklyn State Senator Kevin Parker have both said they are planning to run for city comptroller. All three are Democrats like Benjamin. No other candidates have emerged at this point (City Council Member Helen Rosenthal of Manhattan had been in the running but decided against mounting a full campaign).
Benjamin and Lander are far outpacing Weprin and Parker in terms of money raised, endorsements, and campaign infrastructure. The primary will be among the first city elections to feature ranked-choice voting, otherwise known as instant-runoff voting, whereby voters are able to choose up to five candidates in order of preference, and if no candidate receives 50% of the vote on first tally, the last-place candidate is eliminated and his or her votes redistributed based on those voters' second choices. The process continues until one candidate hits 50%.
Right off the bat Benjamin made his background in finance a focal point, something he's likely to continue to stress in an effort to differentiate himself from Lander, who has a long resume in city planning, community development, and policy-making. Benjamin repeatedly stressed his readiness to go deep inside the numbers when it comes to city finances.
"I will be ready on day one to zealously protect the retirements of hundreds of thousands of New Yorkers, and to use the position of Comptroller to advance progressive ideals of justice and equity for all," Benjamin said in a statement accompanying his announcement, which highlighted his "qualifications" for comptroller including "an advanced degree in business from Harvard, experience working as an investor on Wall Street, and authoring critical financial legislation such as forcing New York's pension fund to divest from private prisons."
The job of the city comptroller is to help manage the public pension funds; analyze the city budget; audit and otherwise review the work of city agencies to root out waste and mismanagement; vet city contracts; and generally provide oversight of the mayoral administration and other governmental and nongovernmental entities that impact the well-being of New Yorkers. Those who have held the position, such as term-limited current Comptroller Scott Stringer, a Democrat now running for mayor in next year's election, have also churned out policy proposals on a wide variety of issues not directly related to the position's central responsibilities as a fiscal watchdog.
The next city comptroller, set to take office at the start of 2022 along with a new mayor and many other new city officials, will be tasked with monitoring city finances at what is likely to still be a very challenging time due to the coronavirus recession. City tax revenues have plummeted due to the economic shutdown used to stem the spread of COVID-19, and several industries have been decimated, particularly tourism and entertainment, with sweeping job losses across hospitality and service sectors. The campaign for comptroller will include necessary discussion about how to balance the city budget by closing expected gaps and long-term strategies for managing city finances and government, finding savings throughout city government, and more.
According to Benjamin's campaign, he has a master's in business from Harvard, worked as an investment advisor at Morgan Stanley, then spent time at a Manhattan company helping finance and build affordable housing. He led the local community board and was elected to the state Senate in 2017. In the Legislature, he was part of all-Democratic control of state government that took hold in 2019 and passed sweeping liberal priorities into law, including gun control, voting reform, environmental and tenant protections, women's reproductive and LGBTQ rights, and more. This year, Benjamin sponsored a bill that became state law that outlawed the use of chokeholds by police officers.
At his launch event, Benjamin told his personal story of family, community, and opportunity, especially through the city labor unions that his parents were part of, and stressed the need for all New Yorkers to have support in order to succeed. He also noted, because of those family ties to city labor unions and the pensions that come with such jobs, his personal understanding of the importance of public pensions and the role of the comptroller in safe-guarding them.
Eyeing success in the comptroller's race, Benjamin starts with a base of support in his district and nearby parts of upper Manhattan, and a strong early fundraising push. He has close ties to the political establishment and is known to be well-respected by his colleagues. In order to compete with and possibly defeat Lander, who got off to an earlier start in this race, Benjamin will have to continue to develop a citywide campaign and a counterweight to Lander's support throughout New York's progressive movement, where the third-term Council member has been active for many years. Indicative of their politics, Benjamin endorsed Kalama Harris in the Democratic presidential primary while Lander backed Elizabeth Warren.
In the comptroller race, Lander has had early support from Public Advocate Jumaane Williams, a longtime ally, though they have not announced a formal endorsement. State Senators Alessandra Biaggi and Julia Salazar have formally endorsed Lander, who held a birthday fundraiser earlier this year with a long list of "special guests and supporters" including other elected officials and activists -- formal endorsements are likely to follow once he officially launches his campaign. Lander, who is white, will be counting on winning a large percentage of white progressive voters, starting in his home district of Park Slope and surrounding neighborhoods, and trying to secure support throughout communities of color, while Benjamin, who is Black, will be looking to cement a base in the city's predominantly Black communities, beginning in Harlem, and win support from other constituencies. Benjamin launched his campaign with the backing of a number of Black elected officials and leaders. How Weprin, who is white, and Parker, who is Black, and perhaps other candidates, potentially impact the race and attempt to develop momentum is to be seen.
Endorsing Benjamin at the time of his Thursday launch were Manhattan Democratic Party head Keith Wright; State Senator Robert Jackson; Assemblymembers Al Taylor, Inez Dickens, and Michael Blake; City Council Members Diana Ayala and Bill Perkins; Reverend Michael Walrond; activist Kirsten Foy; Greg Floyd of Teamsters Local 237; and Hazel Dukes of the NAACP; among others.
"I'm grateful for the outpouring of support we have already received from across the city," Benjamin said in a statement about the endorsements. "We are running this campaign to bring true progressive values and financial acumen to the Comptroller's office."
According to Benjamin's campaign, he's raised $500,000 for his comptroller campaign to date, with another $1.2 million in expected matching funds through the city's public financing system.
This article has been updated to remove mention of state Senators Jessica Ramos and Zellnor Myrie and Cynthia Nixon as having endorsed Lander - they were listed under special guests and supporters at his birthday event, but have not formally endorsed in the race. It's also been clarified to note that Williams has not formally endorsed Lander in the race.