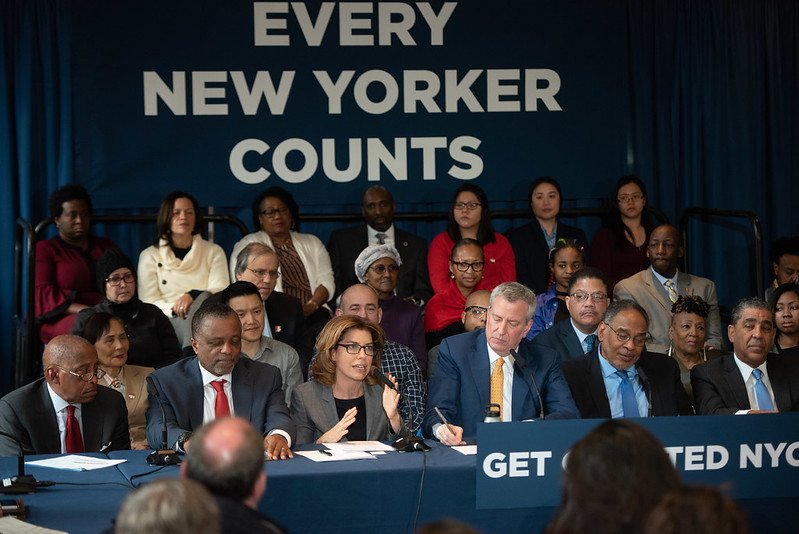 A pre-pandemic NYC Census event (photo: Michael Appleton/Mayor's Office)
---
Mayor Bill de Blasio and New York City Census officials celebrated a robust self-response rate in the Census on Tuesday, despite unprecedented hurdles posed by the COVID-19 pandemic and attempts by the Trump administration to discourage participation. The city's self-response reached an unofficial 61.8% when the constitutionally mandated decennial population count concluded last week on October 15.
The self-response rate for New York City residents was nearly the same as 2010 but came amid a slew of complicating factors that made the count the most challenging it has been in decades. The city also had a far smaller gap between its household completion rate and the national average.
New York City already has its fair share of hard-to-count populations – such as Native Americans, seniors, undocumented immigrants, African Americans, children under the age of five, people experiencing homelessness – who tend to voluntarily respond to the Census at lower rates. At the same time, the Trump administration unsuccessfully sought to place a citizenship question on the Census, which contributed to a heightened sense of anxiety among immigrant communities that are already wary of interactions with the government. The U.S. Census Bureau had been underfunded and understaffed as well, which meant there were fewer enumerators to knock on the doors of households that did not respond to initial prompts.
Then came the pandemic, forcing city, state, and federal officials to suspend in-person operations. The Census Bureau, in response, announced that it would extend the self-response period to October 31, but that timeline kept shifting and being litigated in court as the Trump administration sought, and eventually succeeded, to cut it shorter. New York City officials adapted quickly throughout, having planned and put into motion a $40 million Census outreach program, the highest funding ever from the city, which included $19 million in direct funding for 157 community-based organizations based on allocations made by de Blasio and the City Council.
Governor Andrew Cuomo and the state government had promised a $70 million Census effort that never materialized.
Nonetheless, the city's self-response rate was nearly four points higher than the Census Bureau's projections of 58% made in 2019. In Brooklyn, Staten Island, and Queens, the response rate was higher than in 2010, increasing by 1.8, 1.3, and 1.9 percentage points, respectively, according to the CUNY Census mapping project.
"What a vote of confidence in this city," the mayor said at his daily news briefing on Tuesday. "And also, what an amazing action by New Yorkers – with every effort to undermine and discourage them, they still came through. All of you came through. That's an amazing number, given what we were up against. We saw some really great results."
De Blasio heaped praise on NYC Census 2020 Director Julie Menin, whom he appointed to the role after she had led two different agencies in his administration, and her team.
Though the city's response fell behind the national self-response rate of 67% and the statewide rate of 64.2%, it nonetheless surpassed many other major cities including Los Angeles, Chicago, Boston, Philadelphia, Houston, Dallas, Atlanta, Miami, Orlando, Baltimore, New Orleans, and Detroit, among others.
It was no easy feat for the city. The city Census office and community partners held more than 1,000 events, according to a press release. There were 34 media campaigns in 27 languages. Volunteers and Census workers made more than 4 million phone calls and sent more than 7 million texts. Nearly a million New Yorkers clicked on the city's digital ads and more than 470,000 city households that are home to 1.23 million residents were either counted or got assistance in filling out the Census questionnaire.
"It's so important, because for every household over two people that is counted, that brings New York City $7,000 per year, or $70,000 over 10 years, not to mention, of course, the importance of the political representation," said Menin, at the news conference on Tuesday, referring to seats in the U.S. House of Representatives, which are based off of state population tallies done in the Census, as well as local districts within the State Legislature and other entities.
The Census determines levels of federal funding that the city and state receive on many fronts, and the population count also undergirds the process of drawing electoral districts at the city, state, and federal levels. As it stands, New York State could lose one seat in the House of Representatives because of outmigration over the last decade. A severe undercount in the Census could mean the loss of two seats.
"By any measure, what the city and the partner organizations did was really impressive," said Steven Romalewski, director of the mapping service at the Center for Urban Research, CUNY Graduate Center, and a nationally-renowned Census count expert. "And to be able to sustain the effort and to have the patience and flexibility to pivot from in-person outreach to virtual phone-banking and the like, and to still have a response rate 60% or above is really good."
Jeff Behler, director for the U.S. Census Bureau's New York Regional Office, praised city officials for their success. "I've never seen the level of effort – and this is my third Census – that I've seen with the partners throughout New York City," he said in a phone interview, pointing out that thousands of planned events had to be scrapped when the pandemic hit. "I'm amazed at 61.8%, given the fact that...due to COVID the ability to bring people together was eliminated."
Though the count is over, the Census process is far from done. There is still pending legislation in Congress that would extend the time that the Census Bureau has to deliver Census data to the White House, which has set a December 31 deadline for that to happen. The Trump administration is also attempting to exclude undocumented immigrants from that data before it delviers it to Congress for the apportionment of electoral districts, a decision that has been challenged and will be heard in the Supreme Court next month.
City officials and advocates are closely monitoring those developments, fearful that if the administration succeeds, it could skew the data, particularly in jurisdictions like New York City with large populations of undocumented immigrants.
"For more than a year, there has been a statewide New York Census operation, which understood that it was up against an administration that would do everything it could to keep immigrant New Yorkers from being counted, and acted accordingly," Meeta Anand, the Census 2020 Senior Fellow for the New York Immigration Coalition, said in a statement. "Thanks to the litigation to date, our partners used every minute, hour, and day of almost two extra weeks to ensure that every New Yorker—regardless of legal status, age, or country of origin—were counted. Now, we must build on that momentum and finish the last few days of the 2020 Census New York strong!"