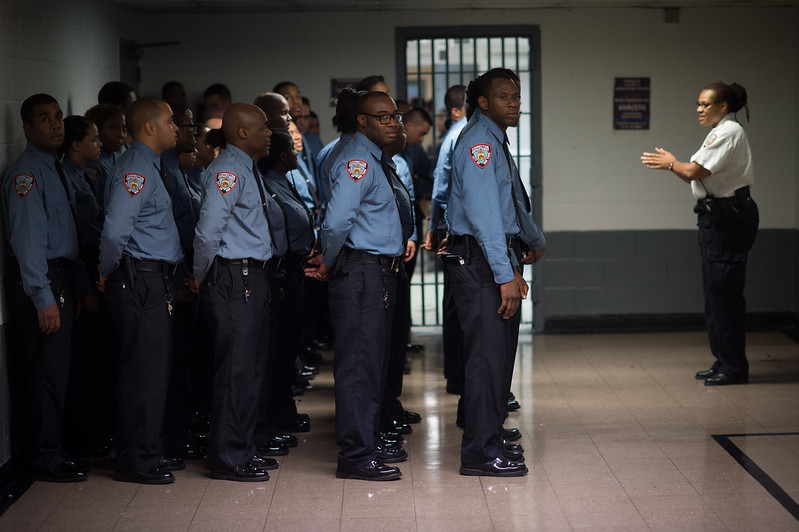 Guards at Rikers Island (photo: Michael Appleton/Mayor's Office)
---
A working group that Mayor Bill de Blasio created earlier this year to craft a plan for ending the use of solitary confinement in city jails is going to deliver its report to City Hall in the "next several days" and its recommendations could become city policy within six weeks.
Board of Correction Chair Jennifer Jones Austin broke the news in a Wednesday appearance on the Max & Murphy podcast, hosted by Gotham Gazette and City Limits. "The working group is very close to completion of the plan to end solitary confinement," said Jones Austin. "And it's my understanding that literally in the next several days, they will be presenting the plan to the City of New York and to the Board of Correction, and then we are going to go into public comment."
De Blasio convened the working group in June, aiming to end the practice of solitary confinement, also known as punitive segregation, in the city's jails system. The working group included Board of Correction Vice-Chair Stanley Richards, Department of Correction Commissioner Cynthia Brann, and Just Leadership USA President and CEO DeAnna Hoskins, while Benny Boscio, President of the Corrections Officer Benevolent Association (COBA), was invited to be the fourth member. Richards and Hoskins declined to comment for this article through spokespeople.
A spokesperson for COBA did not respond to a request for comment, but Jones Austin said Boscio "brought his concerns to the table" during the working group's deliberations.
"We need to make changes immediately in how people who are incarcerated in our jail system are handled and we need to make sure they are safe," de Blasio said at the time, while also announcing immediate reforms. The announcement came three days after the mayor had announced disciplinary action against 17 correction officers for the role they played in the death of Layleen Polanco, a transgender woman who died a year earlier on Rikers Island after suffering an epileptic seizure in solitary confinement.
The mayor said people with underlying medical conditions would no longer be placed in solitary confinement. "We have a lot to do to create more safety for people who are incarcerated and for our correction officers and employees alike. But we know there are ways we can do this without punitive segregation," he said.
On the podcast Wednesday, Jones Austin said the report of the working group "will be incorporated into the [Department of Correction] rules, it'll be certified, we'll bring it to the public for comment, and then we will have a vote on the rule, probably sometime hopefully in the next four to six weeks."
Criminal justice reform advocates have been calling on the mayor to end solitary confinement for years and the coronavirus pandemic has only lent added urgency to their demands. Time and again, they have pointed out, there have been glaring examples of the harmful effects that solitary confinement can have on detainees.
Before Polanco, there was the story of Bronx teenager Kalief Browder. Arrested on charges of stealing a backpack, Browder could not post bail and was detained on Rikers for three years, most of which was spent in solitary. He never went to trial and the charges were eventually dismissed. But he suffered immense physical and psychological harm during his detention and, in 2015, he died by suicide.
Browder's case prompted consistent outcry and, over the years, the city responded by slowly phasing out solitary confinement for anyone 21 years old or younger. It also led to the introduction of speedy trial legislation, named "Kalief's Law," in the state Legislature – though that specific bill did not pass, the Legislature did approve another law to provide for speedier trials in the state by tightening timelines.
When the mayor announced the working group in June, advocates welcomed the news but said it was an unnecessary delay tactic and that the mayor should have ended solitary confinement already in the wake of cases like Polanco's and Browder's. They also raised concerns about the inclusion in the group of COBA, which has repeatedly argued in favor of solitary confinement as a measure to ensure the safety of correction officers.
In October 2019, the NYC Jails Action Coalition and the #HALTsolitary Campaign released a blueprint for ending solitary confinement that would establish minimum standards for out-of-cell time for all jail detainees by eliminating exception for those who are in solitary or in Enhanced Supervision Housing (ESH) units, create time limits for a person being housed in an ESH or other alternative unit, and severely restrict the use of restraints, among other measures. The groups have also been pushing at the state level for the passage of the Humane Alternatives to Long-Term (HALT) Solitary Confinement Act.
"Decades of research show that solitary is ineffective, dangerous, and, too often, deadly," the #HALTsolitary Campaign said in a statement after the mayor's announcement in June. "The Mayor has the power to eliminate this torture immediately and the community provided him with a detailed plan for doing so last October."