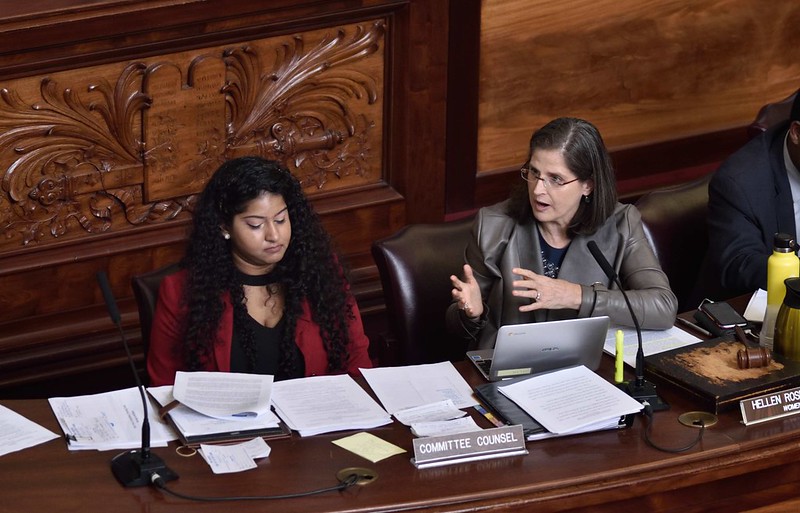 City Council Member Helen Rosenthal, right (photo: John McCarten/City Council)
---
New York City Council Members will hold an oversight hearing Wednesday on "sexual and reproductive rights in New York City" and consider a package of legislation on those subjects, at a joint hearing of the Council's Committee on Health and Committee on Women and Gender Equity.
The bills cover a wide range of issues, including access to contraception, establishing a board on gender equity in hospitals, and providing health care professionals with training on how to identify the signs of female genital mutilation. Most of the bills fall under the World Health Organization's 17 indicators of reproductive health, according to a City Council spokesperson.
The hearing comes at a time where reproductive rights in the United States are again at the center of the national political conversation, amid a presidential election, the recent death of Supreme Court Justice Ruth Bader Ginsburg, a strong supporter of abortion rights, and the confirmation of Justice Amy Coney Barrett, who has expressed opposition to abortion, to replace Ginsburg on the high court, tilting it further toward conservatives and raising concerns among pro-choice Americans that the Court's Roe v. Wade ruling could be overturned.
The National Organization for Women's New York City chapter issued a statement soon after Justice Barrett was confirmed, signaling that women's reproductive rights may now be at stake with her on the bench.
"We're on the brink of losing our hard fought right to choose. We're going to have to fight like never before to protect our rights and those of the next generation," said Sonia Ossorio, President of NOW-NY.
In New York, abortion protections provided by Roe v. Wade were codified into state law last year, while insurance companies were also mandated to cover contraception. But various aspects of reproductive health continue to be debated and discussed.
Among those testifying at Wednesday's hearing, which is expected to largely focus on the bill package but to also look at sexual and reproductive rights more broadly, will be representatives of the New York City Department of Health and of the city's Commission on Gender Equity, according to City Council Member Helen Rosenthal, a Manhattan Democrat who chairs the Council Committee on Women and Gender Equity.
In an interview, Rosenthal said that the package of bills is a result of meetings with experts to figure out how to best support women's reproductive health.
"The Women's Caucus, and the BLAC -- the Black, Latino, and Asian Caucus -- has been meeting jointly on a number of these issues, to hear from advocates, activists, and medical professionals themselves, who are experts in these areas. And that's why you have this broad range for very thoughtful legislation," she said.
Rosenthal is the lead sponsor on a bill that would create an advisory board on gender equity in city hospitals. The bill was written after a group of female medical students sued Mt. Sinai hospital for gender discrimination last year.
Rosenthal said that gender-based discrimination in hospitals not only harms the employees, but also affects the patients as well.
"If a doctor berates a female medical student who is responsible for a particular patient and then leaves the room, how is that patient supposed to respect that medical student?" she said.
The board would consist of 13 members, including city officials as well as members of the medical community and students.
Both emergency and long term-reversible contraception would be made available at Department of Health and Mental Hygiene facilities if a bill sponsored by Council Member Carlina Rivera, a Manhattan Democrat who chairs the Council's Committee on Hospitals, is passed.
The bill would provide free or low-cost access to the insertion or removal of long acting-reversible contraception such as an intrauterine device or subdermal contraceptive implants.
As chair of one of the committees at hand, Rosenthal will lead the oversight portion of the hearing along with Council Member Mark Levine, a Manhattan Democrat who chairs the Council's health committee, while other members of the two committees and of the larger Council who decide to participate will also be able to ask questions of those testifying.
Also in the package of legislation are two bills on female gential mutilation and cutting, which aim to create an advisory board and educate health-care professionals on how to identify the practices. Female genital mutilation is outlawed in New York State but has gone underground and continues to affect an estimated 60,000-plus women in the New York and New Jersey metro area, according to Council Member Rosenthal, who is the lead sponsor on the education bill.
"When a medical professional, a doctor, is presented with someone who is trying to get pregnant or who may already be pregnant and has undergone female genital cutting," Rosenthal said, "that doctor needs to know what they're looking at. And many doctors don't."
According to the U.S. Department of Health & Human Services' Office of Women's Health, female genital mutilation and cutting may complicate a childbirth if not properly identified by a doctor.
The bill seeking to establish an advisory board for female genital mutilation and cutting, sponsored by Council Member Alicka Ampry-Samuel, a Brooklyn Democrat, would help educate providers and establish guidelines on the identification and protection of those at risk of the practices.
The board would also change the way the city collects data on the practice and would develop outreach campaigns aimed at preventing such practices from occurring.
In a follow-up to his original bill, which required that employers provide breastfeeding employees with on-site lactation rooms, which went into effect last year, Council Member Robert Cornegy, a Brooklyn Democrat, is sponsoring a bill that would require lactation rooms to be regularly inspected by the city Health Department and also provide training on how to prepare and clean the rooms.
Also on the agenda for the hearing is consideration of a bill introduced by Council Member Danny Dromm, a Queens Democrat, that is aimed at preventing medically unnecessary procedures on intersex infants will also be considered on Thursday. If passed, it would create a public outreach campaign to educate New Yorkers about "medically unnecessary treatments and interventions performed on infants born with intersex traits." The bill would also postpone any procedure until the intersex person can make an informed decision about the procedure, rather than having that decision made at birth by their parents.
Along with the bills under consideration, the Council will be considering two non-binding resolutions on abortion, one specifically calling on the federal government to rescind the changes on Title X funding issued last year, which prohibits health care providers who recieve federal funding from performing abortions or providing abortion referrals to patients as a part of family planning.
According to the resolution, introduced by Council Member Diana Ayala, a Democrat representing parts of Manhattan and the Bronx, the federal changes disproportionately impact communities of color and low-income communities whose members rely on Title X clinics for reproductive and preventative health care services.
The second resolution, proposed by Council Member Margaret Chin, a Manhattan Democrat, calls on federal and state legislators to oppose a ban on sex-selective abortions, arguing that they perpetuate a racial stereotype against Asian-American and Pacific-Islander women. A ban on sex-selective abortions, according to the resolution, could potentially lead to further restrictions on access to abortion and "scrutinizes a woman's reasons for making the decision to terminate a pregnancy."