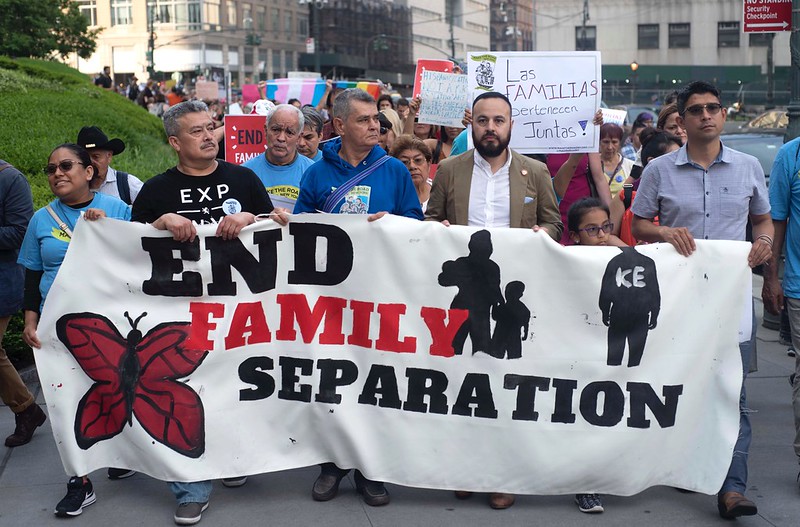 A march to end family separation at the border (photo: John McCarten/City Council)
---
After four years of the Trump administration's cruel and hard-line policies intended to slow immigration to a crawl, immigration advocates in New York and beyond were overjoyed that Democrat Joe Biden will become the next President of the United States. Biden and his running mate, Kamala Harris, ran on a promise to immediately overturn Donald Trump's many punitive and limiting administrative actions on immigration and to pursue comprehensive reform of the immigration system.
Now, a coalition of advocates in New York plans to hold the new administration to those promises and is launching a $1 million campaign to apply pressure and ensure a set of policies is prioritized and passed.
New York Immigration Coalition Action, the political arm of the nonprofit advocacy group New York Immigration Coalition, announced the new campaign on November 7, a day after the presidential election was declared for Biden. As voter turnout reached an all-time high, advocates say that immigrants voted for Biden in record numbers.
"The last four years for immigrant communities have been the most difficult possible," said Rovika Rajkishun, interim co-executive director of NYIC Action, in a phone interview. "Just everything that the Trump administration could throw at immigrant communities they did. So this is definitely a turning point for us, as a community, as an organization."
The $1 million, roughly half which they have already raised, will go towards grassroots mobilization, grants for local organizations, and media campaigns focused on pushing the New York congressional delegation, she said, to ensure that federal and state elected officials recognize the strength of the immigrant vote in the state and pursue federal policies that benefit immigrants.
Right after Biden's win was called on Saturday, NYIC Action pledged to launch the "unprecedented" campaign "to ensure every single member of Congress in New York, with New York Senator Chuck Schumer leading the way, works to win immigration reform that will bring the justice and freedom—not only from Trump's racist policies, but from our failed immigration system that has been broken for decades."
Schumer, currently the Senate minority leader, could become immensely influential as majority leader if Democrats can take the Senate via upcoming special elections in Georgia. And Brooklyn Rep. Hakeem Jeffries is again pursuing a leadership position in the Democratic majority in the House of Representatives.
"We're just not going to let the campaign and the administration forget that immigrants are really important to this country," said Rajkishun. "Just because we have a Democratic president and vice president doesn't mean that we're going to sort-of let up in making sure that immigration is at the top of the agenda."
After he ran for president on an anti-immigrant agenda, the list of Trump's policies that have done unquantifiable harm to immigrants, both documented and undocumented, is seemingly endless. He moved to suspend the Deferred Action for Childhood Arrivals (DACA) program that prevented deportation for immigrants who were brought to the country as children and allowed them to work here. He ended Temporary Protected Status (TPS) for nearly 400,000 immigrants from six countries who had fled the likes of natural disasters and armed conflicts in their homelands. He put in place a travel ban on certain Muslim-majority countries. His administration enacted a "zero tolerance" policy at the border to increase criminal prosecutions for illegal entry, and separated thousands of children from their parents to discourage both legal asylum seekers and illegal entry. He significantly curtailed refugee resettlement and asylum programs. He tried to prevent undocumented immigrants from participating in the Census. He tried to create a "public charge" rule that would deny green cards to immigrants who may require public benefits in the future.
Many of Trump's policies were enacted administratively or through executive order and Biden has pledged to reverse all of them in his first day in office. He vowed to fully reinstate DACA, to end prolonged detention of children at the border, improve the asylum management system, stop the diversion of funds from the Department of Defense for a border wall, rescind travel and refugee bans, increase transparency and accountability for Immigration and Customs Enforcement (ICE), and order a review of the TPS program, among other things.
Rajkishun's organization helped get out the vote for Biden and for other Democratic candidates in New York, reaching out to more than 1.2 million immigrants in the state alone. And she does not want the new administration to take that support for granted. "We are looking for the new administration to reverse, on day one, a number of things that they promised that they will," she said, including "a stay on deportations, restoring DACA...starting to work on uniting families, and all of those things that they've talked about on the campaign trail."
Biden has also committed to pursuing legislation giving 11 million undocumented immigrants in the country a path to citizenship. But that will require legislation to pass through Congress, the chances of which are likely to be bleak if Republicans retain control of the U.S. Senate. As votes continue to be counted, the majority is likely to come down to two Senate runoffs in Georgia, with voting to conclude January 5, just ahead of January 20's Inauguration Day.
Rajkishun said NYIC Action is reaching out to organizations in Georgia to offer support. "That would change things significantly when it comes to immigration reform," she said of Senate control.
For advocates, it's not just enough for Biden to undo Trump's record. Rather, they want him to redeem what they see as failed policies from when he served as vice president under President Barack Obama for two terms. Obama was infamously termed the "deporter in chief" for massively increasing deportations in his time in office and, because of Republican opposition, was unable to accomplish wholesale reform of the broken immigration system. Rajkishun is optimistic that Biden has recognized those mistakes. "What he's said is that he's not Obama. He is his own person, he will be his own type of President and in that we heard him really trying to make up for what happened," she said of Biden.
Even if the Senate should remain in Republican hands, Rajkishun has a sliver of hope that bipartisan reform may yet be achieved, particularly after the strong showing of immigrant voters in the election. "I just think that it would be a huge mistake for even Republicans to not recognize that immigrant voters do have power and they are using that power," she said.