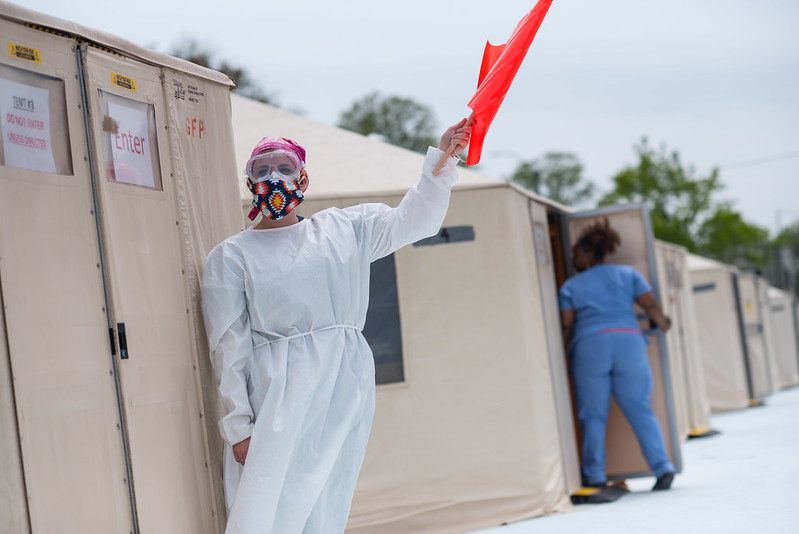 Covid testing (photo: Michael Appleton/Mayoral Photography Office)
---
City Council members and public health professionals gathered over Zoom late last week to discuss how the city can better support public hospitals so that they're prepared for a potential second wave of COVID-19, which experts say could overlap with the annual flu season and recent case upticks indicate may be looming.
The public hearing — held by the Council's Committee on Hospitals and billed as an oversight hearing "Examining the City's Support of NYC Hospitals During the COVID-19 Pandemic" — covered issues including the widely agreed upon underfunding of public hospitals, access to personal protective equipment, and improving equity.
Looking ahead, Council members said one key goal is to mitigate the disease's disproportionate effects on working-class people and people of color, the very people who are disproportionately "essential workers" and who the city's public hospital system, NYC Health + Hospitals, struggled to serve during the worst of the initial outbreak, especially in Brooklyn, the Bronx, and Queens.
The hearing, chaired by Council Member Carlina Rivera, a Manhattan Democrat, featured representatives from Mayor Bill de Blasio's administration and from the public hospital system who defended the city's record and said the city is ready for another surge of coronavirus cases. After city officials testified, advocates spoke on issues like funding for Health + Hospitals (H+H) and equity for marginalized people.
"This pandemic proves that our healthcare system is too disparate, not just in times of crisis but year-round," Rivera said in her opening statement. "We are committed to ensuring that the path we build forward out of this pandemic is more equitable for all."
Joined only by Council Members Mark Levine and Diana Ayala, Rivera asked about PPE access, transfers between hospitals, equity, and the city's preparedness for a second wave, while officials signaled cautious optimism thanks to lessons learned from March and April. "We are better at caring for sick patients" now, said H+H President and CEO Mitchell Katz.
At the height of the pandemic, the public hospitals struggled to provide their employees with adequate PPE such as N95 masks, gloves, and gowns. Katz said the hospital system ordered PPE in January but "those shipments never arrived" because of a surge in demand worldwide. But NYC Emergency Management Commissioner Deanne Criswell said the city will be prepared this time around for whatever comes its way.
"Each hospital, even outside of the NYC Health + Hospital system and the independents, all have their own 90-day supply of PPE," she said, "and then through our PPE Service Center we have an additional 90-day supply of PPE." Criswell said the city also monitors state and federal PPE stockpiles.
According to NYC Test and Trace Corps Deputy Executive Editor Jackie Bray, some of this PPE can be manufactured in New York, but other equipment, like N95 masks, must be purchased from outside the state.
Katz also said that the city is unlikely to experience the same ventilator issue it faced in spring. "Intubation is not always the right answer," he said; in fact, many patients do better with non-invasive ventilation, like devices that push air into the patient at high pressure.
Katz also shared takeaways about transferring patients between public hospitals, an important issue since during the height of the outbreak in the spring some intensive care units, especially in parts of Queens, were much more crowded than Manhattan ICUs. But there were some cases where hospital administrators wanted to transfer people between H + H hospitals but didn't because they were unstable.
"You can't put a patient into an ambulance to go to a less crowded hospital if you think they're about to go into cardiac arrest," Katz explained. If there's a second wave, "we will stabilize patients and transfer them before we run out of space in our ICUs so that every hospital will still have available ICU beds." This could help ensure that New Yorkers, especially people of color and working-class people who live in areas without many hospitals, can still access adequate care.
H+H has also changed the physical layout of its rooms, adding windows so that people can see each other without breathing each other's air, putting video and sound monitors in every room so that nurses understand patients' needs before they visit them, and expanding use of tablets for patients to communicate with loved ones, Katz said.
Something else the city hopes to do is send out health-related text message alerts in more languages. Notify NYC, the city's emergency alert system, recently began sending text alerts to more than 31,000 New Yorkers in Spanish, but it hopes to expand. "One of our goals as we move forward is to work with our messaging platform and cell service providers to be able to issue these real-time alerts in additional languages," Criswell said.
After officials spoke, advocates discussed issues of underfunding and inequality. H+H, which is run by the city but technically its own public benefit corporation, gets funding to treat uninsured patients from the state and city governments, and has faced what some call chronic underfunding. The pandemic has only added to the hospital system's expenses, though significant federal aid has helped.
Elisabeth Benjamin, Vice President of Health Initiatives at the Community Service Society of New York, a nonprofit focused on the city's most vulnerable residents, said historic underfunding is part of the reason the pandemic had a worse effect on people of color and people living in boroughs other than Manhattan. "New York State has made a series of policy decisions that have resulted in really unfair allocation of health-care resources, that have in fact exacerbated the disparities in the covid pandemic," she said.
They include giving aid to bad actors among private hospitals that could've gone to public hospitals, Benjamin said. She pointed out that while hospitals in Manhattan have grown, hospital closures have negatively affected communities in the less wealthy boroughs and neighborhoods, including areas served by Elmhurst Hospital, which was overwhelmed during the worst of the first wave in New York and is situated near the sites of four closed hospitals. The Queens neighborhoods around Elmhurst Hospital, an H+H facility where mobile morgues stored increasing numbers of dead bodies this past spring, was one of the areas hardest hit by the pandemic.
Benjamin also criticized the city's use of indigent care pool funding, which is funding from the government that's meant to go to hospitals that serve poor people. "Every hospital gets a little bit of this funding, whether they serve poor people or not, whether they offer financial assistance or not, whether they sue their patients or not. That's wrong," Benjamin said. The state recently closed a loophole allowing hospitals to collect funding from the indigent care pool for bad debt even if that debt was from wealthy people, but Benjamin said that's not good enough. "Maybe we should only then be spending the indigent care pool money on the hospitals that are about to go under first of all, but also that serve high-need communities and communities of color." Coronavirus-spurred CARES Act funding from the federal government also went more to private than public hospitals, Benjamin said.
"I agree with you wholeheartedly," Council Member Rivera told Benjamin.
The devastating coronavirus outbreak in the city led to and exposed a shortage of skilled medical staff and a lack of PPE. Judith Cutchin, a director of the New York State Nurses Association and director-at-large at Woodhull Hospital in Brooklyn, said that at the height of the pandemic, it was possible for one nurse to have to tend to "as many as eight patients at a time." According to the New York Times, the situation was even worse than that in some places. "In the emergency room, where best practices call for a maximum of four patients per nurse, the ratio hit 23 to 1 at Queens Hospital Center and 15 to 1 at Jacobi Medical Center in the Bronx," the Times reported.
"This is unacceptable," Cutchin said, later adding that when the hospitals did hire more workers or recruit them from other departments within the hospital, she was concerned by the last-minute nature of their training. "We are going into a next surge and we have to assure that people are properly trained," Cutchin said. "Lives are at stake."
Anthony Feliciano, Director of the Commission on the Public's Health System, a nonprofit that advocates for equal access to healthcare, said he thinks funding for public hospitals should come from the budget of the NYPD, echoing calls to "defund the police" in light of the Black Lives Matter movement that surged earlier this year after high-profile police killings of Black people in other parts of the country. "We need to ensure that the Board of Health declares racism as a public health crisis," Feliciano said.