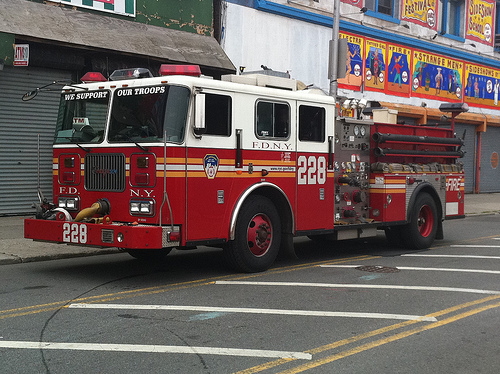 September 11, 2001 made it clear that steps should be taken to help New York City firefighters do their jobs more safely and effectively. After spending 42 years of service with the Fire Department of New York, I have twelve specific recommendations.
1. Without radio communication, officers cannot command and control firefighters' response to a fire or an emergency. New York City firefighters need antennas installed in high rise buildings to enhance the signal of their portable radios. Fire officers in New York City need portable radios that transmit messages from the lobby to the roof, and from the lobby to the lowest cellar of a high-rise building.
2. The department needs a firefighter tracking system so officers can better supervise and control the movements of firefighters during smoky building fires. The current protective alarm signaling system (called "PASS" alarm) only reacts when a firefighter is trapped or unconscious. The fire service needs a tracking system that can keep firefighters from being trapped in the first place and would allow the officer in command to know the locations of every firefighter in a smoke-filled high-rise building.
3. To improve and coordinate officer command at fires, New York City fire officers should attend incident commander training at the National Fire Academy in Emmitsburg, Maryland. New York City fire chiefs and company officers rarely attend the school, which is the nation's top training academy.
4. To help them analyze a fire in a high-rise building after they arrive on the scene, firefighters need helicopters. From a helicopter, firefighters can size up fire and smoke on the upper floors of a burning high-rise building, rescue people trapped on the roof and spray a thousand gallons of water into the building's upper floors. The Los Angeles Fire Department has six helicopters and dispatches two to every high-rise fire.
5. New York City firefighters need new fireboats to help them respond to fires in buildings near the waterfront. After the World Trade Center collapsed, the water main and hydrants were buried and broken. One of the fireboats that supplied water to the fire department on September 11, 2001 was the John J. Harvey, a boat that was sold for scrap metal several years ago. The fire department used to have nine large fireboats protecting the waterways. Today they have two.
6. Firefighters in New York City also need new self-contained "rebreathing" masks. The fire service has used the same 35-pound mask since the 1950s, a mask that, according to the New York City medical division only supplies air for eight to 15 minutes. Firefighters need a lightweight mask that weighs 10 or 15 pounds and can provide two hours of breathable air.
7. The fire department needs an officer and five firefighters on every engine company responding to a high-rise fire. Today engine companies in New York City with only four firefighters must wait for another company to arrive before they can position the four lengths of hose that is necessary to extinguish a high-rise fire in a large open floor.
8. To improve training, New York firefighters need a computerized virtual simulator to make training more realistic. Virtual simulators are used to train people to bring ships into the port of New York and for landing planes at New York airports.
9. The fire department also needs robots. Robots could be used to attack fires in superheated atmospheres and search for hazardous material. The eighth annual firefighting robot competition was recently held in Hartford, Connecticut.
10. The department should have a computerized dispatch system that can warn the first firefighters to respond about hazardous building construction and materials. For example, the World Trade Center had a lightweight, steel bar floor construction with truss joints that collapsed. Those who first responded to the scene were not warned about this construction. Many hazards are discovered by firefighters during fire-prevention inspections, and firefighters should know about them before they arrive at a fire.
11. To improve rescues at fires in high-rise buildings, the fire department should have high-rise tower ladders. The maximum reach of a tower ladder in New York City is 75 feet, a height that does not extend to the roofs of many Manhattan apartment houses, let alone a high-rise building. The New York City fire department used to have 100-foot towers, but they were eliminated in the 1990s.
12. Finally, there is also a specific way to improve the command structure for firefighters in one area of the city: central Harlem. The New York fire department should return Harlem's Fifth Division headquarters back to service. Since the division was eliminated in the 1990s, the community of upper Manhattan from 110 Street to 207 Street has had no centralized command.
Vincent Dunn a retired New York deputy fire chief, teaches about fire protection and firefighting strategy at Manhattan College, John Jay College and the National Fire Academy.