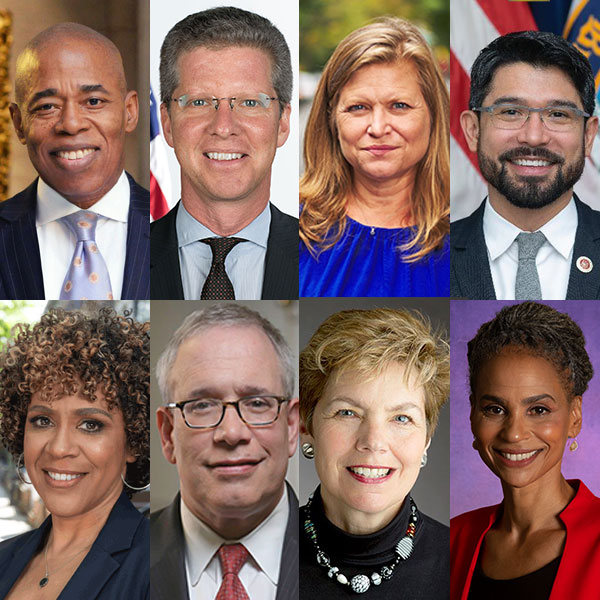 l-r: (top) Eric Adams, Shaun Donovan, Kathryn Garcia, Carlos Menchaca, (bottom) Dianne Morales, Scott Stringer, Loree Sutton, Maya Wiley
---
With the 2020 elections over -- but for the counting of absentee ballots across the city and state -- greater attention is turning to New York City's 2021 local elections, including an increasingly-crowded race for mayor. The first candidate forum of the 2021 cycle was held by the Jim Owles Liberal Democratic Club last month, featuring seven Democratic mayoral candidates: Brooklyn Borough President Eric Adams, former U.S. Housing and Urban Development Secretary Shaun Donovan, former city Sanitation Commissioner Kathryn Garcia, nonprofit executive Diana Morales, Brooklyn City Council Member Carlos Menchaca, City Comptroller Scott Stringer, and civil rights attorney Maya Wiley, who was counsel to Mayor Bill de Blasio.
On Thursday night, those seven, plus former city Veterans Affairs Commissioner Loree Sutton, participated in a forum hosted by the West Side Democrats. Former Citigroup executive Raymond McGuire, who is the most recent entrant into the race but like several others in the field has not formally launched his campaign, did not participate in the forum, nor did military veteran and nonprofit founder Zach Iscol.
The online forum, which had a quick pace to ensure the more than 350 viewers could hear from eight candidates in a reasonable amount of time, continued to show the early dividing lines in the Democratic primary field, with candidates staking out different "lanes" based on their political ideologies and personal and professional experiences. The party primaries for mayor and all other elected positions in city government will be held in June of next year, and they will feature ranked-choice voting.
During Thursday's forum, candidates were given six minutes to speak about their candidacies and priorities for the city and then questioned for an additional three minutes by a group of West Side Democratic Club leaders, who asked questions submitted by club members. The candidates appeared one at a time and answered a different set of questions.
Eric Adams
The candidates went in alphabetical order, with Brooklyn Borough President Eric Adams kicking off the event. "I think we're all breathing a sigh of relief, but let's not kid ourselves, there's still anxiety in this city," Adams said, referencing the results of the presidential election.
"I get it," Adams emphasized, listing a series of quality of life concerns and painting a bleak picture of New York City, from rising crime rates to public drug use and urination. He warned of a possible return of less prosperous times for the city in the wake of the pandemic. Speaking from personal experience, Adams told the audience, "I went through a lot. It's time to have a mayor who's gone through a lot to help people who are going through a lot."
"Our cities are made up of agencies and if the agencies aren't doing their jobs, it doesn't matter how much money we throw at them," Adams said, noting that "inefficiency leads to inequality" and "the inability for agencies to coordinate is failing this city." He called out the Department of Education in particular for the poor nutritional quality of school meals and "historically failing black and brown boys year after year."
"You're doing your job as taxpayers. We're not doing our job of effectively running this city," Adams said.
Adams said that his time in the NYPD taught him city agencies need to go from being "reactive to proactive to predictive." He also said that "Public safety is a prerequisite for prosperity in this city, but I believe we're slipping back." He called policing "a noble profession," but that he believes "we can be safe and we can have the justice we deserve," which he said means rooting out offices unfit for the job.
On housing, Adams said, "I believe we are failing in NYCHA and real affordable housing" and to combat this, he supports "upzoning all throughout the city" because "the problem of real affordable housing is a citywide problem." He said that "high transit areas," presumably including the Upper West Side where the host club is based, "need to share that prosperity with the rest of the city."
Shaun Donovan
Donovan said he's running for mayor because he's a "lifelong New Yorker who grew up in another time of crisis," referring to the 1970s. A veteran of Mayor Michael Bloomberg's administration, Donovan stressed that he was there for the first and last days of Barack Obama's presidency, serving that administration in multiple roles.
He said he's spent his career "on the frontlines of housing and homelessness and racial and economic justice," while also noting his emergency management experience relating to the federal responses to the 2008-2009 Housing Crisis, Hurricane Sandy, and Ebola.
Donovan said his progressive politics and record of accomplishment in government make him "the best candidate to lead this city because I combine the biggest, broadest vision for change with the deepest experience to accomplish it." He also claims that he is the "real, true progressive in this race," which several other candidates would be quick to dispute, based on what he's actually gotten done.
Donovan discussed several broad planks of his vision for the city, including creating "21st century streets...without cars dominating our streetscape," but didn't offer specifics for what that would really look like.
On housing, the former HUD Secretary said, when asked about the proposal, that "Land banks are a critically important example of the ways we can ensure public ownership of land." He said that the city needs to "reimagine our right to shelter as a right to housing" because "if we believe we're going to solve homelessness with homeless programs alone we're going to fail."
While Donovan declined to voice his support for "defund the NYPD" as a slogan, he said he did "support reducing, reimagining, and reinvesting our criminal justice system." As mayor, he would want to "reduce [the NYPD's] role and focus them on guns and violent crime," including by removing the police from schools, homeless outreach, and other tasks.
Kathryn Garcia
Garcia pitched herself as "the go-to crisis manage for New York City" in recent years, citing her role as the "food czar" during the early months of the pandemic and leading the city's response to the lead crisis at NYCHA, touting a 20% reduction in children with lead poisoning under her leadership. "You won't find someone with more municipal crisis experience than me," she said, also referencing her work as sanitation commissioner under Mayor de Blasio and working on clean water under Mayor Bloomberg.
Garcia said that the rising covid rates have "been extraordinarily concerning" and that the only way to end the crisis will be "fast, free, and easy access to a vaccine." She pitched herself as the best-equipped person to ensure that happens, saying, "I'm an operations person. This is what I do best."
She also said that in the coming months that the city should keep open "as much as possible, but in a safe way," noting that visiting a museum is much safer than indoor dining as an example.
Additionally, she proposes free childcare for families with incomes less than $70,000 a year to combat what she describes as a "childcare crisis," particular for working mothers.
Noting the city's fiscal woes, Garcia said that she would "prioritize core services," such as sanitation, fire, parks, water, and education, and to "stop wasting money on ineffective band aid solutions" because "we know tax revenue is down so we can't afford to be wasteful."
She mentioned a few examples of where she's seen inefficiency in city government, including that she believes there are too many different technology offices and chief officers, the city's resiliency and climate offices should be combined, and that she's not sure what the public engagement division actually does.
Garcia sounded an optimistic note on the chance for a federal stimulus, saying, "I have a lot more confidence that we will get some relief from a Biden administration." However, she also said that "it won't be enough to close every gap."
When asked if she thought the Office of Public Advocate was unnecessary, Garcia answered "I'd love to keep Jumaane in that role...but it is the question of if you need an ombudsman at that scale."
Carlos Menchaca
"Covid has changed everything for the entire city," Council Member Carlos Menchaca said at the beginning of his remarks, but "what I want to bring is a whole different way of thinking about government that starts with community." He directly criticized Mayor de Blasio, saying his "entire time has really been removing power from communities from making decisions that are best for them."
He praised Sunset Park, one of the neighborhoods in his district, for building "100% affordable" housing developments and "not waiting for towers of luxury housing to come to displace our communities." According to Menchaca, "those units went so low in terms of access that local residents are able to afford them."
The term-limited Council member also said that he wants "to bring universal basic income to the city of New York through pilot programs. I think this is something that can really change how people access not just housing but all the things they need."
He had harsh words for both Mayor de Blasio and Governor Cuomo, saying they "represent some of the worst kinds of politics." As an alternative, he pointed to his opposition to the Industry City rezoning proposal, which he helped kill, telling the West Side Democrats that "we did our homework but I also shared that homework with transparency" and "that's how I'm going to run this mayor's office."
Dianne Morales
"This is the greatest city in the world but we're falling short," Morales told the West Side Democrats. "A system that works for some of us is not good enough," she went on to say, and "the multiple crises we've been navigating are the result of deeply ingrained systems and structures."
Morales says she's running because "We've got to live up to the rhetoric of being the greatest city in the world." To do so, she says "it's time to throw out the old playbook...the people who are closest to the problems need to be part of the solution."
Asked about the idea of NYCHA public housing becoming resident-run, she said believes that "NYCHA, with the right support, should be handed over to community ownership."
Additionally, on housing overall, the city "should be adopting models that increase community ownership and community decision-making over their housing"
Morales described the current school year as a "lost opportunity" for desegregation, stating "there's no reason why we couldn't have begun to experiment with desegregating classes with virtual learning." For example, she said that the best teachers on the Upper West Side could have been paired with poor students of color in Brooklyn.
When asked about municipal property taxes for small homeowners, Morales said that she thinks "the city needs to find other ways to cover those expenses." She reiterated that "we need to cancel rent," she said, because evictions are "only going to further compound the issues and challenges we're dealing with in this city." She also said something must be done to help make small landlords whole in such a scenario.
Scott Stringer
"For me, this is somewhat of a homecoming," Stringer said at the start of his segment, noting that his political career began on the Upper West Side and with the West Side Democrats' forerunner clubs. He told the attendees that the city needs a mayor who "continues to be progressive, but is also competent in management."
Stringer said that he knows "a mayor needs to be specific," and highlighted his "25-point small business plan" as an example of his policy specificities. As part of that plan, he said "we're going to have to incentivize our small businesses to move to vacant corridors," as well as provide other support for small businesses, such as with technology. Stringer, whose long list of policy plans have been produced through the work of the very large government agency he runs as comptroller, also pointed to his affordable housing plan.
Stringer was among Mayor de Blasio's harshest critics of the night, particularly when it came to his relationship with the state government, stating that he would "reset the city-state relationship in Albany." He said "Cuomo's playing chess, he's playing checkers," while promising attendees that "no one is stealing my lunch money in Albany," in part because of his familiarity with state government -- Stringer was a member of the Assembly before becoming Manhattan borough president, then comptroller. He said as mayor he would work with progressive state legislators to secure the city's policy priorities.
The term-limited comptroller said that he has opposed rezonings that have occurred during the de Blasio mayoralty because the city needs to "build with communities not against them."
"When I open this economy as mayor, we're not opening the same way we closed it," Stringer said, continuing that New York will "finally" not be a "tale of two cities" under his leadership. He highlighted his progressive management of the city's pension system as comptroller, which has included divestment from private prisons and working toward divestment from fossil fuel companies.
Stringer was also critical of Mayor de Blasio's climate goals, saying that focusing on "2040 or 2050 goals is simply kicking the can down the road" and that "what's happened in this administration is that we've been too slow to realize our yearly goals." He promised that would change under his leadership with "an 8-year plan" and a "fossil fuel infrastructure moratorium," noting that he has "opposed pipelines throughout the city."
On affordable housing, Stringer said that the city "needs a reset," away from the current Mandatory Inclusionary Housing model, and "to merge a real affordable housing plan to our homelessness plan." As mayor, he promised to get a law passed that would mandate "25% of as-of-right developments must be set aside for affordable housing." He said that this key plank of his housing plan would help integrate the city.
Loree Sutton
Sutton noted that three in four registered Democrats in the city have not voted in recent local elections, but now believes many more see the importance of local leadership. She said she would take a "systems approach" as mayor, to develop innovative solutions like the 14th Street busway and Governor Cuomo's approach to the L-train tunnel repairs that avoided the planned full shutdown.
She praised her fellow candidate Shaun Donovan's record as HUD secretary of reducing veterans homelessness by 50%, while noting that as the city's veterans commissioner, she brought down the city's homeless veterans population by 90%. She believes that her work on veterans homelessness "can be applied to the larger population."
Sutton, who is clearly running as a moderate Democrat, cited the City Journal, published by the conservative Manhattan Institute think tank, and the business-friendly Partnership for New York City as inspirations for her campaign ideas, though she said she doesn't always agree with those sources. She also cited Regional Plan Association. She would later name former Mayor Ed Koch as one of her personal heroes, arguing that "to mayor is to walk around - mayor is a verb."
"There's so much that we can do together and that requires a kind of leadership that we haven't seen," she said.
Sutton criticized Mayor de Blasio, who brought her into city government in 2014, for his handling of the Lucerne Hotel row, specifically the "process that placed hundreds of homeless individuals without preparing the communities receiving them." She said that "community engagement has to proceed any major shift in a community ecosystem."
When asked more specifically how she would deal with the city's homelessness crisis, Sutton said that "we need social workers to work with the police, not send out social workers instead of the police."
Maya Wiley
"I am running to be the next mayor of New York City because I know our city can become one where all people live with dignity," Wiley told attendees, in the last candidate segment of the event. She said that the city should be able to "retain what we love about it while fixing what produced so much inequality." Much of her prepared remarks focused on her lived experiences and history of advocacy, including decades as a civil rights attorney, and the work she did in the de Blasio administration on equity, particularly on broadband access.
Wiley stressed that she did not personally know Mayor de Blasio before joining his administration, but that she was "totally on board with [de Blasio's] mission" of ending inequality, in an apparent attempt to distance herself from her former boss. She noted she was the first Black woman to serve as counsel to the mayor.
When asked about the NYPD's disciplinary process, Wiley, who was chair of the Civilian Complaint Review Board (CCRB) that investigates some instances of alleged police misconduct, said, "The [NYPD] commissioner cannot solely determine what discipline is" and "I think we need to reimagine public safety top to bottom."
When asked about how to overcome community opposition to low-income housing and homeless shelters via a "NIMBY" approach, Wiley said that she thinks "it starts with a very engaged process that ensures every community does its part."
In the final question of the night, Wiley was asked to name one city agency inefficiency that she would solve. Wiley noted that "we desperately need more nursing services," particularly in schools, and she would accomplish this in part by merging the nursing programs at the Department of Education and the Department of Health and Mental Hygiene so as to increase the number of school nurses.
The forum was moderated by Alec Barrett, a district leader; Lauren Brody, interim vice president of the club; and club member Pablo Zevallos. Barrett emphasized that the primary will be conducted using ranked-choice voting.
Ben Max contributed to this story.