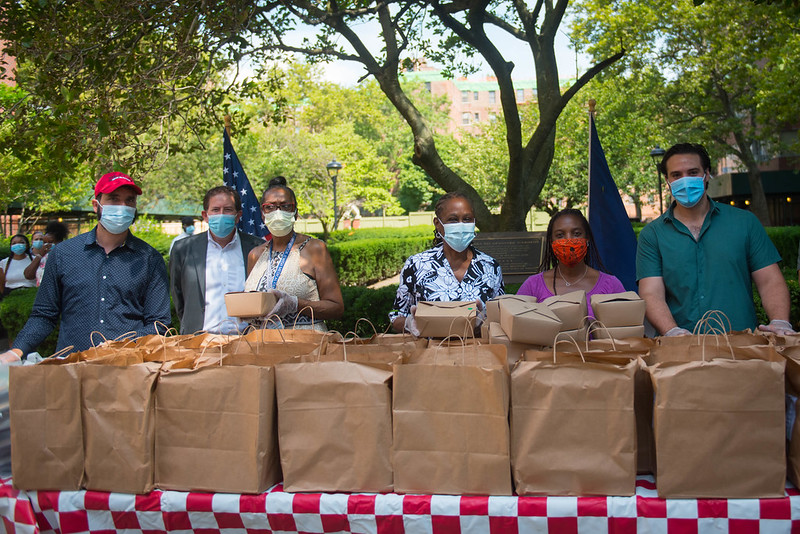 Emergency food offerings (photo: Michael Appleton/Mayor's Office)
---
Many New Yorkers have become less certain about securing their next meal during the economic crisis wrought by the coronavirus pandemic, and the situation has worsened since federal aid evaporated this summer, a new study shows.
In September and October, almost a third of New York City residents had visited a food pantry in the previous 12 months, compared with roughly one in eight at the beginning of the year, according to a report being released Tuesday by Robin Hood, a foundation focused on poverty reduction, in partnership with Columbia University.
While food pantry use rose sharply under the state of emergency that closed down thousands of businesses and coincided with a stoppage of tourism to the city, leading to mass joblessness, the ratio of New Yorkers facing "food hardship" -- defined as running out of food or worrying that you will -- at first remained relatively flat at one-in-three. But that was only until stimulus payments and other benefits from the federal CARES Act expired in July. Since June, the proportion of New Yorkers dealing with "food hardship" has risen to 42%, according to the new study.
The data confirms what city officials, advocates, and millions of New Yorkers already understand, that hunger continues to be a parallel epidemic, an undertow feeding into the turmoil of the crisis as the city stares down another wave of infections.
"There are families right now, working class families, even middle class families, trying to choose between food or medicine or the basics of life," said Mayor Bill de Blasio at a press conference on July 30, the eve of the expiration of federal Pandemic Unemployment Compensation (PUC) benefits, which provided $600 a week in CARES funding to people who had lost their jobs.
"Those choices are going to get tougher and tougher," he said at the time. (The city had already launched a massive emergency food initiative to support public and private meal programs, crowned by a $170 million commitment from the mayor in mid-April. That program has provided well over 100 million free meals.)
Food pantries have "become a lifeline" for even more New Yorkers under the pandemic, according to Chloe Sarnoff, a public policy analyst at Robin Hood who worked on the report, "but they're really not equipped to sustain this level of need."
"We hear, from the food pantries and partners that we support, that they can confirm unprecedented demand, with lines stretching down city blocks," Sarnoff told Gotham Gazette on Monday, just ahead of the report's release. "Our pantries and the CARES Act, frankly, are what have helped New Yorkers get by through the worst of this pandemic."
There have been widespread calls for additional federal aid, but there has been no agreement since the CARES Act. House Democrats passed a $2.2 trillion stimulus package, known as the HEROES Act, which has failed to gain traction in the Republican-controlled Senate or the Trump administration.
The pandemic has ransacked the city economy. Initial unemployment claims, down from a peak of 185,000 claims in April, are still three times the pre-pandemic volume with 21,000 new claims filed the week of November 7, according to the latest data published by City Comptroller Scott Stringer. Recipients of federal Supplemental Nutrition Assistance Program (SNAP) vouchers, or food stamps, topped 1.7 million in September -- 224,000 more New Yorkers than in February.
While food pantry use increased steadily from March through October, from 12% to 32% of city residents, the report states CARES funding from four sources helped stave off rising food hardship for many New Yorkers: in addition to payments from PUC, the CARES Act extended unemployment payments by 13 weeks and made it more accessible to part-time workers and independent contractors; it also included one-time checks of $1,200 to eligible adults, and $500 for children under 16. By the end of July, those benefits had largely expired.
Over September and October, 51% of those experiencing food hardship had visited a pantry in the 12 months prior, double the proportion at the end of 2019. Of SNAP recipients, two-thirds visited a food pantry in New York City, also nearly twice the rate as it was ten months before. The figures indicate that existing safety net programs may not be enough.
"For SNAP recipients, you see people really just stretching. Stretching the benefits over the course of the week, over the course of the month, and those benefits are expiring earlier," said Sarnoff. "I think you see people turning to their family and friends in times of need, turning to their community organizations."
City government has taken some steps to address the food crisis, through the Mayor's Office of Food Policy, like the free "Grab & Go" meal program offered at hundreds of sites throughout the city and free deliveries to people who cannot leave their homes. "I hear from pantries all across the five boroughs that they are facing a surge in need like that reflected in this report, and the City is taking steps to support any way we can, providing fresh produce and other food items through our Pandemic Food Reserve Emergency Distribution program," wrote Mayor's Office of Food Policy Director Kate MacKenzie in an email to Gotham Gazette.
"We also know that there are many New Yorkers who are food insecure but who do not go to pantries, and that means pantries can't be the solution alone," MacKenzie wrote.
A spokesperson for the Mayor's Office of Food Policy said the city government is committed to funding emergency food programs but is itself in desperate need of another federal aid bill and cooperation on USDA regulations.
Food pantry use is also increasing at a faster rate than SNAP enrollment, which could be the result of barriers to entering the program, according to the authors of the study. Sarnoff said that, "at a minimum," Robin Hood is calling for Congress to increase the maximum SNAP benefits by 15%, which would translate to $27 more a month for the average New York City recipient, and an additional $43 million a month citywide, on top of what is already coming to city residents. The program has a lot of "bang for your buck," according to Sarnoff, because funding for food stamps tends to go directly back into the economy.
The report is based on data from Robin Hood's "Poverty Tracker," a long-term study of poverty indicators, which has run jointly with the Columbia's Center for Poverty & Social Policy and its Population Research Center since it began in 2012. The project surveys the same representative sample of 4,000 New Yorkers every three months to measure disadvantages through a range of lenses.
The study notes that prior to the pandemic Black and Hispanic New Yorkers surveyed were three times as likely to experience food hardship as their white counterparts. Immigrants and less educated New Yorkers -- the same New Yorkers more likely to lose jobs because of the pandemic -- were more likely to face hardship than U.S.-born and high school- and college-educated residents. Roughly 50% of Black and Hispanic New Yorkers faced food hardship pre-pandemic, according to the findings, compared with just 15% of non-Hispanic white people.
The city, grimly, focused Census outreach at food pantries as they became hubs in numerous communities across the city.
"While it's been devastating to see just the desperation and the food insecurity as a result of the pandemic, we've been able to ensure that we are helping New Yorkers in need complete the Census in that way," said Amit Bagga, then-deputy director of the city's Census office, at a September press conference.
In the big picture, the all-encompassing nature of poverty means that support in other areas, like eviction moratoriums and housing subsidies for people struggling with rent, would also improve the city's hunger outlook.
"New York's second [covid] wave is rising, the crisis is far from over, but the protections really aren't lasting," Sarnoff said.