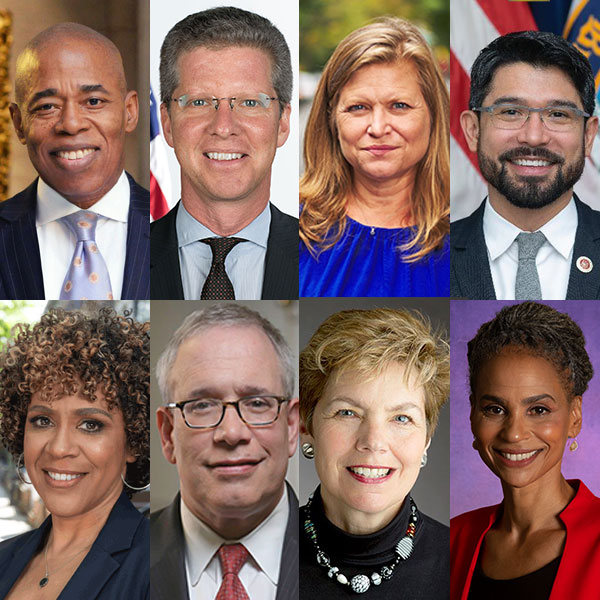 l-r: (top) Eric Adams, Shaun Donovan, Kathryn Garcia, Carlos Menchaca, (bottom) Dianne Morales, Scott Stringer, Loree Sutton, Maya Wiley
---
Eight Democratic candidates for New York City mayor gathered Tuesday night for another candidate forum in the early phase of the campaign, which will culminate with a June primary and fall 2021 general election. The online forum, hosted by the Central Brooklyn Political Action Association, focused on "The Future of Public Safety" and was moderated by Dr. Christina Pardo and Greg Albro, co-chair of the New York Progressive Action Network.
The eight participating candidates were divvied up into two panels, each lasting about an hour. The first panel included former city Sanitation Commissioner Kathryn Garcia, Brooklyn City Council Member Carlos Menchaca, City Comptroller Scott Stringer, and Maya Wiley, the former counsel to Mayor Bill de Blasio. The second panel consisted of Brooklyn Borough President Eric Adams, former federal Housing and Urban Development Secretary Shaun Donovan, nonprofit executive Dianne Morales, and former city Veterans Services Commissioner Loree Sutton.
Public Advocate Jumaane Williams, a Democrat running for reelection next year, was also on hand to deliver remarks, telling the audience of about 200 attendees, "the next mayor will inherit a lot" but that "there's an opportunity for tremendous change." He also added that, "June seems like a long way away but it really isn't." At the end of the night, Williams said "I was disappointed at how many people skirted around the issue of defunding the police, but I was really happy to hear most folks discussing the root causes of gun violence."
Several of the candidates have some professional background in public safety issues. Adams served for 22 years in the NYPD; Wiley chaired the Civilian Complaint Review Board (CCRB), and Donovan participated in the Obama-era Task Force on 21st Century Policing. Morales has worked in social services for many years; Sutton is a military veteran; and Menchaca was among the City Council members pushing aggressively for reducing NYPD funding in the most recent city budget negotiations.
The first question put to both panels was about how candidates would address health disparities faced by marginalized communities, particularly during the COVID-19 pandemic.
"We saw from the federal response how much the federal government is integral," said Menchaca, but "the things that we can do is communicate to everyone." It's essential the city does a better job of translating information for immigrant communities, he said.
"We needed to close the schools faster," Wiley said, criticizing the pandemic response of her former boss, de Blasio. "We've been gutting our public health department for years. It used to do much more programmatic work."
"The bottom line is that this administration was not ready to meet the challenge of this pandemic," said Stringer, who noted his office has been investigating City Hall's response to the early months of the pandemic. "You can't manage your way out of a crisis if you don't have the structure in place to do it."
"The systems did not work together to meet the needs of a massive crisis," Garcia assessed. "Housing is a health issue. If you do not have stable housing, you will continue to struggle."
"New York City and New York State took on a Trumpian response to the pandemic, downplaying it and not closing schools soon enough," Morales said, in an apparent criticism of both de Blasio and Governor Andrew Cuomo.
According to Sutton, "better planning, coordination, and communication" were needed in the early months of the pandemic, but she also said that "here in New York, we went from worst to first and I think Governor Cuomo deserves some praise for that."
"When covid hit the city, I was leading from the front," said Adams, who said he "was demonized for giving face masks to NYCHA residents." He also asked, "Why did we have a drive-through testing center on Staten Island before Brooklyn? We treated Black and brown people differently."
"Planning doesn't start when the crisis hits. It has to be in place before a crisis." Donovan said, reiterating his crisis management bona fides, which has become a central talking point in this nascent campaign with references to his Obama administration work on the economic recovery from the Great Recession and in response to Hurricane Sandy. He expressed optimism that he would be able to work with the federal government to secure additional relief funding.
The second question focused on relations between police and communities, particularly the merits of calls to "defund the police" and how candidates are thinking about the future of public safety.
Stringer, who cited his participation in protests against police brutality and his move to divest the municipal pension funds from private prisons, said, "New York City's mayor has a chance to lead the country on police reform and what we saw on the streets of our city is something I haven't seen at protests." He criticized how the NYPD treated largely peaceful protestors and said "let's reduce the NYPD's role in mental health incidents and traffic violations" and "decriminalize low-level offenses." He committed to "bring down the rate of incarceration."
"We have to put the public back in public safety," said Wiley, calling for the ouster of NYPD Commissioner Dermot Shea and a "top-to-bottom restructuring" of the NYPD. Her vision of public safety includes "policing is about partnership and problem solving," with the police focusing on violent crime and other agencies handling lower-level offenses.
"Keeping people safe in their communities is one of the first responsibilities of a mayor," said Garcia, who said she opposes defunding the police. "We can't throw the baby out with the bath water," she said, citing "simple reforms" that the city can make, including raising the minimum age of officers to 25 (currently 21), a city residency requirement, and increased training across all levels of the chain of command. She wants an NYPD "focused on crime and not other issues."
Menchaca took the opportunity to lobby Council Speaker Corey Johnson to make him the next chair of the Council's Public Safety Committee (a position being vacated by Donovan Richards when he assumes the Queens Borough Presidency at the beginning of the new year). "I think it's time the City Council pass a budget that you designed and reflects the people's needs," Menchaca said. "That's how we have a transformational shift."
"Public safety and justice go together. We can't have one without the other," said Adams, who advocates reallocating funds within the NYPD budget and moving officers out of clerical roles into crime prevention. He also proposed promoting school safety officers to police officers after two years of service to increase the proportion of city residents in the force.
"We have a chance to reimagine what modern policing should be," said Sutton. "Cops need communities as much as communities need cops. We need to rebuild those relationships that have really been shredded in recent months."
"I was the first mayoral candidate to call for defunding police and I stand by those words and I'm not backing down," Morales said. She continued: "Policing does not equal public safety. We need to transform public safety," and advocated using community-based groups to substitute for police in certain circumstances.
"We need to dramatically reduce their role," Donovan said of the police, speaking particularly about school safety and mental health crisis response. "We need to reimagine the way we respond to violence well beyond policing." He said that a "dramatic response across the entire system is required" and that "this has to be a public health and all-of-government approach."
Candidates were asked about economic issues facing New Yorkers and rising levels of income inequality during the pandemic, and how each would protect immigrant communities and other vulnerable populations.
"We have to make sure that we're using our resources," Wiley said, noting that thousands of NYCHA units are unoccupied because of uninhabitable conditions. She also said that she would "demand more from for-profit developers because they're in a position to do more and this current administration hasn't asked enough of them."
Garcia recalled her role as "food czar" for the city during the early months of the pandemic, saying she learned that "Our emergency food system is incredibly fragile and not distributed equally across the city." She also stressed increasing "pipelines to employment."
"We need to think about how we're going to build the next generation of low-income housing and we need to do it fast," Stringer said, criticizing de Blasio's Mandatory Inclusionary Housing program for "building affordable housing that wasn't affordable to people in those communities." He also said that vacant land across the city "must go back to the people, with a subsidy" to develop affordable housing.
Menchaca criticized de Blasio for "failing to provide a lawyer for [all] undocumented immigrants who needed one during deportation proceedings." He criticized NYPD cooperation with ICE and proposed that "the next police commissioner appointment should come from the City Council" to ensure a "civilian approach to leadership."
Sutton said, "Our elected leaders in Congress should have been raising holy hell" to get more relief funds and "the next mayor has to understand the world we're looking at now is different from the one even from eight or nine months ago." She said the city "must partner with the private sector when it comes to housing" because it "can't leave tenants or landlords on the hook."
"As someone who has worked side-by-side with Joe Biden and Kamala Harris, I would work effectively with the federal government to make sure we have the support we need," said Donovan, who added he would focus on English language learners in education to close achievement gaps and expand MetroPlus to ensure health coverage for all New Yorkers.
Morales said that "it is time for banks and developers to pay their fare share" and stressed the need for the state to help, saying "where New York City goes so does the state, so the governor has something to worry about. We need to push for the support from the state and federal level." She also said "we need to think creatively about spaces available" when it comes to housing.
"We need to expand voting rights in municipal elections," said Adams. "If you pass that, you start sending a clear and loud message that immigrants are welcome here." Adams has supported a push to allow non-citizen permanent city residents to vote in municipal elections.
The final question centered on solutions to gun violence, with the moderators noting that it was the issue most put forward by audience members.
Garcia said "the police have to be on the ground in their communities and they have to have people trust them," citing the Police Athletic League as an example of a program that built strong community relations.
"The way we're going to stem the tide of gun violence is mentorship of our young people," said Stringer, stressing the need to give young people "hope and opportunity, while also noting, "You can police, but that's not solving the systemic issues. We have to invest in our kids."
"Gun violence fundamentally is about disinvestment in communities," Wiley said. "You need to go out and get the guns, but we need the dollars in our communities. That's what solves gun violence."
"How do you address gun violence? Fully fund our public schools and summer youth programs," Menchaca said.
Donovan said "we need a mayor who's going to lead a national coalition of mayors against the gun industry" and that "if we can cut the supply of guns, we can dramatically change this situation."
"I've dedicated my life to the issue of gun violence," Adams said, adding he "would reinstitute the [NYPD] crime prevention unit, which would...target the specific shooters." He also said "we need a tristate approach to stop the flow of guns to this city."
"It's through partnership that we can lead our country forward," said Sutton, stressing the need to rebuild trust between communities and the NYPD.
Morales said "police are not the answer," continuing: "the thing about those models that actually work is that they're driven by members of those communities." She stressed the importance of "addressing the root causes."