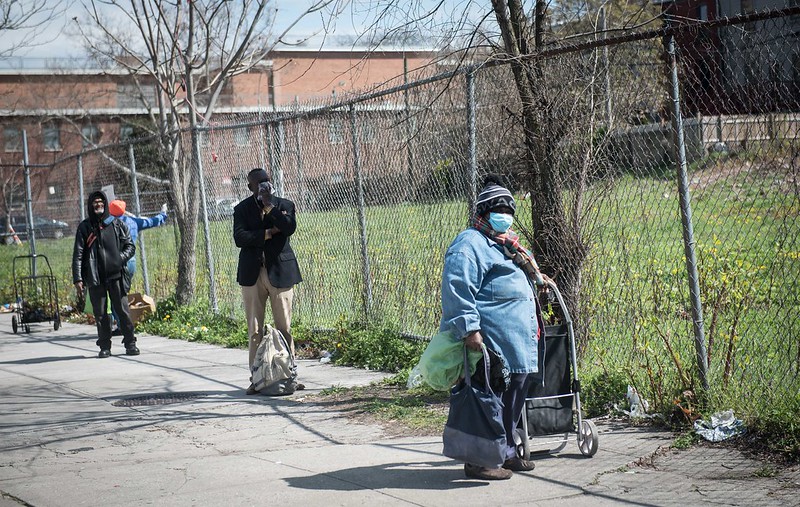 A line for emergency food (Michael Appleton/Mayor's Office)
---
Low-income New Yorkers are doing worse financially as a result of the COVID-19 pandemic than they were during the Great Recession, according to survey findings being released Friday by the Community Service Society (CSS), a non-profit focused on disadvantaged New Yorkers.
The Unheard Third is an annual survey conducted by CSS in partnership with Lake Research and named based on the third of voting-age New Yorkers who live in low-income households that are often overlooked by politicians. The latest survey also found that low-income New Yorkers and New Yorkers of color were less likely to receive government relief than their white counterparts. According to the survey, 56% of Latino and 55% of Black residents of the five boroughs did not receive unemployment insurance or federal Pandemic Unemployment Assistance thus far during the pandemic, and the numbers for immigrant New Yorkers are just as stark: over half did not receive any form of unemployment benefits during the same period.
The survey of about 1,600 people living in low-income households found that 45% of low-income New Yorkers were unemployed because of the pandemic or lived with someone who had lost their job as a result of the pandemic. Overall in New York City, unemployment jumped from about 4% early this year to well over 20% at the height of the coronavirus outbreak this Spring. The rate has come down to about 16% in September.
According to the CSS survey, Queens and the Bronx are both facing record rates of joblessness, with Queens making a 20% jump from the rates recorded in 2009 during the Great Recession and about a third of Bronx residents reporting household job loss during the pandemic.
The sharp rise in unemployment as a result of the pandemic and related shutdowns has led to an increase in health care hardships, the survey found, in part because so many people rely on their jobs for their health insurance. Low-income New Yorkers who lost their income are twice as likely to have trouble affording necessary health care and prescriptions as those who did not lose income, the survey found.
The survey also illustrates the catastrophic effects the pandemic has had on low-income New Yorkers when it comes to food insufficiency and housing hardships. The number of New Yorkers facing food insufficiency is at the highest it's been since the Great Depression -- according to the survey, "42 percent of low-income New Yorkers and 17 percent of those with moderate to higher incomes said that they used a food pantry, soup kitchen, or meal program since the start of the pandemic, triple the rates in 2009."
Once federal and state eviction moratoriums end in the coming months, low-income New Yorkers may face worse financial challenges and other consequences, said Irene Lew, a policy analyst for the Community Service Society who oversaw the survey for CSS. Without a federal emergency relief package to support low-income New Yorkers, Lew said to expect to see a major increase in housing insecurity in particular.
"We are going to see more evictions, more housing insecurity, increased homelessness. So, that is kind of the worst case scenario," Lew said. The study found that low-income New Yorkers who lost their income during the pandemic were twice as likely to face housing instability as those who did not lose income, and that's with an eviction moratorium in place.
There is some help for low-income New Yorkers through state and city programs. During the pandemic, New York City and State expanded access to food assistance. The state rolled out a new emergency rental assistance program aimed at providing direct aid to low-income New Yorkers affected by the COVID-19 crisis through loss of income, but that program has been plagued by complications and has produced little success. Lew said that an expansion of programs aimed at assisting low-income New Yorkers could reduce the impact the pandemic has on them.
"I think at the local level, we have to continue to prioritize expansion of those programs that will help cushion the blow of the pandemic, even if we don't get any federal relief from another federal relief package anytime soon," she said.
David Jones, President and CEO of the Community Service Society, warned of the potential impacts of mass evictions that could be coming, especially for low-income New Yorkers.
"There's going to be this enormous foreclosure process where tenants get kicked out, and because of the housing situation of having no income, the homeless shelters of New York are going to bulge," he said. "We know what that does to people--it undermines them, but it's particularly devastating for their kids."
"I don't think people really get the sense of how destructive this has been and how long-term this has been," Jones went on to say of the pandemic and its impacts. "I think it hasn't hit home yet. People are working remotely, they're thinking, 'well, everything looks OK,' but they don't understand how deeply this is going to tear into the fabric of working people in places like New York."