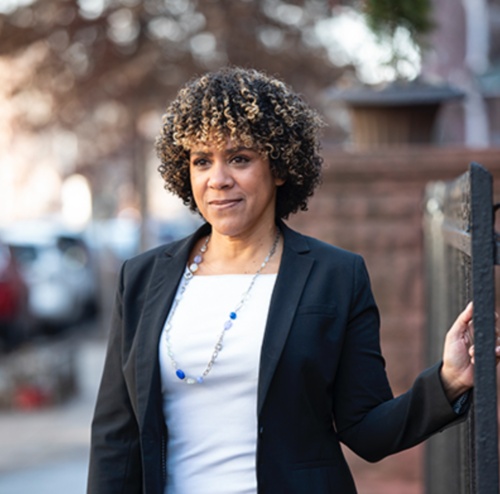 Dianne Morales (photo via Morales campaign)
---
More than a year ago Dianne Morales left her job running a social services nonprofit in order to run for mayor of New York City. On Thursday evening, she officially launched her campaign seeking the Democratic nomination in the primary set for June of 2021.
A first-time candidate for office, Morales believes her combination of lived experience and executive experience and vision for rebuilding the city anew with greater social and economic justice will help her appeal to voters looking for a non-traditional type of candidate. Morales, an Afro-Latina single mother of two young-adult children, has attracted volunteers, turned a few heads with solid initial fundraising numbers, and campaigned assertively in the early going of the mayoral race that has been upended by the coronavirus pandemic and the resurgent Black Lives Matter movement.
"We are at a crossroads in the fight for the soul of the city," Morales said in a pre-taped announcement that was accompanied with testimonial from activists of all stripes during Thursday's digital campaign kickoff event, which was also a fundraiser. "And we stand here today as the ones who are unapologetic and uncompromising in confronting and overcoming the structural and systemic barriers of oppression and injustice that have been imposed on so many of our communities, keeping our families from thriving, our women from prospering and our children from succeeding."
Morales, a Brooklyn native who now lives in the borough, has spent her career largely working in the nonprofit sector. She was most recently the CEO of Phipps Neighborhoods, a South Bronx-based nonprofit that develops and manages affordable housing and provides social services to low-income children, youth, and families. In that role, she sat on Mayor Bill de Blasio's Community School Advisory Board as well as the board of the Human Services Council. She was also a founding board member of Jumpstart, a national early education organization.
Morales has some experience working in city government. Between 2002 and 2004, she worked as chief of operations and implementation of the Office of Youth Development at the Department of Education under then-Mayor Michael Bloomberg.
Morales is running as a political outsider and taking aim at establishment politics in a primary race that includes three sitting elected officials, three former officials in the de Blasio administration, a former top official under Bloomberg and President Barack Obama, a military veteran, and a prominent Wall Street executive, among others. In her campaign pitch, with the slogan "Politics for All People," Morales repeatedly cited the many problems that plague life in New York City and that have only worsened during the coronavirus pandemic. And, she sought to differentiate herself from some of her competitors.
"We will not allow ourselves to be managed back to normal," she said, "back to the crises of homelessness and the lack of affordable housing, the healthcare and mental health system that are not accessible, a gender equity crisis, a homelessness crisis, a social justice crisis and environmental crisis, an education crisis. We understand that it is time to throw out the old playbook."
If Morales were to emerge victorious in the primary, which will likely decide who becomes mayor because of the heavy Democratic voter imbalance, she would be the first woman and first Latino to hold the top job at City Hall. As she noted in her announcement, the city has had 109 mayors, only one of whom was Black and none of whom were women or Latino or indigneous or Asian.
"I know I'm not a traditional candidate," she said. "I'm not a traditional candidate because I have not spent a lifetime jockeying for the job. My working class Puerto Rican family couldn't bankroll me, immerse me in the machine or indoctrinate me to politics. I haven't spent time publishing policy papers to examine our problems. I've built programs and services to address the problems and improve the lives of New Yorkers."
As she noted, over the last few months, as the coronavirus made her and others limit campaign activities, she chose to pivot towards a role she's familiar with and worked with Bed-Stuy Strong, a mutual aid network in her native Bedford-Stuyvesant neighborhood, to feed and house struggling New Yorkers.
In her announcement, Morales highlighted several priorities including fixing the crumbling New York City Housing Authority (NYCHA), desegregating city schools, promoting equitable and affordable mass transit, creating green jobs, building affordable and supportive housing, and reforming the police.
As she points out, she was the first mayoral candidate to call for "defunding the NYPD" and reallocating those resources to underserved communities of color. She has called for creating the Community First Responders Department composed of mental health and social service professionals. "Black and brown communities have been brutalized and terrorized by the police since their inception as slave patrols," she said. "They've served as the foot soldiers for a mass incarceration movement of laws and attitudes designed to criminalize whole communities…This systemic problem of violence requires a structural solution."
Morales said she wants to create a "new social contract" and advocated for what she called the "pre-distribution of wealth," which would mean "investing in the front end in community members and communities, to expand the existence of worker-owned companies, consumer cooperatives, and participatory budgeting practices that enable community members to have a say in how their tax dollars are reinvested in their communities to address their challenges. Because we know that those who live closest to the challenge are often closest to the solutions."
Activist Michael Partis said, "Dianne has experienced the barriers big and small to women and people of color. She has spent her career working to address poverty. Now she's ready to disrupt the root causes of poverty, oppression, and lead the city into an era where all New Yorkers can thrive."
Though Morales cannot boast the same level of fundraising as some of the other better-known, more-connected candidates – she has just under $107,000 in her campaign account – she is counting on the city's public matching funds program, which matches small dollar donations at an 8-to-1 ratio, to help her punch above her weight. The election will also be the first in the city to employ ranked-choice voting, which will require candidates to build broad coalitions beyond their traditional bases of support and vie to be listed second and even third on voters' ballots.
"When you get hired to be the mayor, you're supposed to work for the people," said Tenesha Grant, an education activist who appeared in Morales' launch video. "Not for the establishment, not to make the rich richer and the poor poorer. And I think that Diane truly understands what that means."
The other candidates who have registered to run in the Democratic primary, as referenced above, are Comptroller Scott Stringer, Brooklyn Borough President Eric Adams, City Council Member Carlos Menchaca, former city Department of Veterans Services Loree Sutton, former counsel to the mayor Maya Wiley, former city Sanitation Commissioner Kathryn Garcia, former federal Housing Secretary Shaun Donovan, military veteran-turned-entrepreneur Zach Iscol, and former Citigroup executive Ray McGuire.