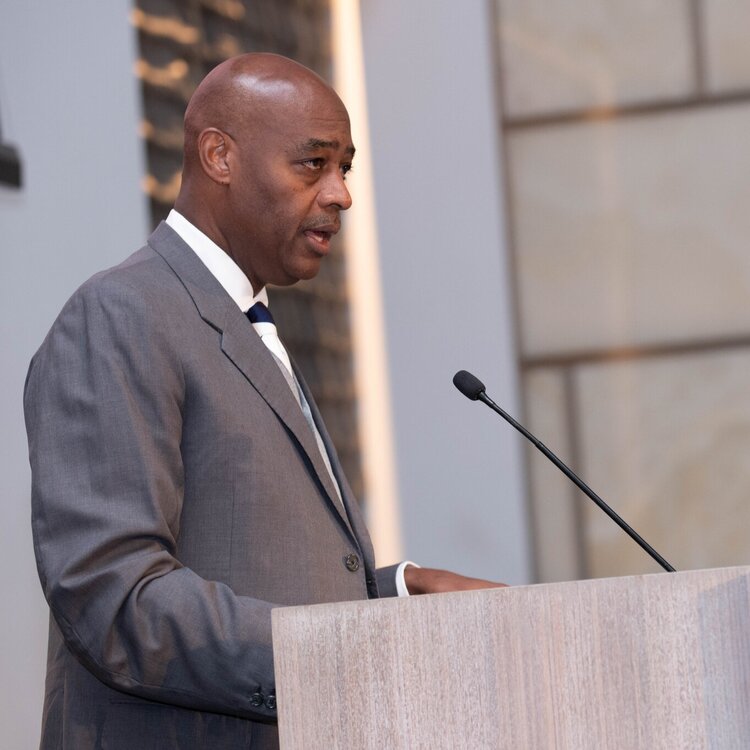 Ray McGuire (photo: Ray McGuire for Mayor)
---
Ray McGuire, a top Wall Street executive who recently left his job to explore a run for Mayor of New York City, launched his 2021 campaign on Wednesday in a video released online and narrated by famed New York filmmaker Spike Lee.
McGuire, 63, previously served as vice chair of Citigroup, the global banking giant, and was one of the highest-ranking Black executives in an industry dominated by white men. He left the position in mid-October to lay the groundwork for a campaign to replace Mayor Bill de Blasio, who cannot run for reelection because of term limits.
Running as more of a moderate than some further to the left in the crowded Democratic mayoral primary, which will take place in June and feature ranked-choice voting, McGuire is pitching his business, management, and leadership skills and experience, as well as his life story and ability to bridge gaps among New Yorkers and help lead a revival of the city's economy.
"If we want to stop more and more jobs and small businesses from vanishing, we need a mayor who can think big, bring in every expert, call in every favor," Lee says in the video. "The leader to pull this off is one who knows hundreds of small business owners and the people who invest in them. And for the fight for racial justice, we need someone who lives that fight every single day. We need a mayor who can bring us together. We need Ray Maguire."
In the video and a subsequent interview on WNYC's Brian Lehrer Show, McGuire spoke of his life on "the other side of the tracks" in his native Dayton, Ohio, where he grew up in poverty raised by a single mother and his grandparents, living with his two brothers and countless foster siblings. "So that means I understand the fears and anxieties that many of us have, many New Yorkers have, from how I grew up," he said Wednesday morning on WNYC.
He pitched himself as a self-made success who pulled himself up by his bootstraps, attended Harvard University, and then rose through the ranks of Wall Street. He said he wants to create opportunities for others that he had, and put his leadership skills to use for the city he loves.
"We're facing three existential crises at the same time: the pandemic, the economic challenges, and racial injustice," he said on WNYC. "That's why I'm running for mayor. I've been able to have the lived experiences which is how I got here, got the management capabilities, relationships, proven leadership and I have a vision to lead the greatest comeback...in the history of New York City."
As he is expected to throughout the campaign, McGuire is initially leaning in hard on his business chops as he emphasized the need to bring jobs to the city, his support for major development deals that have fallen through in recent years, and the financial woes of small businesses that may never recover from the pandemic.
Some of McGuire's initial framing and comments -- including a focus on education -- evoke the politics of former Mayor Michael Bloomberg, a candidate of the business community and a liberal on many social issues, as well as some of his competitors in the current race, particularly Brooklyn Borough President Eric Adams.
McGuire said on WNYC that he does not favor raising taxes on millionaires, a proposal being pushed by many progressive Democrats in Albany. "We can't tax your way out of this," he told Lehrer. "We need to grow our way out of this and all of us are gonna have to contribute." McGuire, who his campaign says has quickly raised over $2.3 million from more than 1,800 individual donors, is not participating in the city's public matching funds program, thereby allowing him to raise and spend more. His campaign told Gotham Gazette he is not taking public matching funds because he does not want to accept public money when the city is in such a financial crisis and he can raise all he needs privately either way. McGuire told Lehrer that he is not rejecting donations from the real estate or finance industries as some other candidates have done.
He said as mayor he would not let another Amazon or Industry City deal fall through, in reference to the defeated Queens 'HQ2' project and Brooklyn expansion proposal that were both pulled by the companies in the face of vocal opposition and minimal effort by de Blasio to see them through.
Those stances are among several that show he is running more of a moderate or centrist Democratc campaign, in a similar political lane to Adams as well as former city Sanitation Commissioner Kathryn Garcia, former city Veterans Affairs Commissioner Loree Sutton, military veteran Zach Iscol, and Shaun Donovan, a former Obama cabinet secretary and top Bloomberg administration official who is attempting to straddle the progressive and moderate lanes.
McGuire's work in the financial sector, in particular, could be attractive to voters looking for an economic savior and displeased with de Blasio's relative antipathy toward business leaders and the well-off. But it could also be off-putting to left-leaning Democratic primary voters frustrated by the city's rampant income inequality that de Blasio pledged to fix but made limited progress in addressing, even before the pandemic cost hundreds of thousands of New Yorkers their jobs. His record at Citigroup and the financial giant's overall imprint on the city and country are likely to be heavily scrutinized in the weeks and months ahead.
McGuire has more than three decades of experience in business and finance, including, he stressed on WNYC, experience building and leading teams. He has advised CEOs on business growth, his campaign said. For the last 13 years, until he recently stepped down, McGuire was the head of global corporate and investment banking at Citigroup, and has "personally originated and executed deals valued at over $650 billion," according to his campaign.
"So when people look at me, they should look at the totality of my record and my ability to lead and to manage," McGuire said when asked by Lehrer about his Wall Street background. "And the fact that I know how New Yorkers feel, I know how it feels, those people who...are the most challenged, who are the most at-risk."
He emphasized that he wanted to provide New Yorkers with the same opportunities that helped him succeed, particularly in education. He said his "cradle to career" plan for education would support children all the way from pre-kindergarten through graduation into the workforce. Pillars include additional efforts to get all students reading on grade level by 3rd grade, a goal de Blasio has set for the city to hit by 2026, and the creation of a tutoring corps.
McGuire said he would "go big, go small" on the economy, saying he would create 500,000 jobs by not only investing in large infrastructure projects but also small businesses, arts, culture, and tourism.
Systemic racism in policing and the debate around defunding the NYPD is a central issue in the mayor's race and McGuire said it is a personal issue for him. "When I take off my suit and put on a sweatshirt or tracksuit, I could be George Floyd, I could be Eric Garner. Our children could be Tamir Rice," he said. But McGuire said he did not support the 'defund' movement and would rather implement a policing plan he termed "RAP – respectful, accountable, proportionate."
"I am not for 'defund.' I'm for restructuring, having better policing, not fewer police," he said when Lehrer asked for his stance on the controversial activist call that has roiled city politics, taken center stage in the June city budget battle, and become a flashpoint in the 2021 election cycle. McGuire did echo some of the demands of the police reform movement, which he has participated in, saying he wants to divert some police funds to other types of services and move some responsibilities away from police officers with guns.
According to McGuire's campaign, and again reminiscent of Bloomberg's background, he has been active for decades in the city's civic life, including efforts in support of De La Salle Academy, the New York Public Library, New-York-Presbyterian Hospital, the American Museum of Natural History, and the Studio Museum in Harlem. McGuire has also mentored a rising generation of business leaders, his campaign noted.
"Politics as usual just won't cut it in City Hall," McGuire said in his launch video, which stressed the damage done to New York by the coronavirus pandemic. "We have big problems. But if you're ready, together we can get New York City working again. This time, we'll make sure it's a city that works for everyone."
Ben Max contributed to this story.
Note: this article has been updated with additional information about McGuire's fundraising.