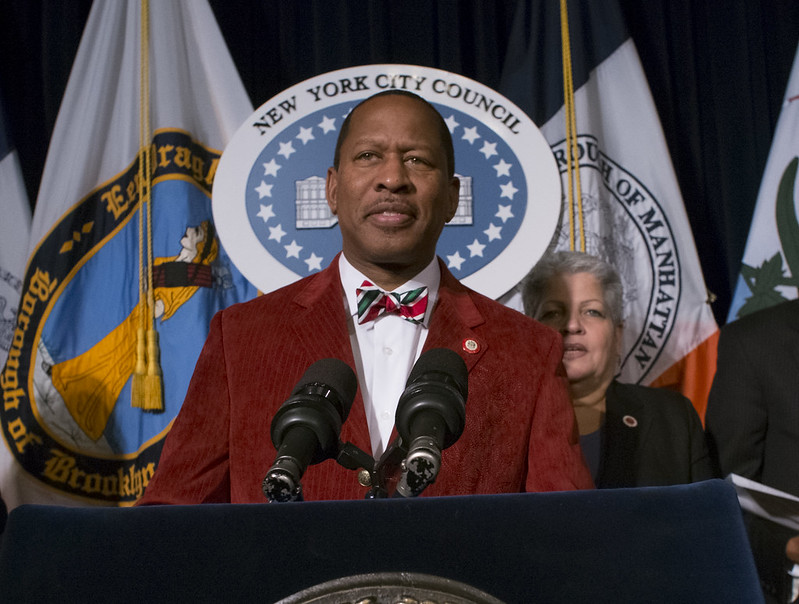 Former Council Member Andy King (photo: William Alatriste/City Council)
---
The ouster of Andy King from the New York City Council in October over repeated ethics violations triggered a special election that moved up the timeline for the race to replace King, who was term-limited but then expelled by his colleagues, from the standard 2021 election dates to this month. The race will effectively be the first of the 2021 city election cycle, when all of city government will be on the ballot, and could provide interesting initial bread crumbs about where the especially consequential elections of next year are headed.
Early voting for the special election in City Council District 12, which covers parts of the northeastern Bronx, starts on December 12 and runs through December 20. Election day itself is December 22. The absentee balloting process is underway. As a special election it will be non-partisan, meaning there are no official party ballot lines and candidates create their own to run on. (This election will not feature ranked-choice voting, which kicks in next year for special and party primary elections for city government positions.)
The field of candidates significantly narrowed in October when the city's Board of Elections booted several people, including Brian Melford, a staffer for the erstwhile Council member, off the ballot for the special election for various reasons related to their petitioning.
This left only three candidates in the race: Kevin Riley, a district leader and community relations director for Assembly Speaker Carl Heastie; Pamela Hamilton-Johnson, the president of the 47th Precinct Council and a Community Board member; and, Neville Mitchell, a public defender with the Legal Aid Society. Gotham Gazette spoke with Riley and Hamilton-Johnson but was unable to reach Mitchell despite multiple attempts (he has raised only $100 for this campaign, according to the CFB, does not appear to have a website, and his Twitter account has been inactive since his 2012 run for this office).
"I was very surprised so many people got knocked off due to their own mistakes," said Hamilton-Johnson.
"I don't think it affected the race at all," said Riley, who noted a few of the removed candidates are attempting write-in campaigns.
"We announced in February and I've been very active in the community as a candidate," said Riley, who added that King's expulsion "sped everything up, but we were already prepared."
The 12th City Council District includes neighborhoods of Wakefield, Olinville, Edenwald, Eastchester, Williamsbridge, Baychester, and Co-op City. According to Census data, the district is 67% Black, 25% Hispanic, and 4% white. The district is also 56% women and 44% men.
Speaker Heastie's 83rd Assembly District, which overlaps with much of the 12th District (minus Co-Op City), has a median household income of $51,532 and a poverty rate of 19.1%, while the median age of residents is 36.3. Co-Op City has a median household income of $50,832 and the median age of residents is 45.
King is the second consecutive Council member from the 12th District to be removed from office during his tenure, after predecessor Larry Seabrook was convicted of several corruption-related charges in 2012.
Fundraising & Endorsements
In terms of fundraising and endorsements, Riley has the clear advantage. He raised $44,581 from private donations and received $132,077 under the city's matching program for $176,658 raised in total as of November 20th. He's received endorsements from elected officials such as Speaker Heastie, Bronx Borough President Ruben Diaz Jr., Congressional Representative-elect Jamaal Bowman, State Senator and Bronx Democratic County Party Chair Jamaal Bailey, and Assemblymembers Nathalia Fernandez, Latoya Joyner, and Catalina Cruz; and labor unions such as the United Federation of Teachers (UFT), 32BJ SEIU, Communications Workers of America District 1, Transport Workers Union (TWU Local 100), Hotel Trades Council, retail workers (RWDSU), Uniformed Firefighters Association, United Food and Commercial Workers, and the state nurses association (NYSNA).
"I wouldn't say I'm the front-runner in this race," Riley said. "This community saved my life. It's the reason I am the man I am today. This is why I want to step up and represent my community." He explained that following his father's incarceration, many members of the community mentored him at crucial points in his life that enabled him to succeed later in life.
Meanwhile, Hamilton-Johnson has raised $6,781 from private donations and has received $45,836 in matching funds for a total of $52,617 as of November 20. She's been endorsed by 21 in '21, the initiative to get more women elected to the City Council, and would be the first woman elected to represent the district, she noted. She previously ran in the 2012 special election and 2017 election for the seat against King. In 2017, she garnered 33% of the vote to King's 57%, while only winning 4.4% in 2012.
Neville Mitchell also ran in 2012 and received 4.5% of the vote, narrowly edging out Hamilton-Johnson in that race that featured six candidates.
"I am the outsider in this race. I'm not the county choice," Hamilton-Johnson said, noting that she has pledged not to take donations from corporations, labor unions, or PACs. Riley has raised at least $8,700 from these groups, accounting for nearly 20% of his private donations, according to a Gotham Gazette analysis. Nearly 90% of Hamilton-Johnson's donations (120 in total) and 56.8% of Riley's donations (274 in total) have come from Bronx residents.
"PACs are not going to give you money without having some kind of legislative favoritism and, in this district with the last two Councilmen being removed from office, voters are looking for someone who will put people over politics and people over profit," said Hamilton-Johnson, who labeled Riley as "the county [party]'s puppet." She believes this is the main contrast between her and her opponent.
"There are amazing people running and we're going to let the community decide," Riley said in his interview with Gotham Gazette.
Kevin Riley
"We need adequate testing sites and when the vaccine is available, we need to make sure people in this area are able to get the vaccine," Riley said when asked about how the community can recover from the pandemic, noting that Co-Op City did not have a testing site until recently.
Riley lists education, housing, and mental health as the top priorities of his campaign. On housing, he said "we need to look at land use. There's a lot of deserted land in our district and I believe we're not utilizing the process properly." He also wants more community input in the process, saying "a lot of times when housing comes to a community, it's not for the people in the community." Riley said he supports member deference in the city's land use process (ULURP) by which controversial large projects and rezonings, as well as those of other sizes, are often decided.
"I definitely support reallocating funds from the police department to other agencies that will take care of issues better than the police," said Riley, although he said doesn't have a specific figure. "There's a lot of programs out there that can address violence and mental health better than the police."
"I'm very big on financial literacy and mentorship," said Riley, who noted he is a mentor in the My Brother's Keeper initiative, started by President Obama. He said he would like to incorporate both into the public school curriculum, as well as increasing trade school and entrepreneurship options.
Riley said the city should find "new ways of revenue that we weren't thinking about years ago" to address municipal budget shortfalls, such as legalizing marijuana and gaming, in addition to increasing taxes on the rich.
Pamela Hamilton-Johnson
"The county [party] doesn't push women candidates," Hamilton-Johnson said, attributing it as a major reason she decided on a third run for the seat. "We don't have a seat at the table. We're good enough to lick envelopes for every other candidate, but we're not good enough to be in office."
Hamilton-Johnson currently runs the Eastchester Heights Community Center in the district, which she founded, in addition to serving as President of the 47th Precinct Council and as a member of Bronx Community Board 12. She formerly worked in the city's Department of Education, in various roles.
Hamilton-Johnson listed refunding the Summer Youth Employment Program and supporting small businesses as top priorities, saying, "when small businesses go out of business, our seniors and residents have to go further to get the necessary items they need."
"We have an issue in Co-op City with sanitation. The streets are filthy," Hamilton-Johnson said, adding that the neighborhood lost service during King's tenure. "We have to restore the cleanliness back to our neighborhood."
She supports hazard pay for MTA employees and that the eviction moratorium be continued beyond January. "A lot of people in our community are out of work and most likely will lose their homes and there has to be a better plan," she said. "We need to keep people in their housing."
"I do not believe in 'defunding the police,' but if you're going to use the money, I really believe it should be used for at-risk youth and mental health workers accompanying police officers when they respond to emotionally-disturbed persons," said Hamilton-Johnson. She was also critical of the NYPD's use of overtime.
"In the 47th Precinct, our residents don't want less police offices, they actually want more in our community. However, we still want our offices to treat us with dignity," said Hamilton-Johnson, voicing support for retraining and greater transparency in disciplinary records.
"I would hope that residents will not follow county's bad choices of candidates and they will choose a fresh choice for this Council seat," she said.
The Vote
The special election is for the remainder of King's term, which expires at the end of 2021. Regardless of the outcome, there will be an election for the seat in 2021 for a term that will span 2022 and 2023, with another election for restricted seats slated for 2023, for a four-year term. The 2021 election will include June primaries and a fall general election, both at the same times as the rest of city government, from mayor through all 51 seats of the City Council.
Early voting for this election begins December 12 and ends December 20. Election day itself is December 22. (Voters' poll site can be different for early voting and election day.) The deadline for requesting an absentee ballot is December 15. Since it is a special election, the race is nonpartisan and each candidate is running on their own ballot line: Kevin Riley on the Justice & Unity line, Pamela Hamilton-Johnson on the Social Change line, and Neville Mitchell on the Bronx 12 Matters line.
Note: this article has been correctd to reflect that Riley said he "wouldn't say I'm the frontrunner."