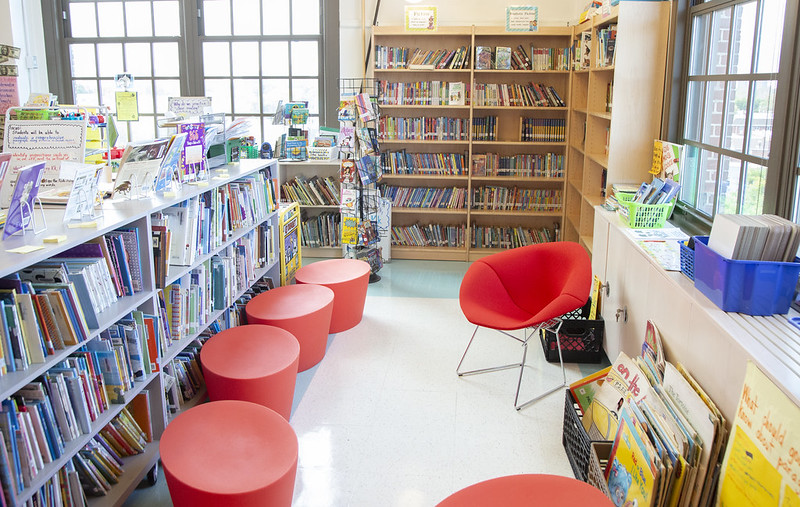 Libraries have mostly been empty, but active (photo: John McCarten/City Council)
---
Last month, the New York City Council's Committee on Cultural Affairs and Libraries held an oversight hearing on the city's public libraries and COVID-19. The committee, chaired by Queens Council Member Jimmy Van Bramer, heard testimony from Anthony Marx, the President, and CEO of New York Public Library, which is the system for Manhattan, the Bronx, and Staten Island; President and CEO of Brooklyn Public Library Linda Johnson; and President and CEO of Queens Public Library Dennis Walcott. The discussion touched on library funding and finances, and how libraries have adjusted during the pandemic, which shut their buildings down for months earlier this year and continues to significantly impact their operations.
"Libraries are the most democratic and one of the most important institutions that we have in this world," said Van Bramer in his opening remarks. "The onset of the covid pandemic has not only revealed the extent to which people rely on libraries, but in this moment where people are desperate for normalcy, stability, safety, and also craving information, while libraries are not as open physically to some, they continue to provide invaluable services in every way they possibly could."
At a City Council budget hearing in March, just before the coronavirus outbreak took hold of the city, the heads of the three library systems presented their fiscal year 2021 funding needs to the Council, which negotiates the budget with the mayor. They requested fairly modest additional increases from the city for both operational and capital expenses, some of which would go to protecting extended library hours, staff, and collections, as well as $10 million in new funding "critical to enhancing equity, offering greater access to libraries for children and teens, and helping support the City's educational priorities," according to the New York Public Library website.
The additional funding would also cover a waiver of late fines for children and teenagers, as well as the costs of individual branch programs to support literacy in toddlers and pre-kindergarten students, the cost of repairs, and the costs of databases, ebooks, and other materials.
The city's public library systems also rely on additional funding from patrons, such as monthly donations, memberships, and foundations. The New York Public Library, for example, received a "leadership gift" of $1 million from the New York Life Foundation and developed partnerships with entities such as HBO, Bank of America, and Bloomberg Philanthropies. The Brooklyn Public Library has corporate support from companies including Whole Foods Market, Goldman Sachs, and Con Edison, and Queens Public Library receives support from TD Bank, among others.
But city budget negotiations are always tense -- the public libraries, however important to the city's civic fabric, are recipients of less than 1% of New York City's fiscal year 2021 budget, according to a note on the budget from the Council's Committee on Cultural Affairs and Libraries -- and discussions were ongoing.
Then the covid crisis hit, the city budget was decimated, and the libraries were deeply hurt like so many other institutions.
At the November hearing, Johnson said she is worried that Brooklyn Public Library won't have the resources it needs and is very concerned about both this year and into 2021 and beyond. Brooklyn Public Library has reprioritized and shifted spending, "especially in respect to digital collections and virtual programming," Johnson said.
At New York Public Library, Marx said he has had to cut 95 positions due to a "reduced budget," but they haven't had "the mass layoffs we all feared."
"Basically we're at this, sort of serving the public as much as we can physically, being safe, massively increased virtual, increased costs," Marx said. "Basically we're able to hold that for now. But, if big cuts come, or further cuts come, we're not going to be able to hold all of that. It's a physics problem."
"We got some cuts from the city, and we rely, more than our peers, on other private sources, that all gets hit at the same time," Marx said.
He also cited increased "pandemic-related costs," including on security and personal protective equipment (PPE). "We also have staff to accommodate because they simply can't get to work," Marx said, and some have "caretaker situations."
Marx said he has been looking for ways to save money, such as investing in more digital resources and shifting education expenditures online.
Safety Measures
Since the shutdown of the city's public libraries in March, branches have shifted their resources more fully online. Each of the three systems has increased the use of ebooks, audiobooks, and apps, as well as holding classes, town halls, and meetings virtually through Zoom.
Although no public libraries are fully operational, many do offer "grab and go" services, according to New York Public Library's website. This entails socially-distanced checkouts and returns where patrons can pre-request items online or by phone, pick up their items at available locations with their library cards, and then return them to drop-off bins where the items are placed in quarantine for 96 hours before being made available to other patrons.
The rising number of COVID-19 cases has impacted Queens Public Libraries' attempt to reopen. "While we have been planning to begin offering public computer appointments...," Walcott said, "in light of the rising number of COVID-19 cases in and around the city, we will delay the computer services until an appropriate time."
In Queens, said Walcott, there was a security guard whose family member had tested positive for COVID-19. "We put our protocols in place and then moved folks out of that," he said of the branch. Queens Public Library then "did a deep cleaning, but we haven't had any positive cases of our staff directly." The library also has "pods of staff," said Walcott, in which they have "various teams of staff in place. (If) someone should test positive; then we'll move that entire team out, shutdown the library, do the cleaning, then have a second-team come in place." Although this provides a more "complex" system, said Walcott, it also provides a "more safe system."
At the time of the hearing, New York Public Library had recently moved its research libraries at 14 locations to "phase two" of reopening, which included "adding browsing and computer use," both at very limited capacity, said Marx. "That was going smoothly, we had worked for months for that," he said, but "it became obvious that the numbers in Staten Island were going very much in the wrong direction, we moved the three phase twos in Staten Island back to phase one."
"Unfortunately, we concluded that the numbers were consistently going in the wrong direction," Marx continued, discussing the city's covid situation and the library system more broadly. As cases began to rise throughout the city, New York Public Library "decided to move all of our phase two services, after only a week, back to phase one," said Marx.
While the New York Public Library had no known transmission, said Marx, they did have seven staff members test positive for COVID-19. He said New York Public Library "used exactly the same protocols" that Queens Public Library took. And when asked what safety measures New York Public Library was taking to assess when it could begin to reopen again, Marx said New York Public Library is "using a variety of metrics, consulting experts." While it relies on the advice of experts, Marx said, "we should always be a half a step more conservative than the expert advice."
"If we make a mistake, on the side of erring on safety, I'll live with that," Marx said.
In Brooklyn, said Johnson, "we've had one maintainer who was diagnosed with COVID-19. He worked at the Central Library, and we immediately put the protocols in place," as the two other library systems have.
Brooklyn Public Library
Since March, the staff at Brooklyn Public Libraries has been "running around with our hair on fire," said Johnson. Although libraries were closed, said Johnson, "we found new ways to serve." Brooklyn Public Library, which, before March, was the largest free Wi-Fi provider in the borough, according to Johnson, kept Wi-Fi on 24 hours a day, seven days a week, while the buildings were closed. People could then access the internet from just outside the buildings, so those who "do not have broadband internet access consistently available at home have relied on the libraries as a vital place to connect to the world," according to Brooklyn Public Library's website.
In addition to constantly keeping Wi-Fi on, Brooklyn Public Library launched "Bklyn Reach," a Wi-Fi service at select branches located in Brownsville, Bushwick, Coney Island, Fort Greene, Red Hook, and Flatbush that extends Wi-Fi reach to up to 300 feet from the libraries. "Whether people are in the library or not," the website explains, "Brooklynites can use these networks for free to get online for school, work, and more."
The select branches are also equipped with furnished outdoor library spaces loaned from the Department of Transportation, Johnson said. "With more than 1,000 people gathering outside on a single day to try and catch the signal coming through our windows and doors," said Johnson, who said Brooklyn Public Library has become a key source of Wi-Fi and an advocate for internet access in the borough.
The Brooklyn Public Library also expanded its digital collection, which now contains over 400,000 ebooks, audiobooks, videos, and subscriptions, she added.
From mid-March to September, Brooklyn Public Library hosted more than 4,000 programs online, Johnson said. The programs that the library held aimed to "foster literacy, civil engagement, and social justice" and included events such as "the 28th Amendment Initiative," a 32-part Zoom town hall, where "hundreds of Brooklynites brainstormed the next amendment to the Constitution" and what it should include.
The Justice Initiatives at Brooklyn Public Library and community organizations and agencies worked together to produce a "series of Know Your Rights workshops," Johnson said. The first workshop, which was held on October 22 focused on the right to vote, "with an emphasis on New York and particularly on the rights of the incarcerated and formerly incarcerated to full participation in the democratic process," according to Brooklyn Public Library's website.
While unemployment throughout Brooklyn reached as high as 20.5%in June, according to the Department of Labor, Brooklyn Public Library made its Business and Career Center available remotely. Their center includes virtual resume and career help to help aid New Yorkers in finding employment. As well as a guide of "economic resources to help navigate the COVID-19 crisis," according to the library's website. The guide includes "free legal advice from the New York State Bar Association for workers whose unemployment insurance claim has been denied," contact information for the Worker Rights Hotline, and resources for undocumented immigrants.
The library also added new initiatives that "prioritized programs that foster dialogue about race and social equity and that center Black and Indigenous writers and thinkers," said Johnson. "We also pledged to ensure that our collection as a whole reflects more Black and Indigenious viewpoints."
While schools across the city held remote classes, the library has held virtual sessions for children, such as "multi-Lingual Storytimes," "homework help" sessions, a program where children in grades 1 through 8 can be paired with a trained volunteer to receive help with "assignments in math, science, social studies, and other topics," according to Brooklyn Public Library's website.
As COVID-19 resulted in the death of more than 20,000 New Yorkers, Brooklyn Public Library provided grief support groups to those who have lost loved ones throughout the pandemic. The library also hosted mental health-related programs, including support groups.
Brooklyn Public Library has partnered with the New York City Health + Hospital Test and Trace Corp. "A Test and Trace grant has allowed library staff to distribute 270,000 masks," and provide information to over 19,000 Brooklyn residents about "essential resources, such as free testing sites and emergency food relief," said Johnson.
Brooklyn Public Library also holds weekly Virtual Health Fairs, which provide information about COVID-19, testing sites, and free face-covering distribution sites, as well as information on the flu, "in order to help our patrons navigate the constantly evolving information regarding testing sites, insurance coverage, and more," said Johnson.
The Test and Trace Corp partnership also includes the use of BPL's Williamsburg and Borough Park locations to distribute PPE, and outdoor pop-up covid testing sites at Paerdegat and Brighton Beach libraries, said Johnson.
"Early in the pandemic, when PPE was scarce, we worked in partnership with Columbia University to print face shields for health care workers using 3D printers from our branches," she explained.
In addition to providing support to health-care workers, during the summer, Brooklyn Public Library used five branches to act as cooling centers for New Yorkers, and 18 branches were used as polling sites during New York's primary and general elections, said Johnson.
The library partnered with the Department of Correction to "provide incarcerated New Yorkers with a virtual library via tablets," and with the City's Department of Youth and Community Development to "host learning labs" at six library branches where K-8 students will "be able to access remote learning and be able to enjoy an enriching environment when they cannot be in school," said Johnson.
"Public libraries, trusted by every generation, in every neighborhood, are uniquely suited to help rebuild our social and civic infrastructure and ensure that infrastructure serves all of us," said Johnson.
Still, BPL still "sorely needs capital improvement," said Johnson. "We have managed to forge ahead with a few self-managed projects," which include the new Greenpoint Library and Environmental Education Center and The Center For Brooklyn History "which will allow all New Yorkers free and open access to the most expansive collection of Brooklyn history in the world," she said of the acquisition of Brooklyn Historical Society.
New York Public Library (Manhattan, Staten Island, the Bronx)
In the wake of the closure of public library buildings, New York Public Library has "continued to provide equitable and accessible services, many of which are virtual," said Marx. According to Marx, New York Public Library has seen 45,000 new library card sign-ups since March and 2.1 million digital checkouts. The library system for Manhattan, Staten Island, and the Bronx has also seen 65,000 new users on its app, SimplyE, which provides readers with access to free books and audiobooks, and close to 1 million database item requests and 25,000 item holds.
New York Public Library also provided online access to their research library. "You can request any document, we'll send it to you," said Marx. The library has begun to negotiate a "research ebook collection available to anyone in the world," which would contain between 3 and 4 million volumes of books. It also "massively increased" its database, according to Marx.
And New York Public Library is using its research library to "pump out what people are so eager for," such as their launch of the Schomburg Center Black Liberation Reading List, which includes 95 books by Black authors.
"It's just been extraordinary to see my colleagues remove all the constraints and offer everything that we can digitally," said Marx.
The digital opportunities include a myriad of different events and information for New York City residents. Such as information on wellness, housing, and food security, and career services, like Spotlight On: LinkedIn, an event held on December 1 where "participants share their screen to show off their resume or LinkedIn profile and practice interviewing to get feedback from the NYPL career coaches and the whole group," according to the New York Public Library website. The library also holds financial counseling sessions virtually and by appointment and speaks to individuals about their "current financial situation, including general money management, budgeting, saving, banking, retirement planning, and more," the library's website says.
The library has also moved its educational programs entirely virtual. Through events like Children's Book Discussion, held by librarians at Columbus library, where children ages 3 through 12 are invited to talk about the books they are currently reading and, "accompanied by a caregiver will be able to share their thoughts about the characters they meet and exciting plots they've explored," according to the website. During the summer, in support of distance learning, New York Public Library also distributed 40,000 reading kits to students throughout the city.
New York Public Library knows "that too many New Yorkers are on the wrong side of the digital divide," said Marx.
When NYPL "can help some people get connected, when we can do hotspots, that's great. But I'm sorry," Marx continued. "This is 2020. The fact that we live in the information capital of the world and millions of New Yorkers simply can't go to school now, do their schoolwork, do their jobs, apply to jobs because we don't believe that's a minimum, basic utility we owe the citizens, we can have this testimony, we can do whatever we want. But we have to solve this problem. This is a fundamental failing of this city at this point — to provide the basic services that we need the city to provide for us to be able to do the work that we need to do. That could not be more clear now."
Marx said "the crisis resulted in the halt on all capital projects in March, including 62 active capital projects." Since then, said Marx, 16 of the projects have been restarted. "We continue to work with the City's Office of Management and Budget as well as the CDC."
"It's been an amazingly difficult and challenging year," he said. "Our colleagues have stepped up to the plate. We were the most used civic facilities in this city. We are now the front and center for what we can do physically and what is happening virtually in terms of helping with learning, information, access, in these times."
Queens Public Library
The Queens Public Library adapted their in-person programming to "fit the virtual world" said Walcott. "The COVID-19 pandemic has impacted every citizen, business, and government in the world," said Walcott, "and changed the way we interact with one another and has forced us to reconsider all the things we take for granted as normal."
Closing Queens Public Library buildings on March 16 was a "difficult decision to make," said Walcott. "It was a difficult decision because I know that hundreds of thousands of people rely on our collections and free programs and services on a daily basis...However, it was a decision that had to be made in order to save lives."
As the city began to rapidly close, said Walcott, in the "first two weeks of the city-wide shutdown," which began on March 22, Queens Public Library knew that it had to "rapidly alter our service delivery mechanisms in order to serve the public." These mechanisms included setting up an online calendar that offered virtual activities, including "Children Story Time" and "Ask the Census Bureau," a Facebook Live question-and-answer segment with Jeff T. Behler, the New York Regional Director for the U.S. Census Bureau, said Walcott.
Since then, Queens Public Library has hosted over 5,700 programs, Walcott touted, which have been attended by over 100,000 participants. One event, the Adult Learning Program, has hosted over 100 virtual courses and 700 individuals registered for the New Americans Program's English for Speakers of Other Languages (ESOL) 2020 virtual fall semester, Walcott said.
Queens Public Library has also created "QPL At Night," a "virtual nightlife hotspot for virtual entertainment, civic engagement, and learning geared towards a millennial audience," said Walcott. There was also a panel discussion led by Walcott called "To Be Black in America," a conversation about racism in America with New York State Attorney General Letitia James and SUNY Downstate President Dr. Wayne Riley. The discussion focused on racial disparities during COVID-19 and the daily lives of minority groups in America.
The library also partnered with BrainFuse, "one of the nation's leading online tutoring providers," said Walcott, "to broaden access to free homework help." This partnership includes free live online tutoring for children from grades K-12, as well as test preparation and homework help. The partnership also helps "adult learners," he said, and includes resources such as professional resume and cover letter assistance as well as preparation for the U.S. citizenship test, and a "Microsoft Office Essential Skills Series," according to Queens Public Library's website.
In addition to programs, Queens Public Library also moved 25,000 ebooks, emagazines, audiobooks, and videos to their digital platform with a circulation increase during the first six weeks of over 104%, said Walcott.
"As we moved to a more virtual world, however, it laid bare the disparities in regards to the broadband connectivity in the local communities we serve," said Walcott.
Similar to the other two public library systems, "Queens Public Library serves as a critical lifeline for individuals who do not have" access to Wi-Fi, said Walcott. In areas like Southeast Queens, said Walcott, "approximately 43% of the households are without broadband access." Queens Public Library, he said, "serves as a critical lifeline for individuals who do not have these services." During the first quarter of the fiscal year, the Queens Public Library recorded nearly 118,000 Wi-Fi sessions, said Walcott. "Our customers rely on our free Wi-Fi services for a plethora of reasons," such as staying connected with friends and family. Customers also rely on the Queens Public Libraries' Wi-Fi services to pay their bills and to attend school remotely.
"But that's still not acceptable, as far as the need out there in the public," said Walcott.
Queens Public Library has extended their Wi-Fi at 20 locations to allow anyone, whether they have a library card or not, to be able to access broadband services using their personal devices up to 150 yards from their buildings, said Walcott. Queens Public Library's Wi-Fi is available 24/7 "and the public is taking full advantage of it," he said.
Queens Public Library also launched its newly redesigned mobile app. Which includes an "improved user-friendly interface, allowing customers to navigate with ease," as well as "includes the ability to search and scan books, find nearby locations, and read, watch, and listen to content directly from the app," Walcott said.
"As all of us have confronted the COVID-19 pandemic and the manifestations of racial injustice across the country, and here at home, New York City endured unprecedented heartache, economic hardship, and turmoil. In developing our reopening plans, there was one thing we all knew: the world would now need and demand more from libraries than ever before," said Walcott.
The measures that city's public library systems have taken in order to provide crucial support to New Yorkers is "incredible," said Council Member Van Bramer and "demonstrates to the world just how indispensable libraries are."
"If in the middle of this pandemic," Van Bramer said, people are still visiting public libraries, "it just talks about how desperate people are for the information, for that connectivity to a place they trust so much."
"I hope that everyone remembers what you have done, what you are doing, and what you will continue doing as we go through further phases of this pandemic and hopefully towards an end to it," Van Bramer told the library system leaders. "When we do talk about the budget issues, the City of New York as it relates to public libraries, we need you now more than ever."
"You have come through for the City of New York more than ever," he said, "and are literally saving lives."