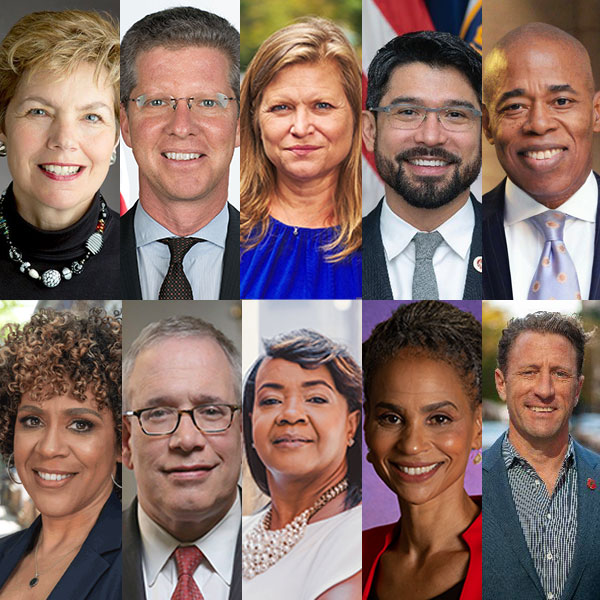 Top (l-r): Loree Sutton, Shaun Donovan, Kathryn Garcia, Carlos Menchaca, Eric Adams
Bottom (l-r): Dianne Morales, Scott Stringer, Joycelyn Taylor, Maya Wiley, Zach Iscol
---
The NYPD's involvement when responding to mental health crises took center stage at a forum featuring ten of the 2021 Democratic mayoral candidates Thursday night.
The event, which was hosted by Citizen Action of New York, a grassroots nonprofit advocacy group, and a consortium it is part of that seeks to reform mental health and other social services, especially for low-income New Yorkers, people of color, and other often marginalized communities, and to overhaul treatment of mental health emergencies.
The ten participating candidates -- Eric Adams, Carlos Menchaca, Dianne Morales, Loree Sutton, Karthryn Garcia, Maya Wiley, Shaun Donovan, Scott Stringer, Joycelyn Taylor, and Zach Iscol -- were asked a series of questions about what they would do as mayor to improve the quality of mental health services offered in New York, including related to how police are involved, criminal justice reform, and more.
The pandemic has been hard for all New Yorkers, but for those who suffer from mental illness, the isolation of quarantine has made it particularly difficult. Citizen Action and the Correct Crisis Intervention Today (CCIT-NYC) coalition put together the panel to hear what the candidates would do as mayor to help those who are suffering and where they stand on a number of issues, including the NYPD's use of tasers and overall involvement in responding to mental health crises.
Due to the large number of panelists, the candidates were not given the opportunity to answer every question. Cindy Rodriguez of WNYC radio moderated the Zoom event, which was organized in large part by CCIT-NYC's Christina Sparrock and Carla Rabinowitz.
The discussion opened with a question about expanding supportive housing for people with mental illness, particularly those who are homeless. Of the over 90,000 people that are homeless in New York at least 40% live with a mental illness, it was said.
Brooklyn Borough President Eric Adams said he wants to modify the 15/15 Initiative, the city's plan to create 15,000 units of supportive housing over 15 years, and cut the time it would take down to 10 years. He said that currently, there isn't enough supportive housing in New York, citing that there's only one unit available for every six eligible applicants.
"That's not sufficient. We are failing vulnerable families and individuals who need affordable housing that can offer substance abuse and mental health assistance," he said.
Maya Wiley, a civil rights attorney and former counsel to Mayor Bill de Blasio, proposed turning vacant hotels into permanent affordable housing, saying the pandemic has presented the city with a unique opportunity to help thousands of people.
"We also have to look at properties that are in distress that we can actually use much more quickly and rapidly create supportive housing that's truly affordable," she said.
The major topic of the night was the NYPD's involvement when responding to mental health crises. Advocates say police don't need to be involved when responding to these calls, and social workers and community activists should be deescalating the situations instead. There have been instances where police involvement in responding to mental health episodes has turned fatal, as was the case with Daniel Prude in March.
When asked if police should no longer be responsible for responding to these calls, four (Wiley, Morales, Stringer, and Taylor) out of five candidates asked said yes. Adams was the only candidate to disagree, saying that there are times where these calls can turn violent based on the actions of the person having an episode. Only when it is determined that the individual having the crisis is not a danger to themselves or others is it OK for the police to be removed and a response team to go in to provide assistance, he said.
"I will never put a city employee, psychiatrist, family members or anyone else in a situation that could endanger the lives of innocent people or the person who's going through a mental health crisis," he said. "So no, I will not just openly state, 'under no circumstances should a police officer respond.'"
Dianne Morales, the former CEO of Phipps neighborhoods, a nonprofit social service provider in the Bronx, disagreed, citing her first-hand experience with being around someone who was having a mental health crisis. Her daughter has struggled with suicidal ideation, depression, and anxiety and Morales has had to navigate the state's mental health system in order to seek care for her, she explained.
Morales has called to 'defund the police' and remove them from responding to these calls. Instead she wants to connect vulnerable New Yorkers to the programs that would best suit their needs, something she says is entirely possible without the involvement of the NYPD.
"Mental health is criminalized in this city," she said, adding that the city should "provide the appropriate interventions and services and supports at the time, in the moment, not sending an armed individual to respond to a mental health crisis."
New York City Comptroller Scott Stringer agreed, noting that Black and brown communities are disproportionately affected by NYPD involvement, and said that the police department hasn't properly trained its officers to respond to a mental health crisis.
"We've approached public health and public safety too narrowly for too long and it's been an enormous cost to the Black and brown New Yorkers," he said. "The NYPD's responsibilities have ballooned and now include a host of social challenges, none of which our officers are properly trained to handle."
Stringer also said he wanted to create a system similar to the one in place in Eugene, Oregon. The Crisis Assistance Helping Out On The Streets (CAHOOTS) program was established over 30 years ago and has a trained crisis worker responding to calls with a medic and no police involvement. Of the 24,000 CAHOOT calls in 2019, only 150 required police backup, Stringer said, as part of a back-and-forth of sorts with Adams, who had called the system into question.
Joycelyn Taylor, founder and CEO of TaylorMade Contracting LLC, echoed Stringer in her response, saying she wanted to expand a program proposed by Correct Crisis Intervention Today - NYC in which an EMT is paired with a peer de-escalator to respond to calls about mental health. The de Blasio administration recently proposed a pilot that is almost identical to the one advocated by CCIT-NYC. The city's proposed program would be piloted in two police precincts. The city made this plan only after a number of people in mental health crises were killed by responding NYPD officers and years of criticism of Mayor de Blasio for not taking a different approach to emergency mental health calls.
"We cannot continue to be so risk averse that we come up with every reason why we can't create change," Taylor said. "I think it was an excellent recommendation for a peer program to address the issue. So yes, we should take policing out of mental health issues."
Candidates were also asked about allowing police to use tools such as tasers and hoods when subduing people suffering from a mental health crisis, a tactic that is considered to be inhumane by the mental health community.
Loree Sutton, a retired brigadier general and Army psychiatrist who most recently ran the city's Department of Veterans' Affairs, said that she believes that it's important to try to defuse a situation and establish a relationship with the person who is having the crisis with as little force possible, but she said that there are some situations where that can't be avoided.
"It's difficult if someone is throwing feces at you, if they are spitting at you, if they are resisting arrest. Our law enforcement officers do need tools and the non-lethal tools that have been mentioned tonight have their place, they should not be overused, but I would not remove them from the toolkit of the NYPD," she said.
Kathryn Garcia, former city sanitation commissioner, agreed to an extent, saying that hoods should not be permitted but that tasers should be kept as long as they are not overused, and if there is a serious threat that people involved should be protected.
"I believe that we need to pair police with mental health professionals when they are dealing with someone where we don't have a predictability of what's going to happen and there could be violence involved," she said.
Adams was asked directly about his proposal of implementing the use of a BolaWrap, a kevlar rope that is fired when subduing an individual and wraps around their body to restrain them. "I do not support the overuse of tasers, hoods, I do not support using those devices," he said, but that the BolaWrap is a better way to restrain someone who poses a danger to themselves or others.
"It is a proper tool that's been used that's non-lethal, instead of using those methods that are lethal and causes serious bodily injury or death. But we have to be extremely careful when it's time to respond to someone who's going through a serious, dangerous emotional stress," Adams said.
ThriveNYC is the de Blasio administration's overarching mental health roadmap, spearheaded by First Lady Chirlane McCray, and aims to bring mental health services to all New Yorkers who need them. The roughly $225 million per year program, which both spends money itself and seeks to coordinate ongoing mental health services, and management of it by de Blasio and McCray have come under a great deal of scrutiny, especially as they have struggled to show its impact and have provided limited evidence for how it addresses people with the most severe mental illnesses.
When asked about bringing universal mental health care to all New Yorkers, Wiley directly referenced the program, calling it a "$1.25 billion mistake," because the program was created without community input and because it was not implemented well.
"It wasn't a mistake because its effort was to address mental health issues. Its mistake was it was trying to do too much that was not central to what communities needed," she said.
Stringer also criticized the program and de Blasio's approach to mental health care, saying that the program is all about the mayor, not the people who need help. Stringer said that in order to better serve New Yorkers, he will work with communities to create programs that are effective.
"It's not about real mental health services in the streets, it's ballooned to its own inadequacy. I'm going to take that program, and I'm going to redistribute those resources to the programs that work," he said.
Adams was asked if he would change ThriveNYC but didn't address it directly, instead saying that he would work towards providing better access to healthy food because of nutritional psychiatry, or the connection between what people eat and the impact it has on their mental health.
"The new science shows that a diet, changes in consumption of healthy food can really prevent and treat many of the issues we're dealing with," he said. "We're not doing enough on a nutritional level to deal with the mental health crisis."
The impact that the uncertainty of the pandemic has had on CUNY students was also discussed, with Rodriguez mentioning that students are experiencing mental illness at unprecedented levels with little support from their schools. Candidates were asked to talk about what kind of program they would have to bring mental health services to these students, who often can't afford to go to therapy or seek other help.
Garcia suggested expanding telemedicine and having virtual therapists reach out to students, saying that one of the challenges during the pandemic was the students having "very little income and social safety net" on top of worrying about the virus.
During a lighting round where candidates could only answer with yes or no, the majority of candidates seemed to be on the same page about a variety of topics ranging from ending solitary confinement in city jails to taxing the rich. Sutton was an outlier, disagreeing with the majority about those two issues and saying that neither should be implemented. Zach Iscol, a military veteran turned entrepreneur, was displeased with having to state a hard yes or no, but came around to say he was against raising taxes and that the city should "move toward" ending solitary confinement. Adams was the only other of the ten who wasn't for a complete end to solitary confinement, saying it should be ended only for non-violent detainees.
Given the high percentage, about 40%, of people being held in city jails who suffer from a mental health issue, candidates were asked about what kinds of investments they would make in mental health care to prevent people from entering the criminal justice system in the first place. Shaun Donovan, the former Secretary of Housing and Urban Development under President Obama, said he would reorient the parole system and create a pretrial system so people can get the help they need before appearing before a judge.
"We need to completely reorient our system to create a pretrial agency so that before anyone suffering with mental health challenges ends up in front of a judge, we are looking at alternatives," he said.
Donovan also proposed giving housing vouchers to people who were just released from jail, citing something he did (and was criticized for, he said) when he was housing commissioner under Mayor Bloomberg. He said that 95% of recipients had not reoffended a year after being given the voucher, and that most had jobs and were in a stable household.
"Think about what we could do if we reorient our system to not only provide housing vouchers, but the kind of job training and investments in mental health that we ought to have," Donovan said.
City Council Member Carlos Menchaca wants to reallocate funding from agencies like the NYPD and also stop the construction of four new jails to replace Rikers Island facilities, something he said he'll do in his first 100 days as mayor. He said the jails plan is not worth the $9.2 billion that it is budgeted for when that money could be used to keep people out of jail, invested in communities.
"Communities can make a decision through a participatory budgeting model where our boroughs can make decisions about how they want to bring the infrastructure and begin this municipal green new deal to bring jobs on board," he said.
On a question about the impact the pandemic has had on Black and brown communities, Stringer talked about how communities of color have been hit hardest and that 75% of essential workers are people of color. He said it is essential to invest in these communities, saying that the economy we had before the pandemic cannot be the economy we return to, because it puts people of color at a disadvantage.
"They were the ones who went out without protective gear. The government failed them. But they saved our city and they saved our lives, and we owe them a better deal than what they're getting," he said.
"This is 2020. We should not be having conversations about children not having access to technology, because we live in a technological world," Taylor said, stressing that all students must have access to technology, and pledging to hand students a device when they enter first grade, another for middle school, and another for high school.
Donovan touted a career in public service, saying that he has the most experience dealing with crises, ranging from work he did under President Obama after the housing market crash that devastated communities of color in southeast Queens to efforts in the Lower Ninth Ward in New Orleans.
"In every single crisis, the communities that are most vulnerable before that crisis hit, get hurt the worst by it. So I was shocked, but I wasn't surprised to see COVID take a disproportionate toll on our Black and brown communities," he said.
If elected, Donovan said he will appoint a Chief Equity Officer on his first day as Mayor, something he says will help him begin to dismantle how "structural racism affects our work in the city." (After years of pressure from Stringer, Mayor de Blasio recently announced he was appointing a Chief Diversity Officer.) Donovan said once Rikers Island jails are closed the island should be used for environmental justice because communities of color are often disproportionately impacted by climate change.
"Equity is in every decision a mayor makes," Donovan said, "and has to be at the forefront."
Note: this story has been updated with more clarity around the city's proposed pilot program to change how some mental health emergency calls are responded to.