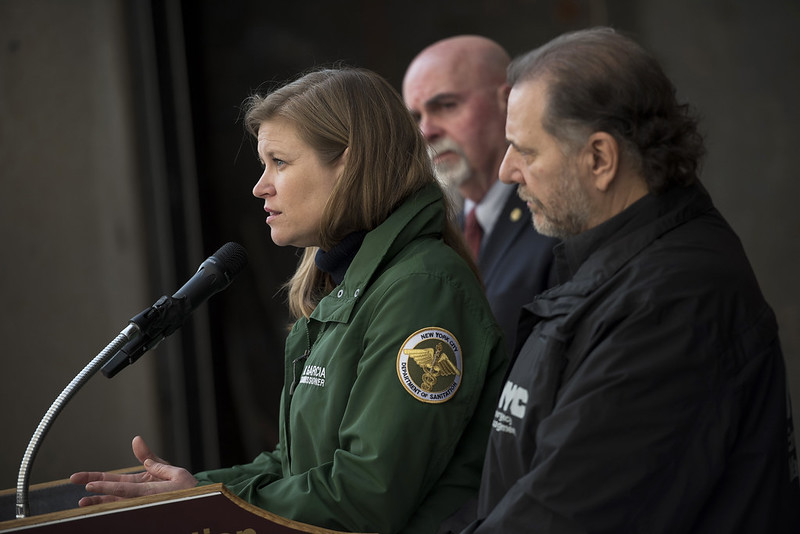 Kathryn Garcia as Sanitation Commissioner (photo: Ed Reed/Mayor's Office)
---
Kathryn Garcia, the former commissioner of the city's Department of Sanitation, officially launched her 2021 mayoral campaign on Thursday, pitching her credentials as an experienced government official who has time and again been called on by the mayor to clean up municipal messes.
During her six years as sanitation commissioner, Garcia had the monumental task of overseeing trash pickup, snow removal, and recycling operations for a city of 8.5 million residents and many tens of millions of commuters and other visitors each year. But she's also been a fixer for crises outside that portfolio. Mayor Bill de Blasio placed her in charge of tackling an emergency of lead exposure among young children, appointed her interim chair and CEO of the struggling New York City Housing Authority (NYCHA) and, during the coronavirus pandemic, made her the emergency "food czar" responsible for delivering more 130 million meals to hungry New Yorkers.
"Those who have worked with me over the years know me as someone who gets things done," Garcia said in a live Zoom announcement on Thursday afternoon. "I've been the go-to crisis manager and the woman who can't say no to a tough gig, and then does it well."
Garcia quit her job earlier this year after the city budget slashed funding to the sanitation department and the mayor threatened layoffs to fill a major budget hole, and as she was eyeing her own bid to replace de Blasio. In the time since, she has been openly critical about the mayor's management style as she offers her own alternative. "I believe the next mayor will either make or break this city," Garcia said Thursday. "In the depths of overlapping crises, we must still have bold vision, and to execute on that vision, we must have an experienced hand on the wheel. And you won't find a candidate who has more experience in New York City Government than me."
In her announcement, Garcia said her three top priorities would be "a strong recovery, excellent basic services, and fighting climate change." During her remarks as well as several videos posted to the campaign's YouTube page, she outlined several specific policy positions and proposals.
To promote economic growth, she promised to create pipelines from universities to jobs, provide free childcare for families making under $70,000 a year, build universal broadband access, and reduce fines and fees for small businesses.
She said she would bring back the city's composting program, convert Rikers Island into a composting and renewable energy zone, electrify all city school buses, and install more than 3,000 electric car chargers across the city. She pledged a five-borough resiliency plan.
She promised to achieve universal literacy for children by the end of second grade within her first term.
She vowed to change policing in the city "from a warrior culture to more of a guardian culture" by increasing the age of new recruits from 21 to 25, ensure more cops live in the city and increasing implicit bias training.
She promised to ease how New Yorkers get around the city, including by creating more bus and bike lanes.
Garcia is one of three former de Blasio administration officials, all of whom are women and first-time candidates for any elected office, who are seeking the Democratic nomination in the June primary, which will likely determine who becomes the next mayor because of the overwhelming Democratic voter enrollment advantage in the city. Former counsel to the mayor Maya Wiley and former Veterans Services Commissioner Loree Sutton are also running to replace the term-limited Democratic mayor.
Other candidates in the Democratc field include Comptroller Scott Stringer, Brooklyn Borough President Eric Adams, former Citigroup executive Ray McGuire, City Council Member Carlos Menchaca, former Obama cabinet secretary Shaun Donovan, former nonprofit executive Dianne Morales, military veteran-turned-entrepreneur Zach Iscol, and others.
The core of Garcia's message is that she is an experienced manager who knows how government works, and doesn't, and can streamline the city's bureaucracy and ensure that basic services are delivered more efficiently and effectively. She pledged to focus on core issues like "clean, safe streets and transit, affordable housing, good schools and police reform."
"I'm running because we have to get the basics right, and we have no room for error and no time for learning on the job," she said. Garcia's pitch echoes to some extent those being made by Stringer, who's promising to "manage the hell out of this city," Adams, who is promising "real-time governance" to eliminate inefficiency, and others, including Donovan, Sutton, and Iscol.
It remains to be seen how effective a platform based on no-nonsense management of government will be in a primary where an ascendant left wing of the Democratic Party is especially active and voters have many choices in a diverse field. Garcia announced the endorsement of the Uniformed Sanitationmen's Association, the labor union with more than 6,000 members that she worked closely with as sanitation commissioner.
The race will see the first citywide use of ranked-choice voting, a new system that allows voters to rank up to five candidates by order of preference and forces candidates to campaign throughout the city and appeal to as many voters as possible, in the hopes of snagging as many second and third place votes as possible beyond the most-desired first place votes.
"I am incredibly good at creating very effective teams that really maximize a lot of people's talents," Garcia said in an at-length September interview on the Max & Murphy podcast, just after she left city government. "There is not infighting on things that I work on. And the second thing is, I'm extremely clear about my expectations and I'm extremely clear about the fact that I expect accountability. You need to produce."