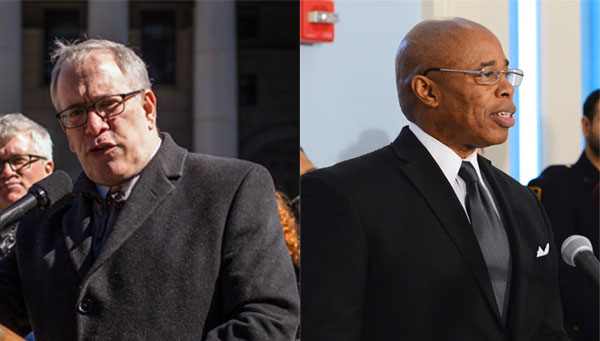 Mayoral candidates Scott Stringer, left, and Eric Adams
---
The New York City Campaign Finance Board (CFB) on Tuesday awarded $17.3 million in public matching funds to 61 candidates for office, kicking the 2021 municipal election into high gear. All of city government is on the ballot next year, starting with June party primaries, and most current officeholders can't seek reelection due to term limits.
The public funds payment is the first in the 2021 cycle, under new voluntary campaign rules that match qualifying donations at an 8-to-1 ratio and come with significantly lower individual contribution limits. The program, which also includes spending caps for participants, incentivizes small-dollar fundraising, curtails the influence of wealthy donors, and helps level the playing field for candidates across the board.
The initial payouts were based on campaign finance filings made back in July, and went to just two candidates for Mayor, one candidate for Comptroller, two for any Borough President position, and 56 candidates of hundreds running for the 51 City Council seats. Another round of CFB payouts will be coming on January 15, and then another on February 15 based on the filing due in January, at which time many more campaigns are expected to qualify for public funds.
In the crowded Democratic mayoral primary, Brooklyn Borough President Eric Adams and Comptroller Scott Stringer were the only candidates to receive public funds, meeting the dual thresholds required to qualify. By July, a mayoral candidate had to raise at least $250,000 from a minimum of 1,000 donors who are New York City residents.
Adams' fundraising has so far eclipsed the entire field, and he received nearly $4.4 million in public funds. As of July, he had about $2.2 million in his campaign account. "Every day New Yorkers making low-dollar contributions have powered our movement from the beginning," Adams said in a statement on Tuesday, in part. "Thousands of New Yorkers who gave only what they could to our campaign may have each made small contributions, but now, together, their voice is big. We have received nearly 7,000 contributions from New Yorkers from every walk of life who live in every corner of our city—and low-dollar donations from working people make up the vast majority of what we have raised."
Stringer received just over $3.3 million in public funds, and had about $2.3 million in his campaign account in July. "Comptroller Stringer is running for mayor to fight for the people of New York, not the wealthy elite and powerful special interests," said Cameron Hellerman, a campaign spokesperson, in a statement. "We're proud to be part of the most progressive campaign finance system in the country, and we're thrilled with the momentum behind our grassroots campaign."
Fundraising and campaign spending between July and January and cash balances will be evident in the filing due next month.
Mayoral candidates who are participating in the program but who did not qualify based on their July filings include former city Veterans Services Commissioner Loree Sutton, former nonprofit executive Dianne Morales and and former federal Housing Secretary Shaun Donovan; though Donovan has not yet filed that he is participating, a campaign spokesperson confirmed that he will be seeking public funds.
Since the last filing, several other candidates have also jumped into the race but have not yet been required to file any campaign finance disclosures. They include former city Sanitation Commissioner Kathryn Garcia, former counsel to the mayor Maya Wiley, City Council Member Carlos Menchaca, former Citigroup executive Ray McGuire, veteran-turned-entrepreneur Zach Iscol, and several others.
U.S. Rep. Max Rose, who recently lost his reelection bid, and former presidential candidate Andrew Yang are both also considering running for mayor. Rose recently opened a campaign account with the Campaign Finance Board.
The next public funds payment will be awarded on January 15, which will also be based on the July filing. The next campaign finance filing is also due January 15, covering the previous six months of fundraising and expenditure, and a public funds payment will be disbursed on February 16 based on that filing.
Mayoral candidates who participate in the public matching funds program must abide by a $7.3 million spending limit in each the primary and the general, and another $343,000 in out-year spending, for a total limit of nearly $15 million for the entire race. They can raise a maximum of $2,000 from a single donor under the new program and can receive a maximum public funds payment of about $6.5 million in each of the primary and general elections.
Most mayoral candidates have chosen to engage in the new program except for McGuire. Having just launched his campaign earlier this month, he has yet to file any campaign finance reports but his campaign said that he had quickly raised more than $2.3 million.
For a candidate like McGuire who has not opted into the program, there is no spending limit and he can raise as much as $5,100 from a single donor. However, if a non-participating candidate spends half the matching program spending limit, which is $3.6 million in the primary, then the limit automatically increases by 50% for participants of the program, to just under $11 million for the mayoral primary (or general). If a non-participant spends three times the spending limit, nearly $22 million, then the spending limit is eliminated for all candidates.
In the race for city comptroller, only City Council Member Brad Lander, a Brooklyn Democrat, qualified for public funds, getting $2.34 million from the CFB. Comptroller candidates are also limited to $2,000 contributions but have lower thresholds for qualifying for matching funds – they must raise at least $125,000 from a minimum of 500 donors from New York City. Comptroller candidates can spend a maximum of $4.55 million in each the primary and the general, along with the $343,000 out-year limit, for a total of over $9 million. Comptroller candidates can receive a maximum of just over $4 million in each phase of the election.
"I'm honored to have earned the support of thousands of New Yorkers, who are putting their trust in me as the candidate best suited to ensure that NYC's recovery from this crisis centers those who have been most marginalized and secures a just and equitable future for all New Yorkers," Lander said in a statement. "New Yorkers can be proud of our strong public finance program, which enables candidates to run grassroots campaigns that are accountable to everyday New Yorkers, not wealthy donors and corporate PACs."
The three other declared Democratic candidates running in the comptroller primary, all of whom are participating in the public funds program but did not qualify for the initial matching funds payout, are State Senator Brian Benjamin, who had $386,000 in the bank as of July; Assemblymember David Weprin, who had about $144,000; and State Senator Kevin Parker, who had raised just over $3,000. Parker and Weprin only recently officially launched their campaigns.
There were only two initial public funds payments made in races for borough president. Borough president candidates participating in the new public funds program can raise a maximum of $1,500 from an individual donor. They are limited to spending up to $1.64 million in the primary and general each and $153,000 in out-years, for a total of $3.43 million in an election cycle. They can receive a maximum of $1.46 million in public funds in the primary and general each.
Only one candidate qualified for public funds in each of the races for Manhattan and Staten Island borough president.
Democratic City Council Member Ben Kallos received $460,651 for his campaign for Manhattan borough president. He had about $104,000 in his campaign coffers in July. "I am proud of the grassroots support my campaign has been getting over the last months demonstrated today by the CFB payment. We are ready and eager to hit the ground running in 2021," Kallos said in a statement. "I am very much looking forward to working on behalf of the entire Borough of Manhattan expanding on the work I have been doing in the Council around improving education, affordable housing, making government more accountable and homelessness."
Kallos faces a crowded Democratic primary field that includes fellow City Council Member Mark Levine; State Senator Brad Hoylman; Kim Watkins, president of Community Education Council 3; Elizabeth Caputo, former Manhattan Community Board 7 chair; and Lindsey Boylan, former deputy secretary for economic development and housing for New York State.
In the Staten Island borough president race, Republican City Council Member Steven Matteo received about $382,000 in public funds. He had a campaign balance of about $156,000 in July. The only other Republican candidate who has registered a campaign committee in the race is Leticia Remauro, a public relations consultant and former chair of Community Board 1, and she has yet to show any fundraising. Democratic activist Tom Shcherbenko has said that he is running but has not created a campaign committee.
Besides the citywide and borough-wide races, 56 candidates running for City Council also received public funds, 14 of whom received the maximum payment of $160,444 for the primary. City Council candidates who participate in the program can only raise $1,000 from individual donors under the new rules (for each the primary and general). They can spend $190,000 in each the primary and general and $51,000 in out-years, for a total of $431,000.