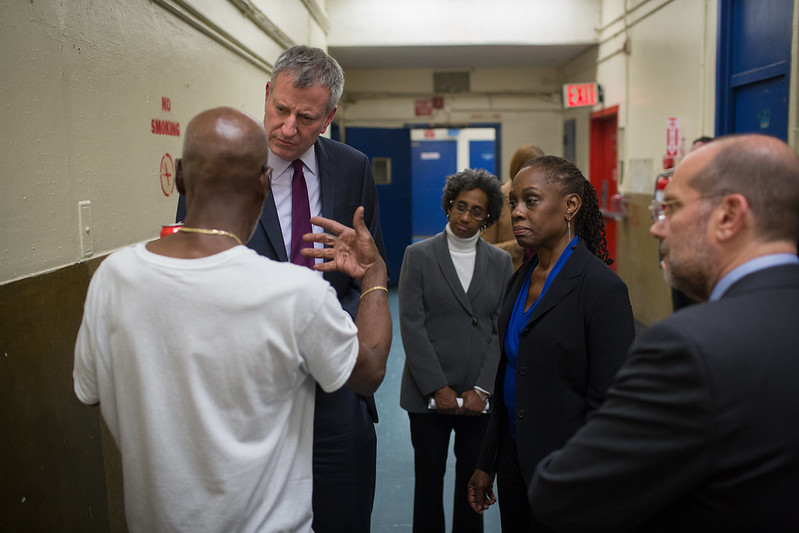 Mayor de Blasio at a homeless shelter (photo: Michael Appleton/Mayor's Office)
---
"We've opened shelters in communities that have never had shelters before," New York City Social Services Commissioner Steve Banks said in October, at an online event hosted by New York Law School that took place amid controversy over Mayor Bill de Blasio's decision to move homeless men from the Lucerne Hotel on the Upper West Side after uproar from some local residents.
Banks alluded to the de Blasio administration's "Turning the Tide" initiative, a plan to reduce homelessness in New York City released by the mayor and Banks in February 2017. As part of the plan, the city pledged to eliminate the use of commercial hotels and "cluster site" shelter units in favor of shelters run by the Department of Homeless Services and efforts to reduce the homeless population through preventative and re-housing measures.
But the plan got off to a slow start and some advocates, like Coalition for the Homeless, say it is outdated in light of the pandemic and that the mayor is using it to deflect criticism from his handling of the Lucerne controversy, in part by repeatedly citing the goal of eliminating the use of commercial shelters. When the residents of the Lucerne were initially moved there from congregate settings to avoid the spread of COVID-19, they were not provided necessary support services and security was lacking.
When the administration announced Turning the Tide, de Blasio was on the receiving end of relentless criticism over his handling of homelessness in the city, and he acknowledged coming up short against the enormity and complexity of the problem. According to the Department of Homeless Services (DHS), the city shelter census currently stands at 53,778. That's under the goal Mayor de Blasio set in 2017 of getting the DHS shelter census to about 57,500 by 2022, though it's unclear how the covid eviction moratorium is impacting the numbers and what may happen when those protections are removed -- some are predicting a potential tsunami of homelessness. The city's actual homeless population is far greater than the DHS census, which does not factor in all types of shelters in the city and does not account for the number of people living 'doubled up' or other crowded conditions after loss of housing.
The mayor and Banks are pledging to site 90 new community-based shelters by the end of this year that, in Banks' words at the time, would be "as close as possible to the anchors in people's lives." The idea being that if people do wind up in shelter, they can keep continuity with regard to jobs, school, family, and other key pieces of their lives, helping them maintain some stability as they deal with housing insecurity and the challenge of returning to stable housing.
As of early this month (December 2020), 43 of the 90 shelters are operational and 37 are sited but not yet operational. Of those 43 operational shelters, about half (21) are located in the Bronx, with eight in Queens, nine in Brooklyn, and five in Manhattan, with none operational yet on Staten Island.
Of the 80 total sited shelters, whether operational or not, under Turning the Tide, 31 are in the Bronx, 14 in Manhattan, 19 in Brooklyn, 14 in Queens, and 2 on Staten Island. These numbers don't exist in a vacuum, however, as the shelters are being opened to replace the use of hotels and other elements of the hodgepodge shelter system, and the overall plan said that the city's shelter footprint would actually shrink significantly if the plan were to be implemented as planned, and in conjunction with other measures to prevent homelessness and re-house people who do enter the system. Yet there are also questions about whether the city should be dedicating so many resources to opening new shelters instead of investing time and effort into permanent housing, such as increasing the value of certain housing vouchers.
Overall, as of October 31, there are 132 Department of Homeless Services shelters in the Bronx, 127 in Brooklyn, 118 in Manhattan, 75 in Queens, and one on Staten Island, for a total of 453. These numbers include so-called "stop-gap" locations or commercial hotels being used due to the pandemic -- combined, there were 164 such locations throughout the five boroughs as of October. According to the Department of Social Services (DSS), which Banks runs and coordinates with DHS, these numbers represent a 28% decrease from the 647 various buildings in use before Turning the Tide was launched.
The 90 opened, sited, or planned but not sited new shelters are a mix of traditional shelters and specialized ones, such as those supporting families with children, adult families, employment-focused, or for LGBTQ New Yorkers.
Four of the city's 59 community board districts will be getting their first traditional shelters through this program, including Brooklyn 13 (Coney Island and Bensonhurst), Bronx 8 (Riverdale, Kingsbridge), Queens 9 (Woodhaven, Richmond Hill), Staten Island 3 (South Shore), and Manhattan 1 (Lower Manhattan), according to DSS.
As of now, this will leave six community board districts throughout the city without any DHS shelters, according to DSS, including Bronx 11 (Allerton), Brooklyn 10 (Bay Ridge) and 11 (Gravesend), Staten Island 2 (Mid-Island), and Queens 6 (Forest Hills) and 11 (Bayside), even after Turning the Tide is fully implemented. However, shelters could be coming to those community districts in the remaining batch of ten shelters that still need to be sited under the plan.
Additionally, there will be 21 specialized shelters in community board districts where such shelters have never been before, including three in the Bronx, seven in Manhattan, seven in Brooklyn, and four in Queens.
Neha Sharma, associate press secretary at the Department of Social Services, told Gotham Gazette that the city expects all 90 planned shelters to be sited "by the end of this year" and most to be operational by the end of next year, which is when Mayor de Blasio leaves office due to term limits. She noted that DSS has "a responsibility to make sure neighborhoods that never had shelters have the resources to support those who need them."
According to Sharma, Turning the Tide "represents this administration's holistic effort to really change the way we provide shelter" and "transform the physical footprint of shelters in this city." Sharma stressed that the pre-de Blasio shelter system was "built up over several decades" and reflects "about forty years of inherited policy."
DSS' focus when opening new shelters is making sure communities have the resources to assist those experiencing homelessness within those communities, Sharma said, adding, "as we right-size the geographic footprint of the shelter system, the idea is making sure all communities share in this responsibility and have the resources they'd need to offer anyone from the community or neighboring communities to stabilize their lives there."
Jacquelyn Simone, a policy analyst at the Coalition for the Homeless, told Gotham Gazette that "it is possible the administration may be on track with the goals they've set. However, it remains to be seen if that capacity will be able to meet the needs in light of the economic devastation brought about by this pandemic." She criticized the mayor's homelesness policies as lacking a focus on permanent housing and said "the commitment for permanent housing for homeless people has been inadequate to date."
"We were disappointed at the time [Turning the Tide] came out that the administration was projecting they were only going to be able to decrease the number of people in shelters by about 2,500...and based their capacity planning on that very unambitious goal," said Simone.
Simone sees a "bifurcation of responsibilities in City Hall where there's one side of the government that works on homelessness issues and there's one side that works on housing issues" and that "those issues are treated separately instead of recognizing that housing is the answer to homelessness."
Coalition for the Homeless and other housing advocates have been critical of the mayor's handling of the controversy surrounding the Lucerne Hotel on the Upper West Side being used as a temporary shelter. Simone said that "Mayor de Blasio has repeatedly alluded to this Turning the Tide goal to get out of commercial hotels as an excuse" for moving unhoused persons out of the Lucerne. He did so during September 10 and September 14 press conferences, during the height of the controversy, as well as at other times.
Simone believes that the Lucerne saga will have ripple effects throughout the city, where she is already seeing shelter sitings being contested in "almost every neighborhood, unfortunately," where sitings are being attempted. She also believes that "the mayor's capitulation will only make these shelter siting issues more challenging than they already were."
She explained that by agreeing to move the unhoused persons from the hotel, de Blasio has "emboldened other NIMBY groups throughout the city and we're already seeing other neighborhoods object to the presence of homeless New Yorkers nearby because they've received a very clear message from City Hall that the Mayor won't defend homeless New Yorkers and his priority is to instead defend this vocal group of NIMBYs."
Note: this article has been updated to reflect that the de Blasio administration is planning to have all 90 new shelters sited by the end of 2020 and to correct the pronoun used for Neha Sharma - we regret the original error.