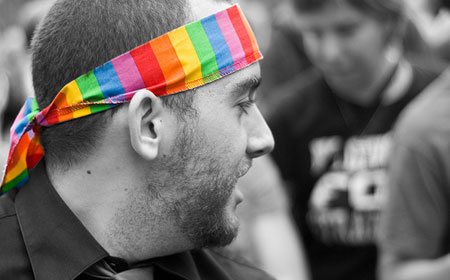 "Civil rights don't wait for the right time. I hope we've cleared that up once and for all," said Gov. David Paterson Thursday morning as he introduced legislation that would allow New York to follow in the footsteps of Vermont and legalize same-sex marriage. Flanked by Mayor Michael Bloomberg, City Council Speaker Christine Quinn, members of the legislature and gay rights activists, Paterson laid out his case for introducing a gay marriage bill and he did it in the bright of day.
A lot of people did not expect this to happen this year. In Albany bills generally are not brought to the floor of the Assembly or Senate unless they are certain to pass. And as Assemblymember Daniel O'Donnell pointed out, in 2007 the gay marriage bill was sent to the legislature at night "so no one would see it coming."
Paterson, though, came out swinging, "I read today that I'm rushing things. I'm rushing things by re-releasing a bill that the former governor released in 2007? What is going on with the world right now?" asked Paterson. As for introducing a bill that might not pass, "What is this Iran?" he wondered out loud. "Where are all those good government people now not calling for a vote on this in both houses?" he asked in amazement.
Bloomberg echoed Paterson's sentiment. "I'd also like to add that I've never believed that the state legislature should only debate and vote on legislation that they are 100 percent sure is going to pass," said the mayor. "That is not democracy. We have to have a debate. We have to have a vote. We have to let people, or force people, particularly elected officials to stand up and say explicitly, on the record, where they stand. That's what democracy is all about."
So why, on a day when Paterson introduced legislation that would mandate equal marriage rights for gays, did he and his allies spend so much time arguing that he was not hurting the cause by introducing a bill without being certain he would have all the votes it would need to pass?
Some say Paterson's move is a brash attempt to boost his poll numbers. Whatever it does for Paterson, though, the same-sex marriage bill is expected to cause the Democrats major headaches. A number of Democrats think Republicans will try to use the bill to attack vulnerable Democratic senators in upstate districts where same-sex marriage is very unpopular.
Paterson said he has heard "'we have to wait until we talk to Republicans!" "You don't think we've done that?" he demanded. Paterson said it was simply time to act.
After the Assembly
The Assembly, thanks to its Democratic supermajority, is likely to pass a gay marriage bill, as it did in 2007. That year, 81 Democrats and four Republicans voted in favor. Thirty-eight Republicans voted against the bill as did 23 Democrats. The bill did not come to a vote in the Senate in 2007 due to opposition from the Republican Senate majority.
On the Senate side, though, at least four Democratic senators stand against such a bill. Sen. Ruben Diaz Sr. of the Bronx and upstate Sens. David Valesky, Darrel Aubertine and William Stachowski have all indicated that they would vote against it.
On top of that, many believe that in his attempt to become Senate majority leader Malcolm Smith had assured Diaz he would not bring gay marriage to a vote. Diaz, a Pentecostal minister, has strongly opposed legalizing same-sex marriage, and Smith needed his support, along with that of two other rogue Democrats. While Paterson had his press conference Thursday, Diaz held a meeting of Hispanic ministers to plan their next steps to address "homosexual marriage."
Smith did not attend Paterson's press conference because he reportedly had previously scheduled meetings. (Assembly Speaker Sheldon Silver did not attend either because, Paterson said, he was celebrating Passover.) However, Paterson said, Smith "is a strong supporter of the legislation."
"I have been and continue to be a strong supporter of marriage equality and remain steadfast in my commitment to passing the marriage equality legislation submitted today by Gov. Paterson," said Smith in a statement released Thursday. "No person should ever be denied their civil rights or the basic freedoms others can enjoy. I am fully committed to continuing the process of securing the 32 votes necessary for passage and ensuring that all New Yorkers can realize the right of marriage equality which is fundamentally theirs."
Smith said earlier this year that he supports gay marriage but will not introduce legislation until he has enough support among Senate Democrats to pass it. Smith's spokesperson, Austin Shafran, repeated this week that Smith still does not believe bringing the bill to the floor is the right move unless it is guaranteed to pass.
Sen. Thomas Duane, the only openly gay member of the Senate, initially called Paterson's plan to introduce the bill a "gamble" and insisted it should only reach the floor if it will pass. But Duane changed his tune this week and has told reporters that he has been assured by some Republicans that they support the bill. He declined to name names.
Spokesmen for the Senate minority have insisted that their conference "continues to be opposed to the bill." The Republican Senate conference is notorious for acting as a unit.
"I doubt that the Republicans are going to join the Democrats to pass this now. They are dying for the upstate Democratic senators ... to come out in favor of this," Diaz recently told the Albany Times Union.
Geography as Destiny?
Republicans are expected to try to seize on the issue of gay marriage in their attempts to further play up the divide between upstate and downstate. They likely will paint the push for gay marriage as another example of New York City Democrats forcing their values on upstate residents.
"I certainly support equal rights, and I think same-sex couples should have equal rights, but I believe that marriage should be between a man and a woman," Sen. Betty Little of Queensbury, recently told Jimmy Vielkind of politickerny.com. She also noted that she was surprised that Paterson introduced the bill.
For much of this year Republicans have stressed that the Senate is now controlled by "three Democrats from New York City." Senate Minority Leader Dean Skelos of Long Island repeatedly referred to this year's budget process as "negotiated in secret by three New York City Democrats," with emphasis on "New York City."
Upstate Republicans assailed the budget for its cuts to agricultural programs and the closing of upstate prisons. Republicans also pushed for property tax relief, saying that New York City Democrats aren't sufficiently concerned about property tax issues because most of their constituents rent rather than own property. Four upstate senators went so far as to introduce a bill calling for a statewide vote on whether upstate New York should become the 51st state by separating from New York City and Long Island.
One of the bill's sponsors, Sen. Joe Robach of Rochester, has said the bill is not designed as a novelty but to allow voters to address what he sees as a disparity between the way upstate and downstate are treated.
To say the measure is unlikely to pass is an understatement. But despite the absurdity of the bill, Senate Democrats remain extremely sensitive to the issue of the upstate-downstate divide.
Smith has touted his approach as "one New York." Upstate Democratic members note that Smith has toured their districts and spent time on farms and say he is very attentive to the needs of upstate.
When asked about what seems to be the Republican strategy of playing upstate against downstate Shafran became uncharacteristically emotional. "Times are tough. People should be coming together, but they want to divide," he said. "I think it is a poor political strategy, and they need to focus on policy. We are fixing the mess they created. After 12 years of a borrow and spend Republican governor and after 40 years of a Republican majority that took care of special interests, now we face the greatest fiscal crisis since the Great Depression. In a time when we should be trying to pull the state together all they are doing is trying to further divide the state. I think it is disgusting."
Against this backdrop, advocates for gay marriage have stepped up their lobbying efforts to secure votes for the bill in the Senate. And they insist that no senator should be worried about a backlash in the voting booth if they vote to approve gay marriage. O'Donnell recently cited Assembly Republicans who voted for the gay marriage bill in 2007 and won re-election.
Advocates point to Vermont, which was the first state to legalize gay marriage through legislation. "I'm embarrassed for New York State," said Alan Van Capelle, executive director of the Empire State Pride Agenda in a statement on April 7 after Vermont's legislature legalized gay marriage.
Activists like Capelle say it is a shame that a progressive state like New York has not been a leader on the issue. Van Capelle pointed out that Paterson and U.S. Sens. Kirsten Gillibrand and Chuck Schumer openly support gay marriage.
"Every statewide official, the New York State Assembly and a majority of New Yorkers already support passing a bill that would provide same-sex couples with the 1,324 rights and protections that come with a New York State marriage license," said Van Capelle. "Despite the prevailing wisdom that Albany is hopelessly dysfunctional," he continued, "we have -- time and time again over the years -- proved that we can break through the gridlock and pass legislation providing equality for our community when most people thought it couldn't be done