Â
Is this the year the sleeping giant awakes?
The giant in question is the nation's growing Latino vote. At a forum at the New School last week participants discussed what role Latinos, Asians and other immigrants and their children might play in this year's election and in elections to come.
Overall, Latinos account for about 7.9 percent of U.S. voters and 9.3 percent in New York State. While New York tends to be largely ignored in presidential elections -- both parties see it as a Democratic stronghold -- Latinos could make a big difference in more hotly contested states, such as Florida, Nevada, New Mexico and Colorado, according to statistics compiled by Feet in Two Worlds, a project of the Center for New York City Affairs at the New School.
Like other Americans, Latinos will go to the polls in November concerned about the economy, health care and an array of other issues, but last week's speakers agreed that the immigration debate will play a major role as well.
"Immigration is a very personal matter," said Pilar Morrera of La OpiniĂłn, a leading Spanish-language daily, an issue that immediately affects Latinos and their families.
Latinos do not vote in the same numbers as other Americans, but concerns about immigration have motivated more who are naturalized citizens to register, according to Arturo Vargas, executive director of the National Association of Latino Elected and Appointed Officials. These people are voting "out of anger and out of fear and a feeling that if they register to vote, it's an act of self defense," Vargas said. He predicted Latino participation would continue to increase. "You now have a new generation of Latino youth who are coming of age at a very politicized time," he said.
Asian Americans, who represent a far smaller percentage of the population than Latinos, are more likely to be overlooked in campaigns, said Glenn Magpantay, staff attorney at the Asian American Legal Defense and Education Fund. However, he said they can still make a difference and may have played a key role in Virginia Democrat James Webb's defeat of Republican George Allen in the 2006 Senate race -- after Allen was captured on video calling an Indian American man a "macaca."
Whatever happens this year, immigrants stand to have increasing influence in American politics, said reporter Aswini Anburajan. "It will build election cycle after election cycle," she said. Many immigrants maybe disappointed if Barack Obama does not win this year, she continued, "but they're not going to stop voting.... You're building a new political class ... and that's going to make a difference in the future."
This months' Citizen assesses the role immigration issues have played -- or more accurately, not played - in the campaign so far and looks at the race for the White House from the perspectives of several immigrant groups. Getting away from politics, we examine the plight of homeless Mexican immigrants, take a view at being Sikh in Queens and describe efforts to help the elderly in Brighton Beach. These and other stories from the Spanish, Russian, Polish, Chinese and Korean language press via our partner, Voices That Must Be Heard.
CAMPAIGN 2008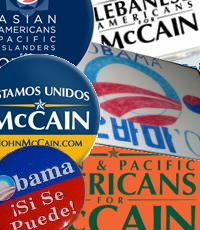 Gotham Gazette
GOP Convention Stays Silent on Immigration
from Nowy Dziennik / Polish Daily News
John McCain has said that immigrants are "God's children," but the convention that nominated him offered no real discussion on immigrants or immigration reform.
Nothing Known About Palin's Views on Immigration
from El Diario/La Prensa
The Alaska governor and Republican candidate for vice president seems never to have said anything regarding the controversial issue, and neither she nor Sen. John McCain's campaign office responded to questions for information about what her positions might be.
The Republican Convention Through Muslim Eyes
from Iran Times
The rhetoric at the GOP gathering in St. Paul, with its repeated references to Islamic terrorism and radical Islam, demonized millions of law-abiding Muslim Americans, writes award-winning journalist Shahed Amanullah.
An Arab-American View of the Democratic Convention
from Aramaica
With 40 Arab Americans participating as members of convention standing committees or as delegates, Arab Americans hope to play a role in this year's presidential campaign.
American Muslims in Denver
from Bangla Patrika
This year's Democratic Convention in Denver drew a record number of Muslim delegates - 45 - and attracted many Islamic organizations
The View from St. Paul
from Vecherniy New York
A Jewish immigrant from the former Soviet Union visits the Republican National Convention where he watches political demonstrations and interviews Russian senior citizens about who they plan to vote for in November.
African Immigrants Worry About a McCain Administration
from African Abroad
Africans in New York City fear that, as president, Sen. John McCain might involve the U.S. in other wars and divert economic resources needed to fix problems here.
Increasing the Korean Vote
from Korea Times New York
Involvement by Korean voters in this year's presidential campaign is at an all-time-high this year, but many more Koreans need to register and exercise their right to vote.
A Shift in Flushing
from Sing Tao Daily
In local politics, Grace Meng's defeat of incumbent State Assemblymember Ellen Young in the Democratic primary could spell a change in John Liu's domination of Flushing politics.
Other Stories:
Sikh Students Face Harassment, Bullying in Schools
from Indian Express
A recent report has found that more than 60 percent of the 400 Sikh students surveyed suffered harassment or violence in city schools. Several students and their parents talk about their experiences.
Willets Point Workers Fight for their Businesses
from El Correo de Queens
People who work or own businesses in this area of Queens slated for massive redevelopment are coming together to protect their economic well-being and resist being pushed out of the district.
Homelessness Increases Among Mexican Immigrants
from Diario de Mexico
Unable to find work, some undocumented Mexicans immigrants recently arrived in New York City are sleeping in the streets and struggling to find food.
City's Bodegas Struggle to Survive
from Hoy
The high costs of goods and produce, along with increasing rent and fuel bills, creates difficulties for New York's small neighborhood stores.
Williamsburg Sees Sharp Rise in Gang Activity
from Super Express
With Latino gang activity on the rise, the 90th precinct, which covers the neighborhood, has recorded the highest increase in criminal activity in the city.
Program Aids Elderly in Brighton Beach
from Novoye Russkoye Slovo
As some of the older people in the Brooklyn neighborhood struggle to pay higher prices on a fixed income, the Shorefront Jewish Community Council helps more than 1,000 people a month.