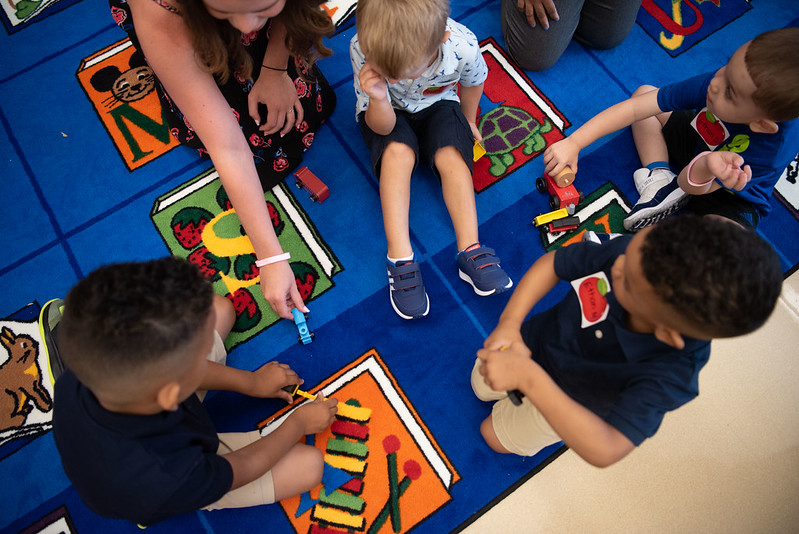 Kids at school (photo: Michael Appleton/Mayoral Photography Office)
---
Positioning efforts to alleviate childhood poverty in any way against efforts to build future assets for children is a mistake. I am a professor at the University of Michigan. As a child I grew up poor, evicted often, living in hotels, homeless at other times, while eating seemed optional, not mandatory, for survival in our house. I ended up dropping out of high school as many kids like me do.
Being poor in America is hard, I would not downplay that for a second. But the hardest thing I found about being poor is feeling like you have no tangible hope. This is not to say poor people don't have hope, they do. For example, my mother and I would walk through affluent neighborhoods and talk of living there one day, but we could see no tangible way to make that dream a reality. While this type of hope helps you make it through the day, it doesn't change how you behave. It is hope divorced from a future.
What has made the United States of America a destination, and the thing that makes it great, is not that you will not experience hardship, but in the midst of hardship you can see a way to a better future. In fact, when many people set out for the U.S., they understand that they will have to suffer untold risks and hardships. However, these risks and hardships pale in comparison to the concrete possibility of a better future. And while it might be vogue to downplay the importance of The American Dream nowadays, it is our belief in this dream that has carried us through our toughest times as a people.
This is not a dream about making it through the day, it is a promise that we can have a better tomorrow, that the land is rich and the institutions robust (even though access has not been equal), so if you work hard and have the ability you can change your position in life.
This is not an argument to abandon policies that give people "enough to live by," indeed those are also needed. Instead, I am arguing that the drive Americans have demonstrated throughout history comes from more than having enough money to pay the bills each week, it comes from the promise of a better future. Not just yours, but that your children can have a better future. This promise feels tangible to us, because we see the richness of our land and the strength of our institutions.
When talking about the New Deal, Roosevelt put it this way: "Liberty requires opportunity to make a living decent according to the standard of the time, a living that gives man not only enough to live by, but something to live for." Without this opportunity, he continued, "life was no longer free; liberty no longer real; men could no longer follow the pursuit of happiness."
We must recognize the importance of building future assets for children, helping spark their power to pursue or maybe even dream of happiness.
Children's Savings Account (CSAs) programs like what New York City and Mayor de Blasio have called 'baby bonds' are asset-building efforts, even if it can be argued that they do not go far enough. Assets allow and prompt children to plan for their futures. When children have assets of their own, they can begin to visualize their future selves going to college, buying a home, starting a business, or retiring one day. Hope becomes tangible, and not just wishful. Nurturing our children's future selves is as important to motivating them to invest in the American way of life as meeting their daily needs. Dreams buoyed by well-funded CSAs allow a child to withstand hardship whether it be poverty, war, or even a pandemic.
Giving children a CSA (i.e., assets) is not delaying gratification but providing them with the capacity to think and plan for their futures, as American as apple pie or the iPhone.
****
William Elliott III is a Professor, Director of Joint Program in Social Work and Social Science, and Director of the Center on Assets, Education, and Inclusion (AEDI) at the University of Michigan.
***
Have an op-ed idea or submission for Gotham Gazette? Email This email address is being protected from spambots. You need JavaScript enabled to view it.