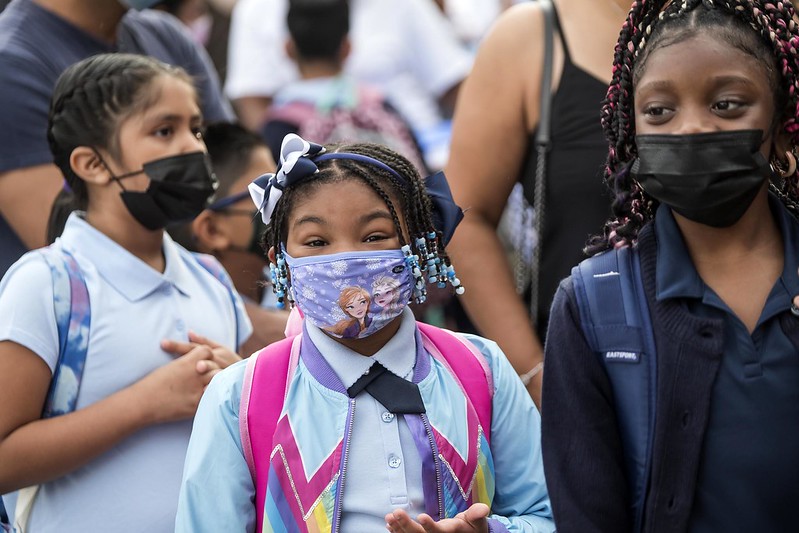 Kids back at school (photo: Ed Reed/Mayoral Photography Office)
---
Coinciding with the start of the school year, New York City parents got some good news last week when Mayor de Blasio launched the city's first universal baby bonds program. Starting this year, every public-school kindergartener will receive access to a college savings account seeded with $100 from the city.
This is great. Making college more accessible and affordable, especially to low-income students, must be a major policy goal and will certainly help overcome the widening wealth gap.
But money now is better than money later and more can be done to help kids throughout their childhood, years before they enter college campuses.
No doubt, the benefits of baby bonds are clear. Children with even a small savings account are three times more likely to enroll in college and more than four times more likely to graduate. And with average student loan debt soaring to $30,000 per graduate, leveling the playing field by helping kids pay for college will give students opportunities they otherwise wouldn't have had. More than this, expanding college access will reap plenty of residual effects on health, safety, and economic stability for communities in the long run.
All these benefits are great, but why make kids wait until they turn 18 to reap them? Instead of delaying gratification, we should be giving families direct cash assistance now so that they avoid a life of poverty and are even more prepared to enter college when the time comes to take the money out of their college accounts. After all, students from low-income families are 10 times more likely to drop out of college than students from high-income families. Helping families out of poverty now will pay dividends in ensuring kids are able to enter and stay in higher education.
No matter your thoughts on our campaign, as an advisor on Andrew Yang's run for mayor, there was one policy we undoubtedly got right: cash relief for poor families. Under our plan of providing up to $2,000 annually to the city's 500,000 poorest residents regardless of immigration status, the city would have reduced deep poverty by 60% according to an independent study.
Time and again direct cash assistance programs have proven to be a game changer in uplifting people out of poverty. And cash stimulus checks from the federal government during the pandemic were shown to have significantly improved Americans' ability to buy food and pay household bills and to have reduced anxiety and depression. Research has shown that cash transfers also have stimulative effects with recipients spending 44.5% of the federal check amount back into the local economy within just 10 days.
Direct cash assistance isn't new. Social Security checks lift 15 million elderly Americans out of poverty every year and form one of the most effective anti-poverty programs the United States has ever devised. Due in part to the pandemic and the popularization of the concept of a Universal Basic Income (UBI), policymakers are coming to understand that simply giving poor families the cash they need to provide for themselves and make sound financial decisions is more productive than the old ways of complex -- and costly -- food stamps and housing voucher programs, which often kept people poor and perpetuated problematic ideals of who is "deserving."
The truth is New Yorkers should be entitled to a suite of modern policies targeted at uplifting them. That is why it is encouraging to see Democratic mayoral nominee Eric Adams' plan to expand the city's Earned Income Tax Credit (EITC) program, which would cover nearly 900,000 New Yorkers with household incomes up to $50,000 a year. EITC on the federal level has been shown to improve children's educational and financial outcomes as adults. Under an Adams mayoralty, these direct cash credits to families will go a long way in helping families and children over the course of their lifetimes.
Whether it's UBI, EITC, or some other acronym, the goal should be the same: getting cash into families' pockets today so that they can equip themselves with the tools to succeed. And while college savings accounts are fantastic, our policymakers should make sure kids are getting everything they need to help them now, not just when it comes time to go for college.
***
Erika Tannor is a political consultant at Tusk Strategies. On Twitter @erikatannor.
***
Have an op-ed idea or submission for Gotham Gazette? Email This email address is being protected from spambots. You need JavaScript enabled to view it.