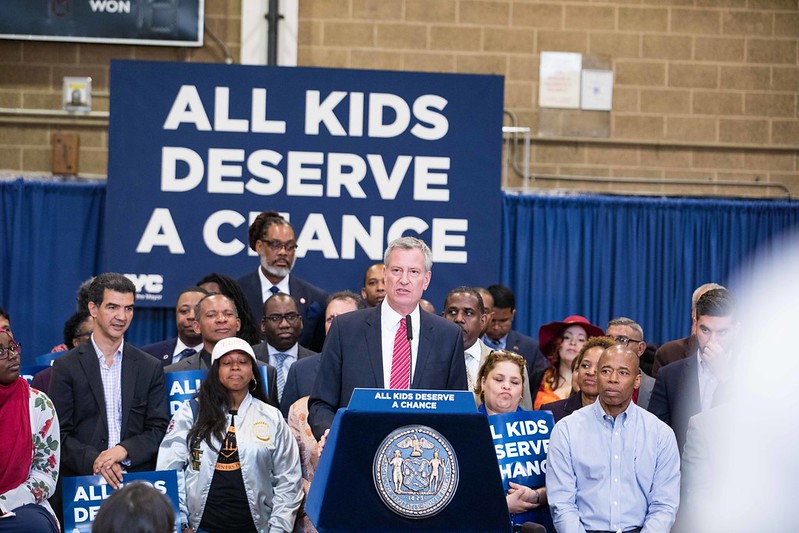 Mayor de Blasio at an education announcement (photo: Benjamin Kanter/Mayoral Photo Office)
---
Once again, New York City public school students and families are experiencing whiplash. Last year, the city took steps to improve equity, transparency, and accountability in high school admissions. Now, at the eleventh hour of the next admissions cycle, Mayor de Blasio announced he might back away from last year's promise to eliminate geographic priorities for high schools.
We can't have any geographic priorities reinstated — they prioritize school admission to students who live in certain areas, advantaging affluent families, systematically denying marginalized students from accessing well-resourced high schools, and reinforcing segregation. Such exclusionary policies foreclose access and opportunity to too many students.
New York City's high school admissions cannot revert to pre-pandemic "business as usual," morally or practically. A reversion to the pre-pandemic status quo would mean a reinstallment of several of the most egregious policies proven to fuel segregation in city schools. This tragic misstep would happen at a time when the global pandemic continues to disrupt our lives, having additionally laid bare the disproportionate and devastating impact of systemic racism on Black and brown students and communities. Instead of moving backward, New York City needs to prioritize equity and recovery in school admissions.
Our report, The Next Step, issued by a coalition of advocates, services providers, and experts, lays out recommendations to do just that. A central tenet of the report is that the city must adopt considered and deliberate equity measures to affirmatively desegregate schools: the elimination of exclusionary measures such as geographic priorities alone will not do the job.
For one, New York City needs to make good on its promise to reform admissions screens. Screens are another exclusionary policy, and more widespread in New York City than anywhere else, that public schools use to select students based on an array of admissions standards. Last year, the city pledged to pause middle school screens, which in just one year already made sought-after middle schools significantly more accessible. We call on Mayor de Blasio to make last year's "pause" on middle school screens permanent.
High school screens need reform too. Pre-pandemic, high schools used screens like attendance, punctuality, grades, and state test scores (among other criteria such as tests and auditions) to judge whether eighth-graders could attend certain public schools. The pandemic forced the city to abandon many of these criteria, which research has shown to be unreliable, biased, and unfair. The city's next step must be to implement policies that make the process of assigning students to high schools more equitable and just.
We recommend that the city require schools to opt in to screening and provide an educational justification for the use of any screens. For instance, using criteria like grades or attendance, which were not reliably collected during the height of the pandemic, would be patently unfair and unfounded. Any metrics the city approves must be reliable and transparent without systematically excluding historically marginalized students, such as those from low-income families, in temporary housing, or with disabilities, and English Language Learners.
More importantly, the city should mandate equitable admissions priorities for high schools citywide. Since the first "set-aside" program implemented in 2012, New York City schools have made strides with expanding the "Diversity in Admissions" initiative, which now includes over 160 programs. This voluntary effort increased "set asides" in admissions for children who are English Language Learners, in the child welfare system, in temporary housing, or from low-income families. While we applaud this step in the right direction, much more is needed. The city can use readily available socioeconomic and demographic indicators to level the playing field and provide marginalized students the priority they need to access appropriate high schools of their choice.
The city has the tools and data needed to elevate equity in high school admissions. It just needs the political will and moral fortitude to do so.
***
Nyah Berg is the Executive Director of NY Appleseed. Dora Galacatos is the Executive Director of Fordham Law School's Feerick Center for Social Justice. Laura B. Petty is the former Amanda Rose Laura Foundation Education Law Fellow, Fordham Law School's Feerick Center for Social Justice.
***
Have an op-ed idea or submission for Gotham Gazette? Email This email address is being protected from spambots. You need JavaScript enabled to view it.