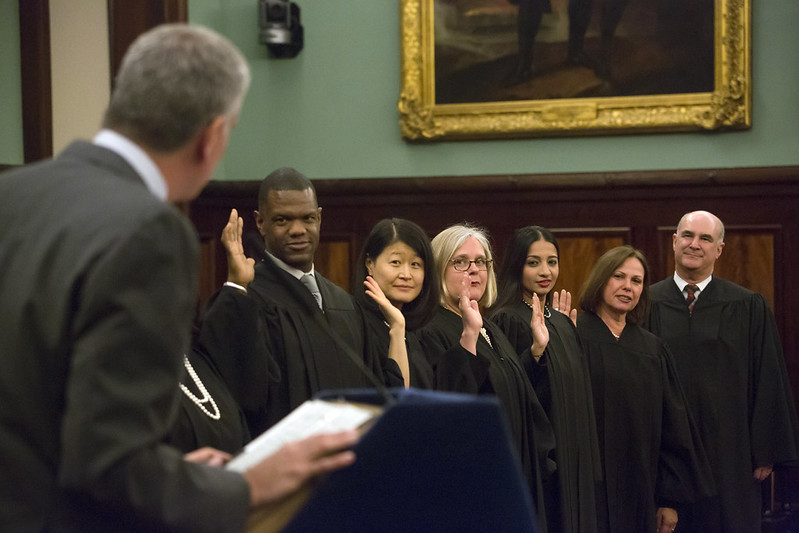 Judicial oath of office (photo: Ed Reed/Mayoral Photography Office)
---
I recently wrote an op-ed on the need to raise public awareness about judicial selection, inspired by the leak of the Supreme Court draft opinion in Dobbs that would reverse Roe and the recognition of women's reproductive autonomy. As a candidate for Surrogate's Court Judge, I have been frequently asked about the judicial selection process and hope to advance an open dialogue on judicial reform, independence and the importance of voter awareness.
Anecdotally, according to my own recent informal Twitter poll, a plurality prefers that judges are elected as opposed to appointed, or a combination thereof. But New Yorkers clearly need a better understanding of the process.  
Judicial selection methods in New York State can be particularly baffling. Some judges are appointed (by the Mayor or Governor), some are elected, and some are "elected" without direct voter participation.
For example, candidates for state Supreme Court judge appear on the ballot through a process that is little known and poorly understood by most people. New York's Election Law (§ 6-124) created an alternate method to the petitioning process. In place of a primary election, judicial delegates (who are elected during the Democratic primary) vote at a judicial nominating convention (usually in late summer) for the Democratic Party candidates who will appear on the general election ballot. This process not only deprives the voting public the opportunity to directly participate, but it can be fraught with issues of conventional party politics; namely who's in the know and in control.
In contrast, judicial candidates for other positions must petition for a specified number of signatures from registered voters of their party to appear on the primary ballot. I am running for Manhattan's Surrogate's Court, also known as probate court, the court that oversees wills and estates, as well as the appointment of fiduciaries, guardianships, and adoptions. For a countywide side seat, I was required to obtain 4,000 signatures from registered Democrats to appear on the primary ballot. However, as a practical matter, a candidate must obtain triple the number of required signatures to withstand a potential challenge by a competitor. The process is made arduous because of the limited time frame to obtain signatures (about a month).
Judicial candidates for Civil Court positions also need signatures (1,500) to appear on the primary ballot, a threshold significantly higher than required in races for Congress (1,250), State Senate (900), State Assembly (500) and City Council (450). 
An additional incongruity is that Civil Court districts - established in 1962 by state law - are not subject to redistricting laws or the federal Voting Rights Act, so their lines remain static notwithstanding population shifts. Despite the recent focus in New York on gerrymandering and the fairness of districts, judicial lines were absent from the discussion.
In Manhattan, district leaders (or "state committee members"), also elected but with few specified legal duties, play a significant role in the promotion of judicial candidates. It's a lot to ask of voters to find information on these less commonly known seats (judicial delegates, and state and county committee leaders), and research their stance on the judiciary prior to primary day. However, until the system is reformed, these positions continue to play an outsized part in the outcome of judicial races, and voters should at least understand that judicial selection depends on the role these "go-betweens" serve.This is particularly the case as voters rely on the independence of the judiciary, whose impactful decisions are felt first-hand by the electorate.  
We need real electoral reform in judicial elections.
Some suggestions include a reduction in the number of required nominating signatures, a cap on the amount that can be spent on judicial races (with strict donation limits), and a re-examination of the function of judicial delegates, district leaders, and judicial districts that have witnessed population shifts. 
There is nothing wrong with voters choosing who their judges are. The problem is that voters lack the information necessary to make informed choices. In a society always striving for improvement and reform, the judicial selection process should not be last in line. 
***
Elba Rose Galvan is a Surrogate's Court Referee in King's County and candidate for Manhattan Surrogate. She served under Surrogate Margarita Lopes Torrez, and currently serves under Surrogate Rosemarie Montalbano, both considered reformers of the court.
***
Have an op-ed idea or submission for Gotham Gazette? Email This email address is being protected from spambots. You need JavaScript enabled to view it.