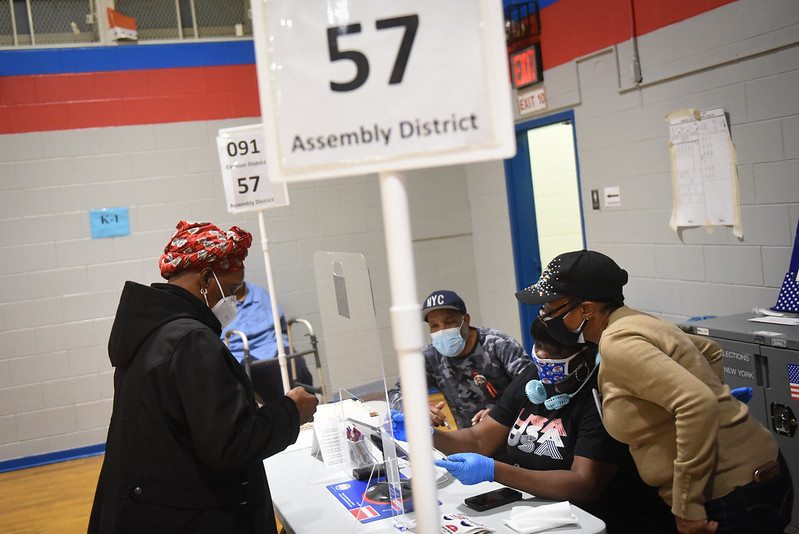 At the polls (photo: Michael Appleton/Mayoral Photography Office)
---
New York's final state legislative race of 2022 was decided in 2023, but it didn't have to be that way.
After months of litigation, Queens Democrat Stacey Pheffer Amato beat out her Republican challenger by 15 votes to hold onto Assembly District 23. The incumbent made up ground after initially trailing by three votes because of curable absentee ballots, which are ballots with small defects that New York law allows voters to fix (or "cure," in election parlance).
New York passed a ballot cure law in 2020, in recognition that no citizen should have their vote tossed because of a minor administrative error. This cycle, that law was crucial in determining a representative for 135,000 New Yorkers and helping Democrats maintain a narrow Assembly supermajority. 
But what happened in AD23 doesn't represent a success story for our ballot cure law—and that's not just because the city Board of Elections (BOE) failed to notify 94 Queens voters of their opportunity to cure as required by the law, the latest in a long line of BOE boondoggles.
I managed national Democrats' 2022 ballot cure efforts in New York as the Democratic Congressional Campaign Committee's Voter Protection Director for the northeast. From that front-row seat, I saw that even when properly implemented our ballot cure protocols have many defects of their own.
To start, New York calls too many absentee ballots "defective" that should simply be counted, including many of the ballots subject to litigation in AD23. If we handled them more appropriately, Pheffer Amato could have been declared the winner in November, avoiding months of expense and stress for the courts, campaigns, and voters. 
Moreover, New York's process for curing defective ballots is needlessly confusing and complicated—especially compared to other states, which too often lead the Empire State on inclusive and efficient election administration.
Getting ballot cure right is a big deal. These laws affect tens of thousands of votes and can decide races up and down the ballot. In 2020, New Yorkers cast 20,000 absentee ballots that were defective but curable—and only cured 8,000 of them. Meanwhile, Anthony Brindisi lost his reelection to Congress by just 109 votes, less than 1% of the number of curable but unfixed absentees. (Sadly, Democratic losses in competitive House races this cycle were much bigger than the number of curable ballots.)
Unsealed Inner Envelope Rejections
What ballots do we needlessly reject in New York? First, 60 absentees in AD23 were deemed defective because the inner envelope holding the ballot was judged by the city's BOE to be "unsealed" when it arrived. The ballots were thus rejected even though those inner envelopes, intended to keep the voter's ballot private, arrived inside sealed outer envelopes—and though all other required steps had been taken by the voter.
The rules around how to complete and return ballots are designed to ensure that each ballot was duly cast by the voter who requested it. Giving the voter a chance to fix a mistake makes sense when they've clearly made a mistake, like forgetting to sign the envelope confirming whose ballot is inside.
To the contrary, when the BOE finds the inner envelope unsealed upon arrival, they cannot be sure the inner envelope was unsealed upon mailing. We spoke to multiple voters this fall whose ballots were judged defective due to unsealed inner envelopes who insisted, incensed and unsettled, that they sealed their inner envelopes before returning them. 
Our communication with counties suggested some of these envelopes had "peel and seal" strips; these may have been looser than a licked seal and come undone in transit. As such, a BOE cannot be sure that in these cases there was any lapse, even a minor and immaterial one, on the part of the voter. (Another possibility is that these envelopes confused voters, especially older voters, who may have licked them rather than peeling.)
In any case, when a ballot is placed in an inner envelope, that envelope is signed by the voter, and then that envelope is placed in a sealed return envelope, any doubt about whether that voter has intended to cast the ballot as completed is next to nil. 
In some counties, "unsealed inner envelope" was a leading cause of ballot rejections. Given the lack of certainty that this issue even represents a defect—and certainly not one we can be sure is the fault of the voter—these ballots should simply be counted in the first instance if the outer envelope is sealed and all other provisions are met.
Signature Match Rejections
New York also has a "signature match" provision in our absentee ballot laws. When a ballot is returned, the BOE compares the signature on the inner envelope with a signature on file. If the BOE deems them not to match, the ballot is rejected unless cured.
It is unconscionable that New York, a state with Democratic legislative supermajorities, has a signature match provision. This process is known to be subjective junk science, likely to disenfranchise already marginalized voters. It has even been ruled illegal by courts in redder states like Pennsylvania and New Hampshire.
In our ballot cure efforts last year, we saw high variability in counties' rates of signature mismatch rejection—proof of the capriciousness of the assessment. New York should wholly eliminate the signature match provision.
Needless Variability in How and When to Cure
Beyond eliminating widely used but needless rejection reasons, the Legislature can improve the cure statute by streamlining how voters fix their ballots.
New York voters cure defective absentee ballots by submitting a signed form to their BOE. The state is unique in making the deadline for the return of that form variable: it is due either the day before Election Day or seven business days after the county issues a voter's cure notice, whichever is later.
Did you follow that? This math is confusing, and it gives both voters and BOEs one more complexity to track. New York should follow other states' lead in setting one clear date on which all forms are due—say, 14 days after Election Day, allowing everyone time to process cures for all otherwise valid ballots, including those that arrive post-election.
What's more, New York's process involves rare variability in how voters can submit cures. Voters who requested their ballot with a "wet signature" can return their form by email or fax; those who requested their ballot electronically must submit their form with a wet signature in person or by mail.
Again, this is needless complexity, especially troubling when voters don't remember how they requested their ballot. New York should join other states in allowing all voters to cure by email or fax—or even by phone, as is allowed in Maine, where I was the state Voter Protection Director advocating for the institution of its first cure process in 2020.
Our ballot cure work at the DCCC meant thousands of calls, texts, and knocks on voters' doors, providing an unparalleled view into the emotional distress and logistical hoop-jumping citizens experience when told their ballots have minor issues preventing them from counting. When each voter has different rules about when and how to return their cure forms, it is astronomically more difficult to guide them through the steps necessary to exercise this fundamental right.
New York's Legislature is continually tweaking our ballot access laws to make voting easier. Laws recently passed will ensure ballots accidentally cast at the wrong polling place but the right county will be counted; ban the misleading practice of allowing parties to use "independent" in their name; and extend the voter registration deadline from 25 days before Election Day to ten, the latest constitutionally allowed. The State Senate started its 2023 session with a suite of bills meant to make our elections freer and fairer.
It's time now to also cure our cure process. We should eliminate rejection reasons that don't reflect a true voter defect and just count those ballots instead. And we should eliminate complexities regarding when and how to submit cure forms that make New York's process uniquely hard to understand and undertake. 
Casting a vote should be simple—and so should curing one.
***
Ryder Kessler has led multiple voter protection teams for Democrats, most recently as Northeast Regional Voter Protection Director for the DCCC. He was a 2022 candidate for New York State Assembly in District 66. On Twitter @ryderkessler.
***
Have an op-ed idea or submission for Gotham Gazette? Email This email address is being protected from spambots. You need JavaScript enabled to view it.