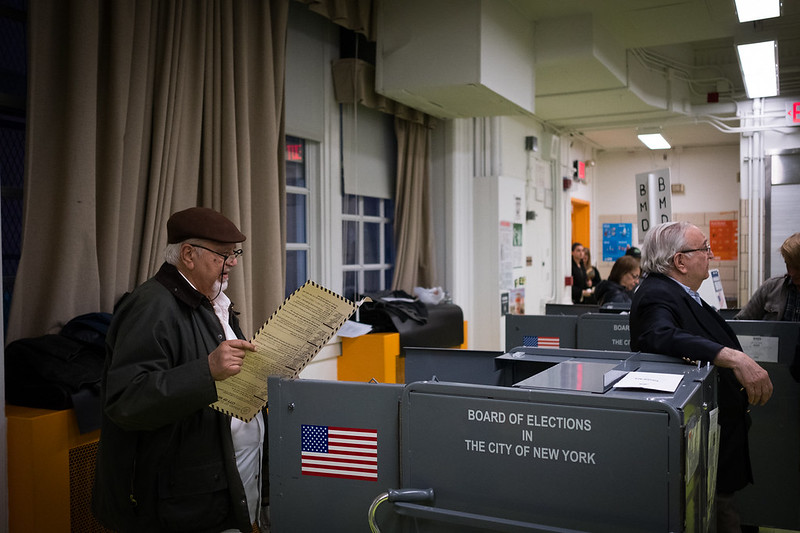 Examining ballots (photo: Edwin J. Torres/Mayoral Photo Office)
---
Over 8,000 New Yorkers across the state who voted by mail in last fall's election were able to save their ballots from being thrown out, according to the New York State Board of Elections, thanks to a new 'ballot curing' law that gave them a chance to fix certain technical defects on their ballot envelope.
While curable rejects accounted for only a fraction of the total number of invalidated absentee ballots, overall far fewer mail-in votes were thrown out in the 2020 general election compared to the June primaries and to previous general elections. According to a Gotham Gazette analysis of state election data, the rate of absentee ballot rejections in New York fell by roughly two-thirds from 23% to the 2020 general election.
In total, 20,000 general election voters statewide were given the opportunity to correct disqualifying mistakes after receiving notices from election administrators that the errors fell under a limited set of "curable" absentee ballot envelope errors, though more than half failed to take it.
Still, most rejected ballots did not come with a second chance under the law, and curable envelopes made up only a quarter of the nearly 78,000 total absentee ballots invalidated statewide. Voting reform advocates say the list of curable errors should be expanded to avoid disenfranchising New Yorkers, especially while pandemic rules allowing universal absentee voting remain in effect and nearly 2 million New Yorkers are voting by mail.
The information comes from State Board of Elections officials and a statewide survey of county-level absentee data provided after a Gotham Gazette inquiry. Last fall, local elections boards mailed 2.35 million absentee ballots to voters, including about 1 million in New York City, nine in ten of which were to first-time absentee voters. In total, over 1.8 million mailed ballots were counted statewide, with roughly 700,000 coming from the five boroughs. Over 48,000 absentee ballots were rejected in New York City alone.
The data also contains some vaguaries that raise questions about how both voters and elections administrators dealt with mishaps that arose in the mass mail-in voting.
After New York State's first experiment with wide scale mail-in voting during the June primaries last year, state lawmakers passed a number of reforms to address snafus that had arisen, including the cure provision. It allows voters to correct some mistakes on an absentee ballot's outer envelope, known as the oath envelope, where registered voters must swear to the validity of their ballot. Advocates said the law injected a measure of due process for some voters but did nothing to address other disqualifying errors, like having stray marks on the ballot itself, or returning an envelope un- or partially sealed. Measures to address both of those were introduced in the State Legislature but never advanced out of committee to the floor.
Lawmakers also sought unsuccessfully to have the state cover the cost of postage for mail-in ballots, as it had in the primaries under executive order, which could help explain why more than 500,000 New York voters, including roughly 300,000 in New York City, requested an absentee ballot but never returned it.
State Senator Zellnor Myrie, a Brooklyn Democrat and chair of the Senate elections committee, said the number of successfully cured ballots demonstrate the success of the legislation, which he sponsored. "My bill allowing voters to cure minor technical errors with their absentee ballots was the right way to ensure the law honored voters' intent; but last year it became even more important with record turnout and many times more absentee ballots than usual," he wrote in an email.
All together, significantly fewer absentee ballots were rejected in the general election than in the primaries a few months before, with the new law passed in between. In New York City, about 7% of absentee ballots were rejected, compared to between a fifth and a quarter seen in the primaries and recent previous elections, when far fewer mail-in ballots were cast. Statewide, just 4% of submitted absentee ballots went uncounted last fall.
"I think more voters were especially careful in filling out absentee ballots during this most unusual recent election," Myrie told Gotham Gazette. "Our law gave the Board a framework for assessing which ballots could be cured by the voter, requiring the BOE to be much more deliberate about deeming ballots invalid. It's not surprising that, with a formalized cure process in place, the Board found fewer reasons to disqualify otherwise-valid absentee ballots."
About 9,200 of the 20,000 notified voters took advantage of the option to cure their absentee ballot by returning a corrected ballot and affirming its validity and, of those, about 8,700 were found to be sufficiently corrected and counted, according to the New York State Board of Election.
In New York City alone, 6,950 cure notices were sent with 1,228 ultimately returned and counted, according to the New York City Board of Elections -- a much lower rate than the state overall, both in terms of notices per registered voter and in terms of returns per notice.
"More than half of these voters who could remedy the issue with their ballot envelope didn't manage to do so in time, perhaps because there was no statewide ballot tracking system in place,' wrote Jarret Berg, co-founder of the advocacy group Vote Early NY, in an email to Gotham Gazette, responding to the statewide data.
He said another reason could be the dissonance that voters who originally requested their ballots online through their local board's website were required to submit cured ballots physically by post -- the result of a broader settlement agreement between the State Board of Elections and the League of Women Voters last September over cumbersome absentee ballot verification procedures in place during the primaries last June.
Berg believes the cure process needs to be streamlined and expanded to include other ballot errors, including on provisional affidavit ballots "so that more legitimate lost votes are saved and counted each year."
Myrie said more voting reforms were on the agenda this legislative session. "Overly-complicated ballot instructions, insufficient language access and extremely long lines at polling sites are just some of the issues challenging voters' right to have their vote counted," he wrote. "We expect to address these concerns and more at an Elections Committee hearing next month."
New York City
The new data raises questions about the efficacy of absentee voting in New York City last year compared to the rest of the state. The city made up roughly 43% of the total absentee ballots cast statewide but 62% of the total rejected mail-in ballots.
About 15,000 absentee ballots were returned to the New York City Board of Elections by the post office without ever having reached the voter and were marked as undeliverable, according to county survey data provided by the State Board.
About 10,800 absentee ballots were rejected after a voter later cast an in-person vote at a poll site, which usurps previously mailed ballots and means the voter was not disenfranchised.
Bizarrely, the next most common error was from voters submitting multiple ballots in a single envelope, which disqualified over 7,600 New York City voters but only 16 voters outside the five boroughs. Conversely, outside of New York City 930 absentee ballots were thrown out because they were returned in an unofficial envelope, while no city voter had that problem.
Missing signature on the oath envelope, a curable defect, accounted for about 2,400 absentee rejections in New York City. Signatures that didn't match the ones in the voter roll, also curable, numbered about 1,500 citywide.
Over 1,600 ballots were thrown out because the envelope was unsealed or partially sealed. Roughly 1,000 attempted votes were invalidated because they lacked a postmark or were postmarked Election Day or later, according to the survey data. It is not clear why a ballot postmarked on Election Day would be disqualified.
Just over 6,000 absentee votes were disqualified for "other" reasons in New York City compared with roughly 1,200 in the rest of the state. The discrepancy comes almost entirely from 4,800 voters in Brooklyn -- a borough frequently beset with election snafus, including the mismailing of as many as 100,000 2020 general election absentee ballots to the wrong registered voter, an error the New York City Board of Elections chalked up to a printing malfunction.
It is unclear how many Brooklyn voters mistakenly submitted someone else's absentee ballot, which under the mismatched-signature provision should have been curable. The city board sent a total of 3,750 cure notices to Brooklyn voters but only about 240 of them corrected their ballot. Last summer, the board issued new absentee ballots to voters impacted by the printing error with the stipulation, under state law, that the ballot received last gets counted as long as it is cast by Election Day.