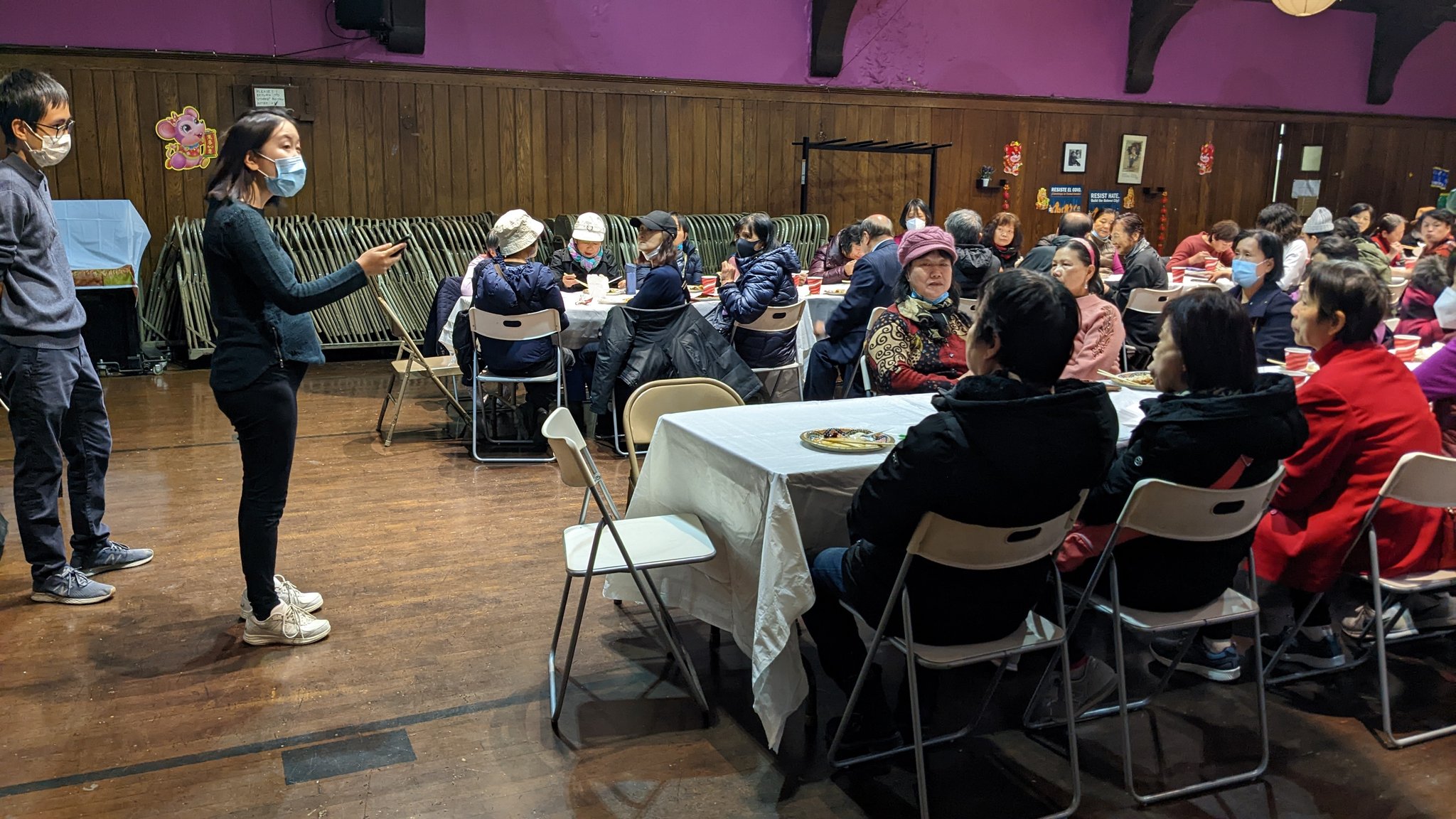 Organizing efforts in Queens (photo: @johnchoe4nyc)
---
City Hall is a fascinating place where you can easily transform to be an "anti-racist," if you know how to seize the opportunity. In December 2022, a member of a non-profit organization made racist remarks casting Asians as unwanted foreigners during a City Hall hearing. Sandra Ung, the Chinese-American City Council Member from Flushing, quickly jumped to condemn this person's hurtful remark, portrayed herself as a staunch fighter against bigotry, and, one month after the incident, wrote an op-ed in Gotham Gazette reminding people of "the danger of downplaying AAPI bigotry."
Throughout, Council Member Ung and many others who say they are champions of AAPI communities have been downplaying something else: Chinese home attendants in Ung's district and beyond have been calling out her and other elected officials for upholding racist 24-hour workdays.
Home attendants in New York City — majority immigrant, Asian and other women of color — have been forced to work the inhumane 24-hour workdays, days on end, taking care of clients in serious health conditions who need round-the-clock care, and with only 13 hours of pay. If the workers refuse these shifts, the home-care agencies will punish them by not giving them work or assigning them few hours. The 24-hour workday has caused physical and mental damages to the workers such as insomnia, anxiety, back pain, deformed hands and injured legs, and ruined their family relations. It also puts patients in danger as it deprives the caregivers of needed rest. 
Outside New York City, where home care work is performed mostly by white and other citizen workers, 12-hour or even 8-hour shifts are the norm. Home attendants in New York City have long-called for an end to the racist violence committed against them by the insurance companies and home care agencies in order to make profit.
Most recently, the New York State Department of Labor has been investigating the serious wage theft of numerous home-care agencies that stole from each worker hundreds of thousands of dollars on average, some as much as half a million. And now, with the "No More 24" Act (Intro. 175 at the City Council), New York City has a chance to end this racist and shameful practice of 24-hour workdays for good.
But Council Member Ung will not have it. While happily tweeting support for the leading wage-stealing home-care agency, Chinese-American Planning Council (ironically for "breaking stigmas of poverty"), she refuses to meet with her home attendant constituents to discuss the legislation. In early September of last year, home attendants testified for hours at City Council chambers detailing the torture they endured from 24-hour workdays. Yet Council Member Ung was nowhere to be found, nor did she write any op-eds reminding people of the racist violence faced by those Asian women workers. Instead, she held a press conference, disrespecting workers further by saying reasonable shifts can only happen with more state money for the agencies: we need more funding for these blood-sucking home care agencies, otherwise violence must continue!
It chills our bones to see Council Member Ung ask people to respect AAPIs for their "indispensable role in this great city." What's the "indispensable role"? That some so-called community representatives commit harrowing abuse upon Asian women in their community? That our elected representatives provide cover for such sweatshop conditions and look down on Asian women?
In her op-ed, Council Member Ung even cites historic examples of labor strife and competition, but casts workers of other races as the cause of Asian hate. The truth is, immigrant workers have been used by the government to suppress wages and lower working conditions for all workers. The 24-hour workday is the worst example as it creates a bottomless floor, forcing workers of other races to accept extra-long hours of work in order to compete. It's in the interest of all workers to unite to end it. But Council Member Ung refuses to even co-sponsor the City Council legislation to end these abuses.
The status quo only strengthens the racist stereotype of Asians as cheap and happy slaves, willing to endure any unfair treatment and not daring to speak out. It furthers the resentment of other working people who bear the brunt of the worsening conditions created by those in power. It will only lead to more harassment and attacks against Asians, verbal and physical, in the street and in City Hall. This is the danger of upholding sweatshop conditions for our community.

Council Member Ung might think she successfully shields herself from responsibility by condemning "AAPI bigotry." Yet, upholding the 24-hour workday for home care workers is upholding anti-Asian violence in the City Council. The home attendants have taken to the street with multiple protests and a petition against her, and are unifying the community to demand she step down — a defender of AAPI sweatshops cannot continue to represent the community.
***
Zishun Ning is an organizer of Flushing Workers Center.
***
Have an op-ed idea or submission for Gotham Gazette? Email This email address is being protected from spambots. You need JavaScript enabled to view it.