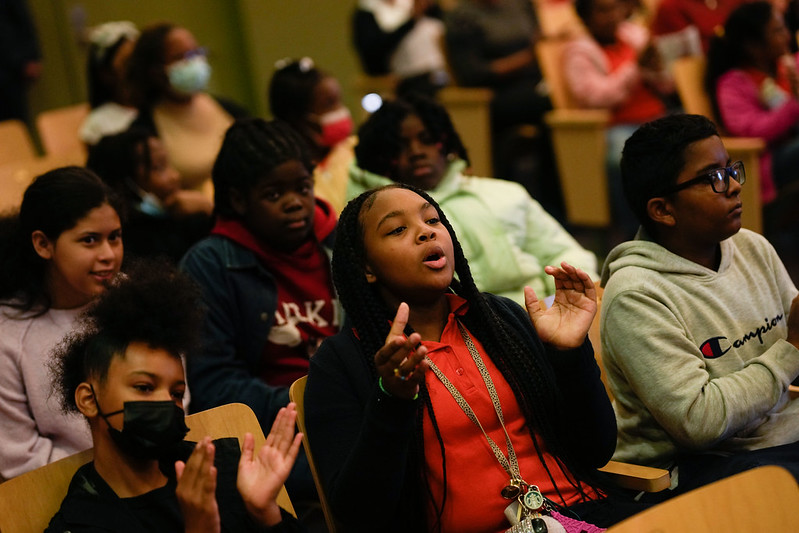 Students (photo: Michael Appleton/Mayoral Photography Office)
---
It is budget season in New York City, a time when we all try to calculate the relative value of the things that are important to us. At a time when young people are struggling to cast off the psychic weight of the pandemic and great social unease, it is common to hear talk of the value of mental health, particularly for adolescents.
If that talk is sincere (and as the Head of School at Children's Aid College Prep Charter School in the Bronx, I hope it is), then I would expect the relative value of social-emotional learning (SEL) and a reliable, easy-to-use assessment tool to be high. I would expect our city and schools to want to continue making an investment that has paid dividends in better behavior, stronger mental health, and more citizenship. I would be shocked if a city that says it values the social, emotional, and mental health of its young people lets the use of a valuable tool slip away.
Yet that could happen. The city recently told school superintendents in a letter that they could lose access to an important SEL tool on June 29, a year earlier than expected. This would interrupt the city's delivery of SEL to students who need it now more than ever, and would also deprive parents of information about their children's social and emotional wellbeing.
This tool is the Devereux Student Strengths Assessment, but everyone refers to it as the DESSA. It is a rating scale that teachers use to assess students' SEL-related strengths, such as how well a child works in groups, how often a student offers to help someone, how well a student gets things done on time, and how persistent a child is. Educators more recently have come to understand and accept that we all learn through our feelings and that young people especially are most successful in learning environments that elicit strong, positive feelings. 
The DESSA takes minutes for a teacher to complete, but gives the teacher and the school valuable guidance on how well children are using and developing SEL skills and allows schools to make adjustments or spot issues.
It is no secret that young people now are facing plenty of issues not of their own making, yet city kids historically have scored well on the DESSA. My feeling is that to live in this city, all of us – children included – must have a baseline competence in social-emotional skills. It has helped that organizations like Children's Aid and the Urban Assembly (which organizes support based on the DESSA throughout New York City Public Schools) have made plain the value of SEL and how to measure it.
In this time of anxiety and sparse mental health services, one particular value of the DESSA is to help schools discern the difference between a young person with a mental health problem and one who is enduring the stress of living during challenging times. These things are not the same.
One trend we've seen with the help of the DESSA, for example, is that older young people are challenged to maintain optimistic thinking and goal-directed behavior. Right now it can be hard for them to see a clear future when they've witnessed or experienced three years of uncertainty, loss, and socio-political turmoil. Understandably, this can create feelings of loss or pessimism, but it's not a mental illness. Arguably, it's a rational reaction to the times.
While the DESSA is not perfect (no assessment tool is), it does give educators the language and the ability to see the difference between pessimism and clinical depression. And the DESSA gives teachers a map on how to use SEL instruction to address the social and emotional skills that children as well as adults need to thrive.
We have all collectively lived through a traumatic experience. The way to heal trauma is through positive experiences and connections with others. The use of SEL in school puts a premium on that, and it recognizes that emotionally competent children are better academic performers.
We all want children to learn well. We want them to behave well. And of course we want them to manage themselves well and relate well to others. Let's not stop investing in a tool that helps make all of that happen.
***
Drema Brown is Head of School at Children's Aid College Prep Charter School in the Bronx, the educational home of 600 K-8 students. She has been a leader in city schools for 20 years.
***
Have an op-ed idea or submission for Gotham Gazette? Email This email address is being protected from spambots. You need JavaScript enabled to view it.