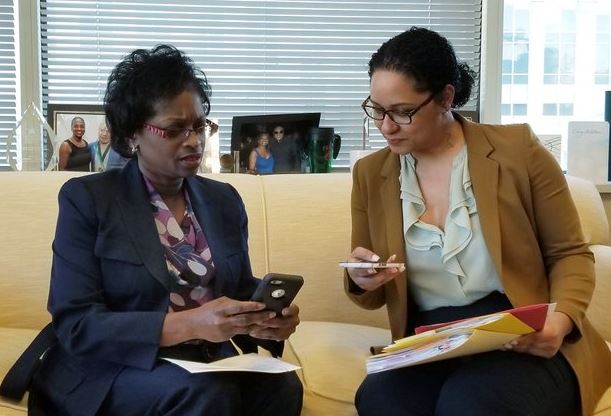 Mignon Clyburn, the author, left (photo: @MignonClyburn)
---
Wireless broadband should reach communities of color at the same time it reaches most of the U.S. population.
Why do I say this…or is the question really, why am I still saying this in 2019?
While serving nine years as a Federal Communications Commissioner, I saw firsthand how wireless broadband access expands access to jobs, enriches education, and deepens political engagement. Losing out on wireless broadband opportunities today increases the risk of us losing out on just about everything the future holds.
In a recent roundtable discussion at New York Law School about "5G," the next generation of wireless technology, I spoke about how both government and industry need to keenly focus on ensuring that underserved communities receive the anticipated benefits of 5G sooner rather than later. And, in my view, approving the T-Mobile/Sprint merger is one of the best ways to ensure inclusive broadband deployments.
T-Mobile, which I am currently advising, has long been an ally of underserved consumers. You find their stores in markets other providers avoid, and the company has doubled down and broadened access to key communications and technological services.
Consider T-Mobile's investments in MetroPCS, the prepaid brand it acquired in 2013, and you will find an unwavering commitment to cost-conscious communities. And that's not all—T-Mobile has helped hundreds of thousands of Americans, including thousands of New Yorkers, build a credit history by enabling, and in many cases encouraging, a transition from prepaid to postpaid phone plans. T-Mobile has bridged the gap between Metro and postpaid phone plans, allowing Metro customers to have a comparable experience to those on postpaid plans.
The merger with Sprint will enable a massive new investment by T-Mobile—nearly $40 billion, to be exact—to create an inclusive, nationwide 5G network and services that will greatly improve access to broadband for all New Yorkers, not just the wealthy.
In my time at the FCC, I worked on expanding wireless service in underserved neighborhoods because I recognized early on that broadband connectivity offers an ever-present stepping stone for upward mobility. Now in 2011, I opposed the proposed AT&T/T-Mobile merger, in part because AT&T already controlled 44 percent of the market. But unlike that deal, the T-Mobile/Sprint merger will combine the two smallest nationwide providers and strengthen a maverick that can better compete against two dominant players.
From Bed-Stuy to Buffalo, the combined company's expansive deployment plan promises to bring us closer to bridging the digital divide, and it will do so in an affordable way.
The companies have pledged to offer the same services T-Mobile and Sprint currently offer at the same prices for three years or until better plans that offer lower prices or more data are made available. This means that competition will quickly heat up and prices will likely come down as other carriers feel the heat.
No one stands to benefit more from this fierce competition than those currently underserved. Research, including the work of Brookings Institution expert Nicol Turner Lee, shows that lower-income Americans are the most likely to rely on wireless as their primary or sole means of connecting to the internet. The 5G network enabled by the T-Mobile/Sprint merger will allow customers who can't afford expensive in-home broadband to access broadband-equivalent speeds on their phones.
While at the FCC, I was proud to have strengthened the Lifeline program, which subsidizes wireless service for those who otherwise could not afford it. T-Mobile and Sprint have not only committed to continue supporting this important service in New York and across the country, but they will also maintain support for programs like Sprint's 1Million Project, which provides service and devices to worthy high school students.
The New York Public Service Commission has already approved the merger of T-Mobile and Sprint, and I hope that those who are still reviewing the transaction at the federal and state levels will not stand in the way.
The status quo is not acceptable. What is needed is for a proven wireless industry disruptor to expand on a larger scale, bringing wider and better connectivity opportunities to New Yorkers as we move into the 5G era. For those currently on the wrong side of the digital divide, change cannot come soon enough.
***
Mignon Clyburn served as Federal Communications Commission Commissioner from 2009 to 2018, and is currently an adviser to T-Mobile. On Twitter @MignonClyburn.
***
Have an op-ed idea or submission for Gotham Gazette? Email This email address is being protected from spambots. You need JavaScript enabled to view it.