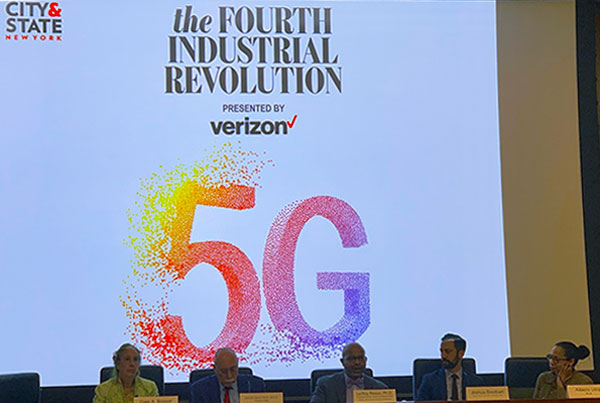 (photo: Lisette Voytko)
---
As new lightning-fast networks are launching around the country, New Yorkers are looking at how "5G" technology may impact the city.
Government officials, technologists, academics, activists, and others are grappling with the pros and cons of implementing 5G, which includes download speeds 10 times faster than current smartphone connections and has the potential to allow many more devices to communicate simultaneously, greatly reducing lags in service. The overall effect would be a speedier, more seamless experience while using the internet on smartphones and other 5G-compatible devices.
Last week, at a conference co-sponsored by City & State and Verizon, titled "The Fourth Industrial Revolution," one panel of experts delved into the 5G discussion as it relates to New York City's connectivity, public health, and safety. Manhattan Borough President Gale Brewer along with Joshua Breitbart of the mayor's office of the chief technology officer, LeRoy Reese, associate professor of health at the Morehouse School of Medicine, and Jerome Hauer, a senior advisor for the Teneo Risk consulting firm, spoke about the potential of 5G networks to improve New Yorkers' lives, as well as some of the concerns around the technology.
From a technology perspective, 5G ("G" stands for generation) is promising in sheer speed. It's 10 times faster than the current 4G connections available in New York City, according to Leecia Eve, Verizon's vice president of public policy (and a 2018 candidate for New York Attorney General). Latency, or delay in sending data across a network, is practically non-existent in 5G compared to 4G, the latter being the current "generation" of wireless networking. 4G connectivity is still being rolled out across the city, said Samir Saini, commissioner of the city's Department of Information Technology and Telecommunications (DoITT), during a March 7 City Council budget hearing.
Last month, Verizon was the first telecommunications company to launch 5G networks in Houston, Los Angeles, and Sacramento, among other cities, according to Eve. Michael Pastor, general counsel for DoITT, said during the March budget hearing that it is currently reviewing submissions from mobile telecommunications franchises, with an eye towards 5G.
Hypothetical and planned uses of the ultra-fast connection are numerous. Hauer, the former commissioner of homeland security for New York State, discussed how 5G could make triage more efficient in the event of a mass casualty incident. "Let's say there is a shooting in one of the boroughs," said Hauer. "That activates and sends messages to track license plates, turns security cameras on, starts facial recognition, if a car moves and is detected, that can be tracked. And you have a network moving [gigabytes of data] in milliseconds."
The public health benefits of 5G could be enormous, according to Reese, citing its use for telemedicine in areas underserved by primary care doctors. Smartphones collecting personal health data could also be used in telemedicine, he said, through the devices' diagnostic information. "It's less about speculation and opportunity to improve quality of health in communities. 5G helps us level-set, and move in the direction of health equity," said Reese.
City officials, however, have a more immediate perspective on how 5G would affect New Yorkers.
"It's a potentially powerful way to serve more people," said Breitbart, whose responsibilities include developing the city's broadband strategy to provide internet to all. "But I have yet to see how 5G will connect people who are under-connected here in the city, that's the real question."
Under-connection is still a significant issue in some parts of the five boroughs. Democratizing internet access has been a goal for the de Blasio administration, which in 2015 made a $70 million commitment to covering the city with broadband access. As of 2018, according to an annual report by OneNYC (the city's broad roadmap to address social, economic, and environmental issues), 69% of New Yorkers have a broadband subscription, while 28% have free wireless internet access within an eighth of a mile from their homes.
Advocates share concerns around equal distribution of internet resources. Members of NYC Mesh, an organization that provides cheaper wireless internet through a group of volunteers who place routers on their windowsills and rooftops, believes the city should work with residents to ensure an even rollout of 5G and any new technology.
Scott Rasmussen, director of business development and partnerships for NYC Mesh, said in a phone interview that local groups should be "working with the city to make sure [5G] is distributed in an equitable way, not just as a fast track to the highway for the wealthy of the city."
In order to be launched, new 5G-capable sensors would need to be installed across the city. New York City's dense infrastructure adds to the difficulty of deploying 5G for residents. Brewer, who prior to being elected Manhattan borough president chaired the technology committee in the City Council, and helped pass the city's open data law, pointed to the issue of the sensors' inability to penetrate the walls of some buildings, notably ones owned by the city's public housing authority, which in turn affects residents living there.
The timeline for sensor installation, said Brewer, is quite a while. Saini of DoITT said similarly at the March hearing. "When you have a multi-family complex, and you have small cells deployed around the perimeter, the 5G signal, and all the benefits of the gigabit-plus speed, actually aren't realized within the home," Saini said.
In addition to the challenges facing any deployment of 5G, residents are concerned about potential health risks of radiation exposure to the new network's frequencies. According to Brewer, her office had received approximately 30 phone calls over the prior three weeks from Manhattan residents concerned about the related health impacts. "The scientists say it's not an issue, but then you'll see some scientists who say it is. I don't know," said Brewer. According to the latest guidance from the National Cancer Institute, studies on the relationship between radiation from cell phone use and cancer have not found a correlation between the two.
"What most people call and are concerned about are the radiation emitted from shorter millimeter wavelengths could impact cancer survivors, or cause cancer," said Daniel Alam, Brewer's technology and policy analyst. "5G hasn't really been around long enough for us to have definitive data on it."
Rasmussen also cited privacy as a concern with 5G, as its fast speed is suited to what is known as the Internet of Things (IoT). With IoT, everything from coffee makers to light switches can be connected to the internet, which can in turn gather data from those connected devices. "People should be concerned. Their data will go into algorithms and artificial intelligence decision-making, impacting their lives, and it exercises opportunities for corporate control [of their data]," he said.
While the potential health and privacy impacts of 5G are still being understood, Brewer said that historically, New Yorkers have had misgivings about other technologies that are now a given in daily life. "You know, I've been around a long time. So it was the same problem with cable [TV]," she said. "Because the cable has to go up and down buildings and streets, so people were concerned."
The timeline to roll out 5G in the five boroughs is hard to define, according to Pastor, citing the sensors' penetration issues at the March budget hearing. Saini said there is no deadline currently for a 5G launch.
Brewer's final comment last week summed up the immediate future of New York City and 5G. "I still think it needs discussion," she said.