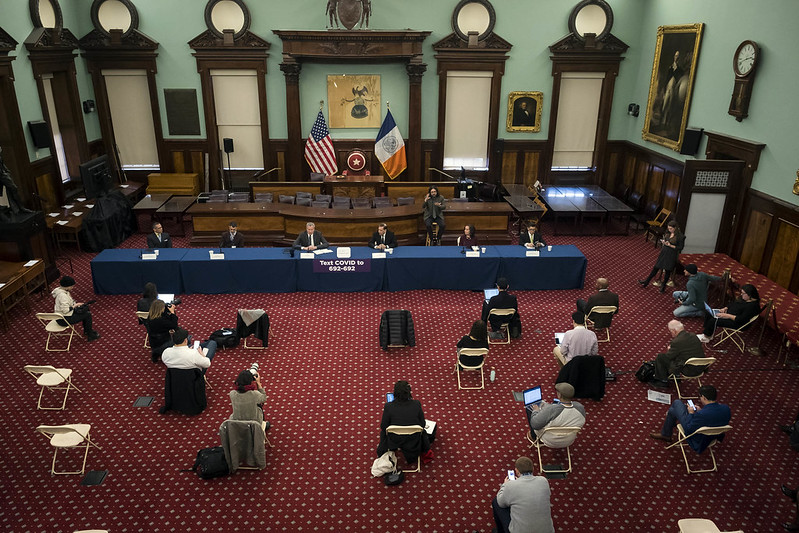 social distancing amid coronavirus is key (photo: Ed Reed/Mayoral Photography Office)
---
New Yorkers have a particular way of showing solidarity. After the terrorist attacks of September 11, 2001, resuming normal life was an act of bravery. We would not be derailed. We would carry on. As tragedies have struck other cities and countries, the language of solidarity, arguably the language of coping, has stayed the same. In essence, we come together, try to restore a sense of normalcy, and move forward.
The rapid spread of the new coronavirus, COVID-19, has rattled the global economy and disrupted everyday life. The Dow Jones Industrial Average had its worst day since 1987. Universities across the country -- including New York University, Columbia, and the CUNY and SUNY systems -- have cancelled in-person classes and moved instruction online; New York City public schools are switching to remote learning, as well.
Broadway shows are shuttered through at least April, and the Metropolitan Museum of Art has closed its doors. Late-night talk shows are filming without audiences, the NBA and NHL seasons are suspended, the start of baseball season is on hold, and the New York City Half Marathon is cancelled. Subway ridership has plummeted, all restaurants are reduced to takeout/delivery only, and the streets feel eerily quiet. Mayor de Blasio is now pushing for a "shelter in place" order.
On a visceral level, this feels like the opposite of what we should be doing. What about showing that we are better than this, that life can go on, that we are resilient? What about showing that we will not be cowed? Even after September 11th, Broadway shows reopened two days later. But the reality of this global pandemic demands a different sort of solidarity, one that feels at odds with how we would normally react when facing such a threat. Maintaining our routines and showing we are unafraid is pointless and will not help thwart this virus; instead, it would put us all at greater risk.
And so, our New York City solidarity needs to take a new form: social distancing, a phrase that has quickly become part of our daily lexicon. For creatures as social as we are, staying at home is difficult, especially in such a dense city. We are a society of people who find comfort in coming together and taking action, who are used to being crammed together in small spaces and making the best of it; robbed of these tools -- we cannot join marches or attend vigils like we normally would, we can't even ride the subway like usual -- we feel trapped. Keeping our distance makes it feel like we are losing, but it has been shown to work when it comes to flattening the curve.
For now, our courage will need to remain unseen, our solidarity taking the form of empty subway cars and closed museums. For a city of people used to supporting one another by showing up, this is deeply unsettling, at odds with how we have been taught to fight back.
The psychological, physical, and economic toll social distancing will take on many New Yorkers may be devastating. A coalition of New York City landlords has pledged not to pursue coronavirus-related evictions, de Blasio is trying to keep human services nonprofits running, and senior centers are cancelling all social programming, serving meals instead. Meanwhile, Congress passed a $100 billion relief package and is working on a $1 trillion economic stimulus. Meanwhile, housing advocates nationwide are calling for a moratorium on rent, mortgage, and utility payments to help those out of work cope with their new fiscal reality.
Despite all these efforts, the mental and economic hardship caused by this pandemic will have long-lasting ramifications. It may be tempting for people in low-risk categories -- namely, young people with no underlying health concerns -- to go about life as normal. But if we keep carrying on like nothing is happening, we put the well-being of the most vulnerable among us at risk. Doctors are sounding alarms that our hospitals may be overwhelmed. We all need to do our part to minimize the spread of this virus, taking seriously the calls to avoid crowded places and stay inside even if it feels like the cowardly thing to do.
If we want to show solidarity in a more active way, perhaps we can leave some toilet paper and hand sanitizer for our fellow New Yorkers. We can also make ourselves available to help vulnerable neighbors in self-quarantine with no one to bring them food. Beyond that, though, we New Yorkers are slowly learning a new language for our solidarity: staying home.
***
Benjamin Heller is a graduate student at NYU's Robert F Wagner School of Public Service. On Twitter @BenjaminHeller0.
***
Have an op-ed idea or submission for Gotham Gazette? Email This email address is being protected from spambots. You need JavaScript enabled to view it.