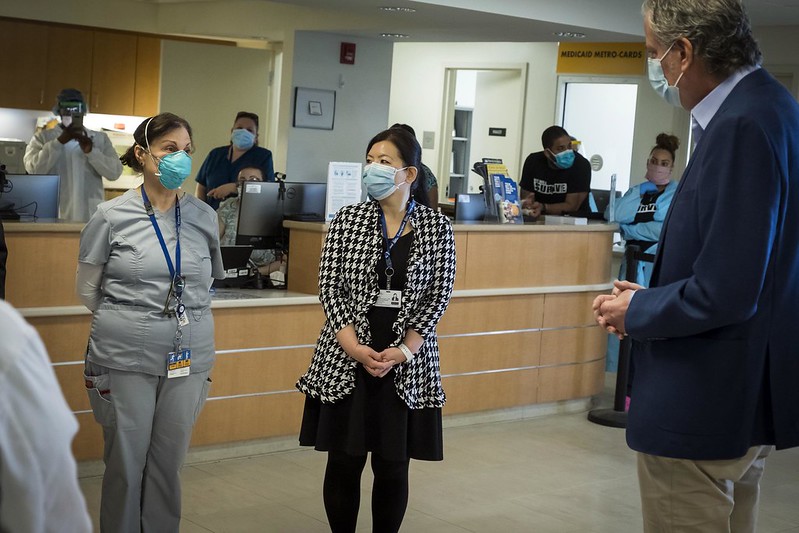 Mayor de Blasio talks with nurses (photo: Ed Reed/Mayoral Photography Office)
---
Long before COVID-19, New York City schools were dealing with a public health crisis: a lack of full-time nurses. Despite operating more than 2,000 schools, the city only employs around 1,400 nurses. It outsources others through private companies, wasting precious tax dollars, more than $100 million per year, on profiteering vendors rather than investing in the nursing staff that our schools need. And that they will need even more once schools open back up.
On Thursday evening, the Panel for Educational Policy approved two emergency contracts to hire additional private nurses for schools, a move that city leaders say is needed to ensure that enough nurses will be available to open schools. However, this approach will only perpetuate a major problem that has been developing for nearly a decade. New York City schools must employ at least one full-time nurse in each school building.
In March, Mayor de Blasio made a promise to have a nurse in each school, but he brought in 85 nurses to assist in filling more than 400 vacancies. It made no progress toward the level of health care that our schools need.
New York City leaders keep sweeping this problem under the rug. With a shortage in the nursing profession, two employment castes along with two union contracts, and an increasing need for medical care within the student population, the work has become one of those complicated issues that is often treated with equal parts passion and paralysis in the offices of elected officials.
Back in late 2018, me and my colleagues from the Community Education Council, District 3 (CEC3), held a public meeting where Dr. Roger Platt, from the Office of School Health, explained the employment structure to Upper West Side and Harlem parents. We couldn't believe how flawed the organization seemed to be, to have roughly 2,000 schools - public, charter, parochial, and private - serviced by only 500 nurses who are employed by the Education Department and 900 nurses employed by the Health Department. This pool of 1,400 "full-time" or permanent nurses had to be supplemented by hundreds of other nurses who were hired via private vendor contracts.
Union contract agreements complicated the matter further, because as it was later discovered, only the Department of Education (DOE) nurses are really full-time. With the support of the United Federation of Teachers (UFT), these coveted nursing positions enjoy salaried work with benefits and pension, working the school year like most teachers. The Department of Health (DOH) nurses are permanent employees but paid an hourly wage (not equal to that of DOE nurses) and overtime. Some, plus DOH nursing supervisors, are also expected to work throughout the year, and their benefits are not as robust as those of the DOE nurses. These nurses are represented by DC37.
Looking to private nursing companies to staff schools, so as not to deal with the full-time employment issue, seems to be the main driver for so many agency contracts, but there are serious problems with this rationale. For starters, taxpayers are paying for the profits made by the private vendors, who don't typically pay their nurses all that well. Outsourcing essential government jobs wastes money and also falls short on the quality of work that is needed.
More importantly, unlucky schools without a full-time nurse often don't know who will be serving their students. Often these are the schools with higher rates of asthma, diabetes, and other conditions that demand medical attention for students. Some schools in Northern Manhattan and the South Bronx have asthma rates as high as 40%. Other health conditions are also on the rise, many of which require daily care such as injections, catheterizations, and medication administration.
Contract nurses sent in as subs also don't even have access to the "Automated Student Health Record" (ASHR) system. When they see a sick student, they have to rely on accurate written records, if any. They complete a written document of the visit, which technically should be entered into ASHR but isn't. ASHR also informs New York City's "syndromic surveillance" capabilities, a database of citywide disease information that is more important than ever.
Before the pandemic, more than 50 New York City schools operated without a nurse on staff at any given day. This led principals to make more 911 calls, taxing our emergency response system. They also had to place calls to parents with children who require skilled nursing care, leading to higher student absence rates. Some parents simply pulled their children out of the DOE and resorted to homeschooling.
To nursing supervisors, this patchwork system has meant a persistent shifting around of schedules, absences, and other issues related to working with independent contractors. It held up the heavy data flow of information related to medication administration forms, because they too get entered into ASHR. But this particular task is a constant reminder of how flawed the school nurse structure is for student care.
New York City has not prioritized school nurses for years. COVID-19 has shown us all how essential our school nurses are and will even more so when school buildings open again. The Panel for Educational Policy vote on private vendor contracts highlights the city's reluctance to deal with the problem fairly and equitably. But there is still time to make progress on this issue.
City leaders can bring the right people together to restructure the employment model and create a pipeline for the hiring process. We need a school system that truly serves our children, and that means that every school should have a full-time school nurse when we resume normal operations in the fall.
***
Kim Watkins is a Harlem parent, president of Community Education Council, District 3, and a founding member of Parents Supporting Parents. On Twitter at @kimwatkinsnyc.
***
Have an op-ed idea or submission for Gotham Gazette? Email This email address is being protected from spambots. You need JavaScript enabled to view it.