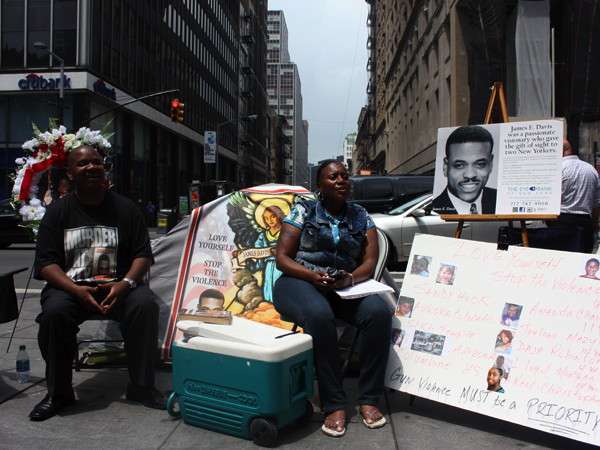 NEW YORK — A decade ago this month, City Councilman James E. Davis was shot and killed at City Hall, ending a promising political career.
Now his brother is marking the anniversary of Davis' death with a hunger strike outside City Hall to call attention to the need to stop gun violence.
James Davis' brother, Geoffrey, 49, said he started the nonprofit organization "Love Yourself: Stop the Violence" with his brother in August 1991. But, following his brother's death, he said he changed the name to the James E. Davis Foundation.
"Everything is symbolic," Davis said in an interview on Wednesday outside a small, dull green-gray tent where he planned to spend 10 days, living off of energy drinks, water and cranberry juice stored away in a cooler. "I said I'm going to do 10 days to represent the 10 years with a 10-point plan and 10-day prayer vigil."
Pictures of the slain councilman, one surrounded by a flower wreath, and signs with messages against gun violence are displayed around the tent where Davis is staying near the entrance to City Hall.
Davis started his hunger strike on Sunday and will end it on July 17. A vigil scheduled for the anniversary of his brother's killing on July 23.
It was on that day of 2003 that James Davis was gunned down by a political rival, Othniel Askew, on the balcony of the Council chambers, a murder that shocked the city and lead to increased security at City Hall. Askew was able to get the handgun into the building because he was with Davis, and was able to avoid going through the metal detectors. A police officer was also in the chambers and shot and killed Askew after the incident.
Before his death, James Davis, the City Council member for Brooklyn's 35th district, was seen as a talented politician on the rise. In 1983, he was falsely accused of grand theft auto and beaten by police. Some years later, he became a corrections officer at Rikers Island.
"I have tried to turn that experience into something positive," Davis said in an article he wrote for Gotham Gazette a year before his untimely death. "Now as a City Council member, I bring all my experiences together to help reduce crime and improve policing in the 35th district in Brooklyn and around the city."
Geoffrey Davis, who unsuccessfully ran for his brother's seat after his death, praised Mayor Michael Bloomberg for forming a national organization, Mayors Against Illegal Guns, which promotes gun control. But he also said the Council could do more, and that "New Yorkers are outraged by the gun violence."
He said he was particularly outraged because "City Hall is not putting the money in like they are supposed to," — and argued that the Council was neglecting youth by cutting fundamental programs that are built to keep children busy.
"From after school programs to libraries, to putting conflict resolution in schools so children can learn how to resolve their problems and differences," he said. "All those programs can save lives, and we are here to send a message to City Hall that we are just upset and tired and fed up with it."
He said he felt a strong bond with the children who were victims of gun violence, referring to recent a case where a 14-year old girl named D'aja Robinson was shot and killed on a city bus.
"They are all our children," he said. "When the young girl was shot in Queens, that 14-year-old child, my daughter was killed."
This, he said, is how he gets his therapy. It helps him feel more connected to his slain brother.
"I developed my own tool of therapy," he said. "We are going to keep going forth with the peace movement, and that connects me spiritually with my brother because we were doing it together."
The City Council did not respond to requests for a comment. However, the Council has not been absent on the issue: It has funded an anti-gun violence initiative for the past two years based on the nationally recognized CeaseFire model. This year, the Council increased the program's $4.8 million budget by $7,000, and added a gun buyback program and a community development program for the city's Department of Probation.
Davis said he is just continuing the work he and his brother started in the early 1990s, and he knows his big brother would be proud of him.
"Every time I look at his picture I know he is saying, 'go Jep, go Jep,' " Davis said with a smile as he remembered his brother and his old nickname. "He said, 'Hold me down. If anything should happen to me hold me down.' I am holding him down now."
Tony Award-winning R&B singer Melba Moore is expected to stop by Davis' tent at 1 p.m. on Monday.
And on Wednesday, July 17, the last day of his protest, the Rev. Johnny Youngblood, the pastor of Mount Pisgah Baptist Church in Bedford-Stuyvesant, Brooklyn, is scheduled to stop by for prayer and spiritual singing with some church members.