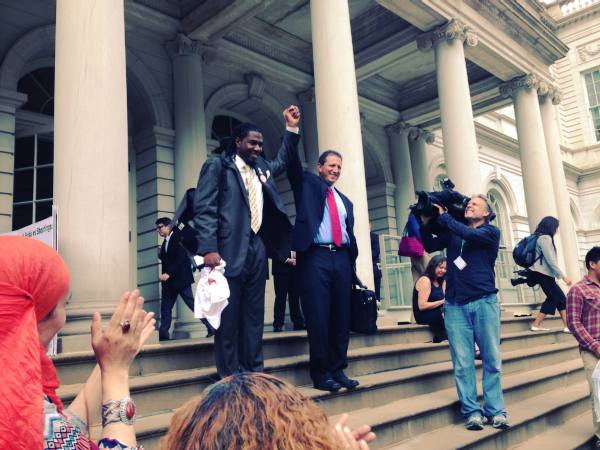 NEW YORK — One week after a federal court ruled against the New York Police Department's use of stop-and-frisk, the City Council passed two bills that aim to systemically upend how the much debated tactic is used.
Yesterday's vote in the Council to override Mayor Michael Bloomberg's veto of the bill had some observers on edge.
Originally passed in an overnight meeting in June, the bill to create an inspector general to investigate general practices and policies passed 39 to 10 at yesterday's Council meeting. A second bill to expand the city's law against racial profiling was overridden by the minimum 34 votes needed .
"Today, the City Council listened to the voices of reason and passed legally sound and responsible legislation that respects the Fourth and Fourteenth amendment rights of city residents, while providing the necessary oversight to establish better policing practices," said Brooklyn Councilmen and bill sponsors Jumaane Williams and Brad Lander in a statement after the vote.
Minutes after the vote, Bloomberg vowed to appeal the racial profiling bill, writing in a statement that it would fail to stop profiling but instead is aimed at winning votes.
On the John Gambling radio show this morning, Bloomberg again focused his attention on the profiling bill and the likelihood of it becoming law.
"We believe we have a very good case in court," he said before adding that he'd likely be out of office before a court can reach a decision. "Just looking at the calendar, the next mayor will have to decide whether or not to continue the appeal."
Bloomberg repeated his opposition to the bill. He said that he already signed a profiling bill into law in 2004. Any and all stops, he said, are based on where crime is reported and the description of suspects — not Census data.
Unless a court does intervene on the mayor's appeal, the profiling bill is slated to become law in late November, 90 days since yesterday's vote. Otherwise, the inspector general bill will be law as of Jan. 1, 2014.
The NYPD inspector general would exist under the Department of Investigation. A DOI spokeswoman declined to comment on the bill's passage.
Whoever is appointed to the job at DOI will operate separately from the independent monitor assigned by federal Judge Shira Scheindlin in her ruling against the city two weeks ago.
"Let me be clear the IG is not limited as the court's monitor is to only stop-and-frisk," said City Council Speaker Christine Quinn, adding that the inspector general would look into any practices that the NYPD engages in, including stop-and-frisk.
Quinn has long supported the inspector general bill, but has been criticized in recent months for her opposition to the racial profiling bill. A Democratic candidate for mayor, Quinn has spent the last few weeks confronting fellow candidate Public Advocate Bill de Blasio on the issue.
A non-voting sponsor on both bills, de Blasio on Thursdsay accused Quinn of taking advantage of the cameras by supporting one bill and not the other. He argued again that he's the only candidate who can end the "Bloomberg era of stop-and-frisk" by supporting both bills and replacing Commissioner Ray Kelly — whom Quinn said she'd ask to remain at the department's helm.
At an impromptu campaign event before the vote, Quinn accused de Blasio of misleading primary voters by calling himself the only candidate opposed to the policy's status quo or racial profiling — a charge also levied by former comptroller and the only the only black candidate race, Bill Thompson.
Quinn also vowed that under her leadership, Kelly would have to be willing to reform stop-and-frisk to her liking, calling de Blasio a "say anything, do nothing politician talking out of both sides of his mouth."
The profiling bill, Quinn said yesterday standing in front of a group of Council members, opens the door to conflicting court opinions between the local and state courts. Many of the legislators behind her disagreed with Quinn on policy grounds, but praised her willingness to engage despite their differences of opinion.
To some legislators, that difference of opinion meant that the body needed to continue the conversation beyond the vote.
During the vote, Williams said that none of the votes against the bill came from any members of the Council's Black, Latino and Asian Caucus. With 27 members, its members make up a little more than half of the entire Council.
However, at least two opposing votes did come from caucus members. Queens Councilman Peter Koo voted against both bills, and Bronx Councilman Joel Rivera voted against the racial profiling bill.
The idea that one had to belong to a minority in order to understand the issue of stop-and-frisk rankled some members outside the caucus.
"I vote on things that I have a role in — things I don't have expertise in — and to say you shouldn't vote with your own judgment because you're not a person of color, I think it's offensive," said Staten Island Councilman Vincent Ignizio.
"It's indisputable that thousands of people are alive because of the efforts of this police department," Ignizio said as he defended his vote against both bills. However, he also vowed to work with his colleagues to work with those in support of the new laws.
Another opponent to the bills, however, was less measured in his message. Queens Councilman Eric Ulrich said that he appreciated and respected those who support the bills but couldn't stand for a bill that costs taxpayers $2 million for redundant bureaucracy instead of paying for more officers on the street.
Briefly shouted at by an audience member in the overlooking public gallery, Ulrich shouted that he would not be intimidated, calling both bills "downright dangerous."
"New Yorkers will rue the day that City Council overturned these vetoes," Ulrich said.
Many of the bill supporters agreed with Ulrich and the other Council members who defended Bloomberg's veto that NYPD needs to increase the number of police officers, but the consensus among them seems to be that the bills would help improve policing.
"I think what we all want is a city where we're safe and our civil rights are protected," Lander said, noting that the debate has been "difficult and polarizing." Like Ignizio, Lander nonetheless thanked the bills' opponents for helping to elevate the dialogue.
While emotions didn't necessarily run as high at yesterday's meeting as they did when the Council originally passed the bills, when members made multiple rounds at the mic to explain their votes, many legislators noted the personal significance of vote.
Queens Councilwoman Julissa Ferreras sat at the front of the Council to explain her vote as important not just to her as a legislator but as a mother-to-be. The councilwoman is more than 8 months pregnant.
Ferreras called upon her experiences as a Latina and her hopes as a mother as reasons for her vote, saying that she knows her son is "coming into a better New York City" for it.
"My son and I vote yes," she said.