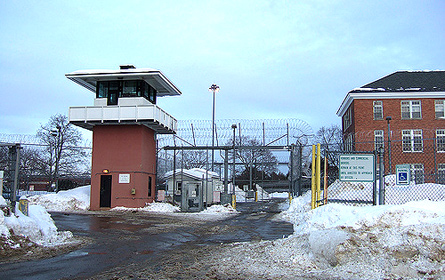 It seems simple. With prison populations declining and crime rates plummeting, Gov. David Paterson has proposed closing four upstate correctional facilities. It is estimated the move would save $7 million this year and $52 million in the next fiscal year. And in a year when the governor is proposing billion dollar cuts to education and health care, one might think closing three prisons in upstate New York would be an obvious move.
It's not. While some advocates charge that Paterson's planned closings don't go far enough, a combination of political and economic concerns could save the three institutions on Paterson's list.
For example, the Moriah Shock Correctional Facility, which Paterson has proposed closing, is in the area where the Lake Champlain Bridge was destroyed, leaving the area economically crippled. Area resident say they cannot afford to lose the prison as well.
The Ogdensburg Correctional Facility, to take another instance, is in the district of Sen. Darrel Aubertine, an upstate Democrat who helps make up his party's uber-slim Senate majority. Voting for a budget that closed the prison in his district would be political poison for the freshman senator, and it is unlikely his conference would support anything that would put his seat in jeopardy.
Mount Lyon Correctional Facility is also on Paterson's list.
How Much They Cost
Despite the opposition to the closings, the Correctional Association of New York, an advocacy group, would shut more facilities and came to Albany on Tuesday with hundreds of members to press the legislature on the issue. The association estimates that New York state prisons have 6,300 empty beds that cost taxpayers some $140 million over a two-year period. Incarcerating a single individual costs the state $55,000 a year. Meanwhile, it is estimated that maintaining an empty bed costs around $22,000 annually.
Where They Count
The city of Ogdensburg has a population thought to be over 11,000 and their median household income is a little over $23,000 -- compared to the national median of around $40,000. The city has an 11 percent unemployment rate. The Ogdensburg Correctional Facility employs 287 workers and has an annual payroll of over $20 million.
Ogdensburg City School District Superintendent Timothy M. Vernsey told the Watertown Daily Times that the closure would have a trickle down effect. "As employees relocate for work, it negatively affects our enrollment numbers, which, in turn, affects the amount of state aid the district will receive," he told the Daily Times. "Eliminating a major employer in an already stressed community is devastating news."
The Essex County Board of Supervisors commissioned an economic report on the impact closing the Moriah Shock Correctional Facilitiy in Mineville would have. The facility provides 102 jobs but the report says those jobs make up about 1 percent of the county economy. According to the report, closing the prison would send the area's 10.3 unemployment rate up to 11.1 percent.
According to the board, the prison provides the area with about $8 million in revenue a year -- almost the same amount of money the state would save by closing the prison. The report also considered the benefit that the county received from having inmates perform community service. Prisoners did 94,136 hours of community service in 2009 -- a third of which was working for the Department of Conservation. The report states that inmates are often the frontline labor crews that clean up from natural disasters.
While these communities get jobs from the prison system, they also get political clout because the census counts inmates as living where they are jailed, not in the communities they hail from. Prisoners in New York State are mostly blacks and Hispanics who come from poor neighborhoods in the city. Most correctional facilities are far upstate in small, rural, white communities. The prisoners boost the population of some towns that have been losing people to other parts of the state and the country.
Democrats have introduced legislation that would count inmates where they come from when it comes to drawing legislative districts. This would almost certainly result in more members of the State Assembly and Senate from the city and fewer from upstate. Not surprisingly, Republicans from rural upstate prison communities steadfastly oppose it.
Most Democratic senators are loathe to talk about the chances of prison closures making it through this budget process, even though a good majority of them are in favor of the idea. "Shut 'em down! I'm sick of hearing Republicans complain they won't have anyone to cut their grass," said one Democratic senator whose district does not have a prison.
"Since entering the Senate, I have heard my downstate Democratic colleagues repeatedly call to close our upstate facilities, often citing what they believe to be an unfair counting of inmates in the federal census," said Sen. Betty Little, who represents a district where two prisons would be closed, in a statement released after Paterson's budget was revealed. "Closures not only directly impact those employed at correctional facilities, but there's also a ripple effect that is tough for rural and economically depressed communities in the North Country to absorb."
State Sen. Liz Krueger said the communities would need help if the prisons were to leave. "We need to right-size the prison system," she said. "Prisons rank very low on the scale of good economic development. But at the same time we need to help upstate with economic development."
Caitlin Dunklee of the Correctional Association says sending prisoners upstate from New York's downstate communities not only devastates those communities' voting power but also destroys families. "Ogdensberg is literally right on the Canadian border," said Dunklee. "Free transportation is hard to find and making a 10-hour trip can be impossible" She says this leads to mothers losing custody of their children and other inmates losing the support of their families.
Counting Beds -- and Who's in Them
On Tuesday, lobbyists and advocates on different sides of the issue stood face to face, jam-packed into elevators, spilling out of meeting rooms, standing at ends of halls, lost and looking for room numbers. At the Legislative Office Building there was no question that budget season is in full swing. Advocates from the Correctional Association went into meetings with legislators and their staffs touting statistics that point a steady decline in prison population.
According to the state the inmate population has declined by almost 14,000 over the last 10 years -- a rate of nearly 30 percent. The number of inmates has declined by 4 percent this year alone and it is expected to decline by another 1,000 during the 2010-2011 fiscal year. But just last week legislators were being told a different story by lobbyists for the New York State Correctional Officers and Police Benevolent Association. There are approximately 59,000 inmates in New York's correctional system.
The correctional officers' union and lawmakers who represent districts that are home to the facilities say that prisons are actually at or above capacity. Donn Rowe, president of the union, testified at budget hearings earlier this year that cutting prisons will put communities in "serious jeopardy," due to security concerns. He said New York prisons are operating at 102 percent of capacity, with maximum security prisons at 122 percent. He also said prisoners are being forced to double up in cells that were originally designed to house one inmate. That situation, he said, could lead to more violence.
Eric Kriss, spokesperson for The Department of Correctional Services, says the correctional workers' tally doesn't take into account inmates who are in work release programs, in the hospital or in other disciplinary housing situations; instead they compare the number of prisoners to the number of beds that exist. "Even if by some miracle one day there wasn't anyone who needed disciplinary housing or to be in a treatment bed," said Kriss, "we would have the space for them because we would convert those beds to suit the general population."
The Department of Correctional Services has initiated a bed consolidation process to move staff and inmates out of sparsely populated prison wings. It estimates that move will save taxpayers around $8 million without costing any jobs. In fact, the three prison closures proposed in Paterson's budget would not necessarily lead to any layoffs, according Kriss. Staff at closed prisons will be offered jobs at other locations. The problem, he said, is that a lot of civilian (i.e. non-officer) staff may not want to move to a new area.
The Department of Correctional Services finds itself in the middle of the push to close prisons on hand and the drive to preserve every last one on the other. Department officials see themselves somewhere in the middle -- wanting to close some prisons that make fiscal sense to close but wanting to be able to respond should the inmate population increase.
Getting People Out of Prison
The Correction Association thinks an increase is unlikely in the near future. Instead, they think the state will see a drastic drop in the prison population thanks to the repeal of the Rockefeller drug laws. Department of Corrections officials say that with the repeal having gone into effect only a year or so ago, it is far too early to tell if a drastic reduction will materialize.
The Correctional Association is pushing for a number of measures that would leave more prison beds empty. For example it would like to see an increase in work release programs so that more inmates could transition back to a normal life. That, Kriss said, would require the legislature or governor to change a measure enacted during the Pataki administration that reduced the kinds of offenders who are eligible for work release. The Correctional Association is also pressing the legislature to reform parole so that minor violations would not land an offender in prison. The Association also wants to see the Parole Board increase the numbers of prisoners granted release on parole and awarded merit time based on behavior, so that prisoners who behave well get out more quickly.
Unsatisfied with the state's approach to shutting jails, the association plans on starting a board to review prison populations and determine which prisons should be closed. "We would like to start a community review board for prison closures. We need to see which prisons make more sense to close,"said Dunklee.
The Correctional Association also thinks money saved by closing prisons should go to creating opportunities in communities across the state. The group wants some money spent on community-based alternative sentencing programs, drug treatment and job training programs. As for the upstate communities, Dunklee said she thinks they need help. But she added, "Prisons should not be used as economic engines."