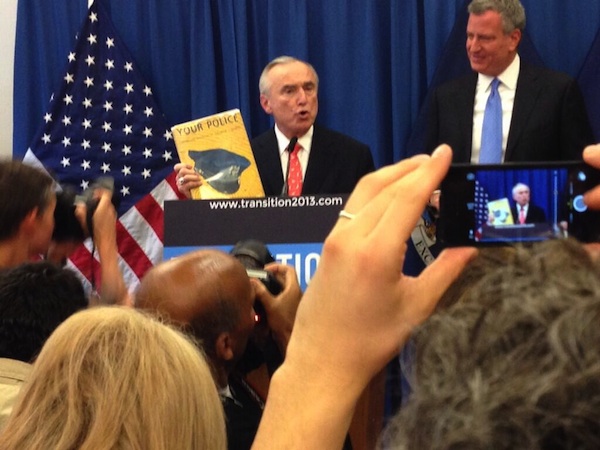 Mayor Bill de Blasio came through on one of his top-priority campaign promises today with an announcement that he has reached a settlement agreement with civil rights lawyers who challenged the police department's stop-and-frisk policy.
The police tactic hasn't been used since August, when a federal judge ruled that the policy was unconstitutional. Former Mayor Michael Bloomberg appealed the ruling.
Reforming the policy that created the tactic will involve a more direct communication between city neighborhoods and the police department, de Blasio said. The mayor has in the past complained that the dialogue has been broken, instigating a rift between police officers and the residents.
A court-appointed monitor will oversee changes in police policy. The monitor will serve for three years and guarantee the NYPD is in complete compliance with the constitution. De Blasio also said he will install an independent NYPD Inspector General.
"This is a defining moment in our history. It's a defining moment for millions of our families, especially those with young men of color," de Blasio said in a statement. "This will be one city, where everyone's rights are respected, and where police and community stand together to confront violence."
Critics of the stop-and-frisk policy charged that it targeted Hispanic and African-American men. Bloomberg countered that white people were stopped. De Blasio has stood firm in his belief that the policy was overused and abused.
"We believe in respecting every New Yorkers' rights, regardless of what neighborhood they live in or the color of their skin," de Blasio said.
Judge Shira A. Scheindlin first ruled the policy unconstitutional and wanted to make immediate changes to the policy because of racial profiling. The ruling resulted in the judge being removed from the case by a three-judge panel of the Second Circuit Court of Appeals saying the judge "ran afoul."
In reaching a settlement agreement in the case Floyd v. the City of New York, the mayor and Police Commissioner William Bratton pledged to repair a flawed policy.
"We are taking significant corrective action to fix what is broken," de Blasio said.
Bratton, who helped initiate the stop-and-frisk policy under his first term as commissioner under former Mayor Rudolph Guiliani, attended the mayor's news conference and said he is committed to keeping the law honest and fair.
"We will not break the law to enforce the law," he said in a statement. "That's my solemn promise to every New Yorker, regardless of where they were born, where they live, or what they look like. Those values aren't at odds with keeping New Yorkers safe—they are essential to long-term public safety."