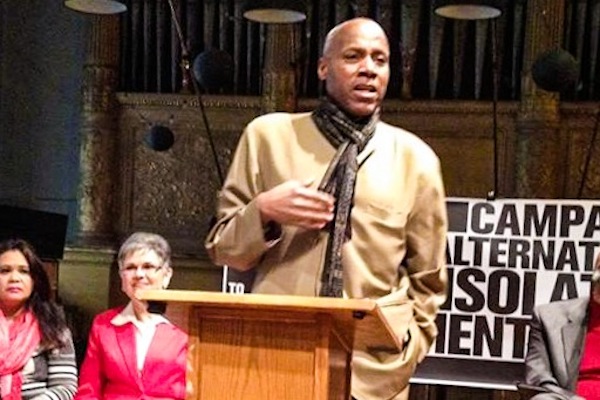 State Sen. Bill Perkins, a sponsor of the proposed HALT Solitary Confinement Act, discusses the bill at a community forum Friday in Manhattan. Photo by Bernadette Evangelist.
---
More than 5,000 inmates are held in solitary confinement in New York's state prisons and city jails - a condition two legislators hope to change by reforming what they see as a torturous practice.
State Sen. Bill Perkins (D.-Harlem) and Assemblyman Jeffrion Aubry (D.-Queens) introduced a bill Friday that that would drastically scale back the use of solitary confinement, which isolates an inmate in a small cell for 22 or more hours per day.
Their proposal, the Humane Alternatives to Long-Term (HALT) Solitary Confinement Act, would cap solitary terms at 15 days. It also calls for the use of therapy and rehabilitation units as alternatives to isolating inmates in tiny cells, except in the most egregious cases.
Jessica Casanova, a family worker from East Harlem said she first became aware of special housing units (SHU), as solitary is called in the prison system, two years ago when she received a disconcerting letter from her nephew Juan Díaz.
In the letter, her nephew called SHU a "steel coffin," and wrote that, "I'm breathing, but I'm dead," Casanova said Friday.
Díaz, 32, was sentenced to 46 years to life after his conviction in 2004 on charges that accused him of robbing and beating to death a handicapped man. He was accused in November of using a homemade weapon to stab a prison guard in the head and abdomen. The guard recovered.
Confined at the maximum-security Upstate Correctional Facility, Díaz had been in solitary for two years when he wrote his aunt. Casanova rushed to visit him, only to find them divided by Plexiglass that prevented her from giving him a hug.
Casanova said Díaz has been in and out of the SHU during the past 12 years.
A recent count at Rikers Island, the city's largest jail, found that one in seven inmates in a population of more than 10,000 were being held in isolation.
Perkins traces the large number of inmates held in solitary confinement to the attitude of corrections officers towards inmates.
It's customary for guards to place inmates in solitary confinement for anything from the possession of tobacco to a messy bunk, according to a report by the New York Civil Liberties Union. When violence or gang activity are involved, the Department of Correction views solitary confinement as protection, either for the person being sentenced or the rest of the prison population.

"If two inmates get in a fight, they have to be separated, they have to be protected from each other," Martin Horn, the former New York City DOC Commissioner, told Gotham Gazette last year.

The city DOC said it was too soon to comment on the proposed bill and a spokesperson for the state Department of Corrections and Community Supervision said they do not comment on pending legislation.
HALT's proposed 15-day limit on solitary confinement would be in keeping reform advocated by the United Nations Special Rapporteur on torture.
"The bill is a fundamental transformation of the way the prison deals with misconduct," said Jennifer Parish, an attorney with the Urban Justice Center and founding member of the Jails Action Coalition. "It's a transformation from a punitive response to one that's more focused on assisting people with underlying needs that cause them to act out."
Such organizations as Human Rights Watch and the NYCLU are working to expose the psychological toll that the lack of human contact and outside stimulation has on inmates, many of whom will be released back into their communities.

The HALT Act would prohibit the use of solitary confinement for protection and would mandate that inmates be placed in traditional solitary cells for only the most egregious infractions, such as violent assault or attempted escape.

The punishment would be eliminated altogether for inmates who fall into a number of "vulnerable populations," such as those under 21 and over 55 years old, as well as anyone suffering from a disability or mental illness and anyone who identifies as LGBT.
When asked whether the political climate in Albany is conducive to reforming policy on solitary confinement, Perkins responded with a question of his own.
"Have you been outside in the last few days?" he asked, referring to recent sub-freezing temperatures. "It's colder than that."
But Perkins predicts that "warm days are coming." They would come more quickly, he added, if the governor put the "moral and political weight of his office" behind the issue.

Gov. Andrew Cuomo did not immediately respond to a request for comment on the proposed legislation.