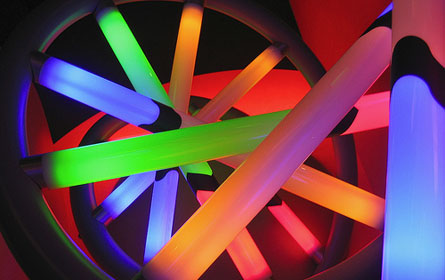 Tyrone Williams raped, sodomized, sexually assaulted and robbed more than seven women across three boroughs over a span of five months, starting in 2003. Williams was eventually captured and sentenced to 35 years in jail, but his spree probably would not have been stopped so quickly had it not been for a previous 2000 conviction for attempted burglary. New York law required that on his burglary conviction, Williams' DNA be made part of the state's data banks. DNA found at the scene of the later crimes matched that DNA on record. Williams was arrested the very day the DNA match was made.
DNA from 356,054 people is stored as part of New York's data bank; all those samples com from a person convicted of any one of a number of qualifying crimes, including violent felonies and sexual assault. Now, if Gov. David Paterson has his way, that number will greatly increase, because the state would store data on anyone convicted of any penal code crime.
New York started its database in 1996 and has slowly but surely added to the number of crimes that require DNA data banking, starting with all felonies and now including 18 specified misdemeanors. Sixteen other states require those convicted of misdemeanors, as well as more severe crimes to submit DNA samples. New York would become the first state to have an all-inclusive mandate. All felonies and misdemeanors would now be covered -- that means over 200 new crimes would be subject to the DNA requirement.
Law enforcement officials from police to district attorneys say that increasing the DNA databanks only makes sense. "DNA is the fingerprint of the 21st century. It not only convicts the guilty, but frees the innocent," said Sen. Jeffrey Klein. He said it is imperative to expand the DNA database because the 30,000 unsolved crimes in New York represent about 10 percent of all unsolved crimes in the United States. Meanwhile, Klein said, New York's DNA database currently represents only about 4.5 percent of all DNA profiles in the United States.
But opponents say there need to be more safeguards to ensure the system is not abused and to all people who say they are wrongly convicted to access the data banks to clear their names.
Other interested parties, like the New York Civil Liberties Union, say that identifying people through DNA is not as foolproof as many in law enforcement say. They argue that police and court should not rely upon it as much as they do. "Samples are often degraded, they're often mixed, and it can be quite a complex understanding when looking at a sample," Bob Perry, the legislative director for the New York Civil Liberties Union told the Journal Register, "That can significantly compromise the DNA database."
John Caher, a spokesman for the State Division of Criminal Justice Services, said that concerns about the database are unwarranted. "I can cite 15 times DNA has exonerated someone in New York. Ask the Civil Liberties Union for an example where someone has been wrongly convicted by it in New York. This will prevent crimes," he said.
Moves for Expansion
Paterson's bill is expected to add around 48,000 new samples to the state data base per year. Currently 46 percent of crimes in the state are subject to DNA collection -- the legislation would likely create a massive influx of new DNA data. Officials hope that will help solve some of New York's 30,000 or so unsolved crimes. It would take effect starting next year and would cost around $1.57 million a year to maintain. Currently though, the bill has no sponsor in either house.
Paterson's measure would simply expand the database -- nothing more. A bill sponsored by Assemblyman Joseph Lentoland passed by the Assembly would expand the DNA database but institute various safeguards, such as creating guidelines for DNA sampling, requiring the videotaping of police interrogations and setting up a board to review the cases of those who say they have been wrongly convicted.
Lentol said that a number of people in New York who were later cleared by DNA evidence were convicted because of confessions. "What is wrong with that picture?" asked Lentol.
In the Senate, Lentol said his bill is being shepherded by Sen. Eric Schneiderman.
But Schneiderman does not seem exactly committed to pushing it through. "The senator supports both pieces of the puzzle," said Schneiderman spokesman James Freedland. Freedland said Schneiderman would be happy to see Paterson's bill become law, and would also be happy to see the protections that Lentol wants put in place.
"We welcome the governor's effort to expand the DNA database as a critical law enforcement tool to solve crimes, protect the innocent and bring criminals to justice," Freedland said in a statement responding to Paterson's legislation. "Sen. Schneiderman has been a longtime sponsor of several bills that expand DNA testing and create safeguards for the wrongfully convicted. Let's not waste this opportunity to make our criminal justice system more fair, reliable and just."
Lentol, though, does not want to wait for more protections. "The Republicans kept pushing for extensions to the database: first it was violent felonies, then non-violent felonies, and each time they would say, 'Wait, we will get to the protections,'" said Lentol
But a some advocates of expanding the database say law enforcement would not support the safeguards in Lentol's bill, ensuring that the bill fails when it comes to a vote in the Senate.
Increasing the number of sample "has been on the agenda for years but always failed, in part because of a poison pill," Caher said. On the other hand, Paterson's proposal, he said, "is a very clean bill because it does one thing -- expands the database."
"DNA testing is one of the most reliable and cost-effective tools that we have in law enforcement. An expanded database will help convict the guilty, exonerate the innocent, and bring closure to thousands of victims from unsolved cases," said Manhattan District Attorney Cyrus Vance of Paterson's bill in a statement.
Klein, though, would go further than Paterson. He has proposed legislation called "DNA Upon Arrest," which would require DNA samples of anyone arrested on a felony charge. Their DNA would be expunged later if they were found not guilty. Twenty-one other states have laws mandating DNA collection on arrest.
With a number of proposals to expand the DNA database under consideration, those involved said they would welcome a chance to sit down and try to reach an agreement. So far that hasn't happened.
Some sources say all this could be sorted out in budget negotiations. The expansion of the database may very well be pushed through as part of the budget package, as the Rockefeller drug reforms were last year, if and when a budget agreement is actually reached.