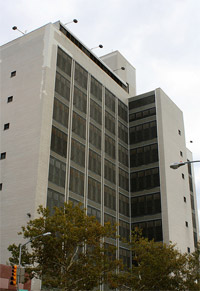 (To read about Gov. Cuomo's prison plan, go here.)
While Gov. Andrew Cuomo begins an historic effort to shut prisons all over New York state, Mayor Michael Bloomberg is building, reopening and renovating jails throughout the city.
The administration's prison plan, which was originally priced at $735 million but scaled back to $620 million, will include a brand new 1,500 bed jail on Rikers Island and the reopening of the Brooklyn and Queens Houses of Detention. Although the mayor's plan reopens and builds new jails in the city, jail capacity will decrease from 19,400 beds to about 16,550. The Department of Correction cited dilapidated facilities and a drop in the crime rate as the motive behind this proposal to "right-size" the jail system.
The construction of the new Rikers Island facility is by far the most expensive portion of the plan, with a price tag of about $563 million. The department says the new building will replace deteriorated temporary housing units.
"We anticipate that the new 1,500 bed jail will be a modern facility incorporating correctional best practices, including staff efficiencies. It should save the city money in the long run," Department of Corrections spokesperson Sharman Stein said.
The city also will reopen and renovate jails in Brooklyn and Queens that have been shuttered since 2002 and 2003 respectively. According to Stein, the Brooklyn House of Detention will open its doors this fall and its Queens counterpart in the summer of 2012.
The plan to reopen the Brooklyn House of Detention was initially met with opposition from the local community because it included a proposal to increase the size of the prison. According to the Community Board manager Steven Levine, when this particular proposal was struck down, most of the opposition to the jail reopening went with it.
"The majority of the board members are comfortable with the facility as currently scaled remaining where it is," he said.
Levine said people living in close proximity to the jail have expressed concern, however. "There are people who live in the condominium across State Street who have told me that when they were looking at those units their broker told them the jail was closed forever and would not reopen. They weren't happy to learn otherwise," he said.
City Councilwoman Letitia James, who represents the district where the house of detention is located, said she does not oppose the reopening of the jail now that the expansion plan has been abandoned. However, she raised concerns about the mayor's jail spending plan as a whole.
"My concern is the social network of the city of New York and not trying to build more jails, particularly at a time where the mayor is alleging crime is down," she said. "A significant number of my schools are old and they're not being rebuilt."