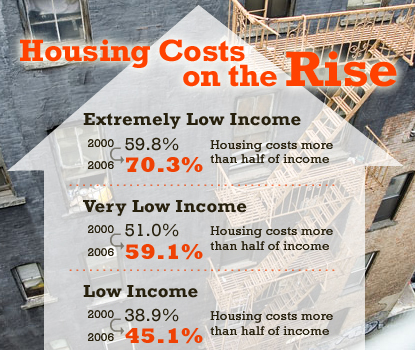 To anyone look for an apartment in New York's City "free market," affordable housing can seem to be an oxymoron. While a well-known real-estate developer recently claimed that any housing rented or sold in New York City was affordable to the particular renter or purchaser, when the usual standards are applied many New Yorkers live in unaffordable conditions.
Generally, affordable means spending no more than 30 percent of household income on housing. For a household with an income of $100,000, affordable housing then would mean rent, utilities and other charges (but not phone and cable) or mortgage, maintenance and utilities would amount to no more than $2,775 per month. For New Yorkers at 80 percent of the federal Department of Housing and Urban Development median ($56,570), which the department considers the top of lower income, the figure would be about $1,575.
U.S. Rep. Anthony Weiner's recent report that 28 percent of New York households who rent spend more than half their incomes on housing and his call for increased federal subsidies, public housing and other government measures served as yet another reminder of the severe problems of housing affordability in New York City and the lack of government action to remedy it.
In 2000, 36.7 percent of New Yorkers lived in unaffordable units. By 2006, that the percentage had increased to 46.0 percent, which means that about 280,000 more New York City households now live in non-affordable housing than they did eight years ago. An analysis by the federal Department of Housing and Urban Development using the 2000 Census showed that one fifth of New York City households then spent more than half of their income on income. By 2006 that had increase to almost one quarter. (More results are in the accompanying table below.)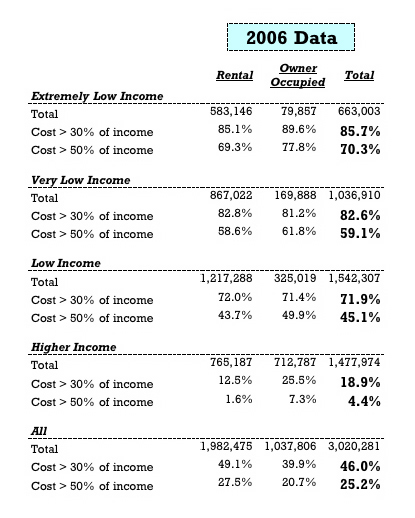 These results were produced using the latest available American Community Survey data. I performed the same analysis that HUD had done for the 2000 Census. Of those New York households classified as low income, 71.9 percent lived in unaffordable housing, an increase from increased from 62.6 percent in 2000. The number of these less affluent households spending more than 50 percent increased from 38.9 percent to 45.1 percent during the same period. (The accompanying table has more detail.)
This can be attributed to a number of developments. The median house value almost doubled from 2000 to 2006, and many people stretched their budgets to buy in what they saw as a booming market. Rents at complexes such as Stuyvesant Town and Peter Cooper Village were increased to luxury levels, while many buildings left Mitchell-Lama moderate-income housing program. Meanwhile, it was reported last week that private companies are buying up inexpensive apartments in the hopes of converting them to higher priced buildings once the current tenants leave. With fewer and fewer rent-regulated apartments available, it is no surprise that an affordable apartment in New York City is becoming scarcer and scarcer.
The mayor's PlaNYC2030 for sustainable growth acknowledges the affordable housing issue. The plan expects a net increase of about 300,000 homes to accommodate the growth of the population from 2005 through 2030. To accommodate the housing needs, it outlines a series of steps, including a large number of residential "upzonings" to make it possible to build higher density housing than is now permitted in many areas in the city, housing within easy access to transit and an effort to create and preserve affordable housing using city land, subsidies, and incentives.
This is not the mayor's first attempt to address the housing crunch. The results from New Housing Marketplace to promote moderately priced homes brings into high relief just how difficult it is to make housing more affordable here. That plan calls for 165,000 units of affordable housing: about 73,000 preserved and about 92,000 newly constructed. After four years, the Independent Budget Office found that about 40,000 units were preserved and 24,000 units were new. At the same time, the city lost 280,000 affordable apartments and houses in the last six years. The challenge, according to the Independent Budget Office, is to build new homes affordable to low and moderate income households, as well as to middle-income households.
Unfortunately, Weiner is right. To create affordable housing requires subsidies and funding on a scale undreamed of since before the Reagan administration. The reason for this is obvious. Those most in need of affordable housing, cannot afford market rate housing. Yet, one can go only so far to use market rate housing to subsidize lower priced rate housing.
Density bonuses, set asides, 80/20 arrangements, etc., do help. But New York City need more than 1 million more affordable units along with significant efforts to make sure that the recent losses do not continue. There is little chance that the city, state or federal government will be willing to pay the bill for that. In the meantime, the search for affordable housing in New York will become more and more difficult, and more residents will abandon the search and move elsewhere or not even bother to come here.
Andrew A. Beveridge has taught sociology at Queens College since 1981, done demographic analyses for the New York Times since 1993, and been in charge of Gotham Gazette's demographics topic page since 2000. The opinions expressed are his alone.Â