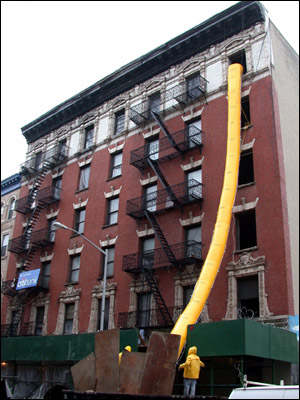 Bloomberg's New Marketplace: housing rehabilitation on East 129th Street.
Vincent Byron, 52, has seen a lot over the 30 years that he has lived at 54 East 129th Street in Harlem, much of it bad -- drugs, prostitution, and so many assaults that the street got a nickname: "They used to call this block 'Gunsmoke,' because someone got shot every day." It is no surprise, then, that many of the buildings on the block were burned out and boarded up.
That is no longer true. The building he lives in has been completely rehabilitated, each apartment having expansive rooms with big windows, modern kitchens and shiny hardwood floors. What's more, last month Byron and his neighbors bought the building from the city, for a total of just $4,500, in return for promising to keep the apartments affordable.
"It's beautiful to me," said Byron, now the super of the building. "No one believed this could happen - not even the people in the building."
More than a year ago, Mayor Michael Bloomberg cited Harlem as a prime example of a community renewed thanks to both public and private investment in housing, when he announced his ambitious new housing plan for the city, which he called The New Marketplace, a five-year plan to create or preserve 65,000 apartments, at a cost of $3 billion. It included a steep rise in funding for the Tenant Interim Lease program, the program that enabled Byron and his neighbors to fix up and buy the building.
"This commitment demonstrates that, even in these difficult budget times," the mayor said then, "the city is not walking away from the job of funding affordable housing."
But the Tenant Interim Lease program is scheduled to come to an end before the end of the decade, when its funding will be cut off after some 20 years of transforming more than 20,000 apartments -- 20,000 when at least 100,000 more are needed within the next few years "even to start meeting demand," according to Oculus Magazine's special issue on affordable housing in New York.
In the 16 months since the mayor unveiled his plan, in December, 2002, construction has started on about 1,200 of the apartments. Meanwhile the need for affordable housing has become even more desperate -- and the barriers to get it have grown higher.
Last week, in the City Council's response to the mayor's proposed budget for 2005, it put a priority on the construction of affordable housing, with several proposals to expand some programs and create new ones. But their ideas for funding these proposals – primarily the reintroduction of a commuter tax, which the state legislature would have to approve, something it is very unlikely to do – in effect point to the problem without really solving it.
CAUSES
There have been three recent developments that have made things worse.
Cutback in "Section 8"
The Bush administration has proposed drastic cuts to the federal rent subsidy program known as "Section 8." People on Section 8 get help with rent in one of two ways. In Section 8 housing projects, tenants pay a share of the rent – not more than one-third of their income; the government picks up the rest. Others who qualify for Section 8 subsidies receive vouchers they can use in apartments owned by private landlords who accept Section 8 tenants. Already, some of the 30,000 private landlords who accept Section 8 are fed up with its bureaucracyand are opting out of the program, while almost 140,000 low-income New Yorkers who qualify for this rental assistance are on a waiting list that closed almost a decade ago. In the budget Congress passed for the fiscal year starting in July, the people waiting can probably give up: New York City would lose as many as 30,000 vouchers by 2009, according to an analysis of the cuts.
Mitchell-Lama Buy-Outs
There is an accelerating number of housing developments "buying out" of the Mitchell-Lama program, which had provided financial assistance to help developers construct apartment buildings in exchange for keeping the apartments affordable. Since 2000, ten housing developments with about 3,500 apartments have left the program; now, 11 more are in the process of leaving. As many as 15,000 apartments that have been kept affordable by Mitchell-Lama, according to a report(in pdf format) by the City Comptroller, may soon be too expensive for the middle income people who have lived in them for decades.
Erosion Of Rent Regulation
At the same time, the city continues to lose thousands of rent stabilized apartments to luxury decontrol, a 1997 change in the law that allows landlords to take apartments out of rent stabilization when their rents reach $2,000. Housing advocates failed last June to convince state legislators to rescind luxury decontrol and an estimated 100,000 affordable apartments have been lost since the law was passed.
These specific problems exacerbate three long-term trends:
Rise in Population
The problem is clear in the numbers provided by such reports as NYU's State of New York City's Housing and Neighborhoods and the Census Bureau's Housing Vacancy Survey. Though the number of people living in New York City reportedly increased by almost 700,000 from 1990 to 2002, the city saw fewer than 100,000 new apartments built in roughly that same period.
Although it varies according to neighborhood, the demand for affordable housing, then, simply outstrips the supply available. Since the 1960s, the number of apartments built in New York City has steadily declined. This trend was reversed last year, 2003 seeing more new construction, and there are indications that this will be the case this year as well. Most of the new building, though, is of luxury apartments, unaffordable to at least 80 percent of all New Yorkers.
High Construction Costs
If the demand is there, why isn't more housing being built that the average New Yorker can afford?
The cost of building in the city is the highest in the nation, significantly more than in many other cities, according to one report. A variety of factors make this so:
land in the city is expensive
construction materials are expensive
the rules governing construction are complex
labor costs are high
Taxes and fees on building increase costs
Corruption costs, too.
Fall-off In Government Funding
One definition of affordable housing is housing in which a person is spending no more than a third of his income on rent. But affordable housing has traditionally had another meaning as well -- housing that is built with government funding or government-sponsored incentives (usually tax breaks) for developers. Government has virtually gone out of the business of building housing itself, called public housing. But it now also is cutting back sharply in providing incentives for private developers, or subsidies for individual tenants.
"Right now, there is a housing crisis throughout the nation, especially in the Northeast, because of a fall-off in outlays from both federal and state governments," said Charles Lyons, the president of the National League of Cities. "There is not even a conversation happening."
Affordable housing is particularly losing out in the competition for federal dollars.
"In the way the appropriations are passed, funding to the Department of Housing and Urban Development is included with veterans' benefits and NASA," said Jon Sheiner, a legislative aide to Representative Charles Rangel. "Which do you think is going to win – veterans' benefits or housing?"
"The picture is very, very negative," said Victor Bach, senior housing policy analyst at the Community Service Society. "I think the federal government has to get back in the business of providing affordable housing. The city and state need to understand the dimensions of the crisis, the kind of loss that will occur, the displacement and how it will increase pressure on the homeless system."
CONSEQUENCES
Almost a quarter of all households in the city pay more than half their income on rent. But the lack of affordable housing does more than hurt individuals economically. Having less affordable housing affects the city because, for example, it directly results in more homelessness.
"Homeless families are staying in the shelters longer – at a great cost to the city," said Judith Goldiner, a Legal Aid Society attorney who works on housing issues. Almost 40,000 people – a record – are in city shelters on any given night. Helping homeless families costs the city about $3,000 per family per month.
There is a rise as well in overcrowding. While some families are taking smaller apartments because that is all they can afford, others are doubling up apartments in order to share the cost of a high rent. There is also an increase in the number of illegal apartments, some of them in spaces that were not built to be used as housing, such as basements and garages and attics.
"It's not just a matter of cost," said Joe Weisbord, staff director of Housing First!, an advocacy coalition. "Poor housing conditions and homelessness have a direct and serious impact on educational attainment, health and success in the work force. There are real costs at stake here."
The lack of affordable housing also hampers the ability to attract new businesses, and to retain old ones. And, says Charles Lyons, "if your police, firefighters and teachers cannot afford to live in your community, how can you even call it a community?"
PROPOSED SOLUTIONS
There are at least three facts on which housing advocates agree. The first is that the city needs help from the federal government and from New York State in order to meet the needs of affordable housing.
The second is that it makes sense for government to be involved: "In study after study, government investment in housing produces a nine-to-one return," said State Senator Liz Krueger, who represents the East Side of Manhattan and is the ranking Democratic member of the Senate Standing Committee on Housing, Construction and Community Development. "You create construction jobs; you keep people housed. It's a win-win situation from the perspective of both public policy and economic policy."
The third is that adequate support will not be happening anytime soon. "How do you build affordable housing in a society that has no commitment to financing it?" asked Bruce Dale, of the Community Preservation Corporation, a private local financer of affordable housing. "It's largely a question of political will."
But advocates, though they have critiqued Bloomberg's plan, appreciate the city government declaring affordable housing as a priority: "Under the Giuliani administration, the city was saying we've solved the housing problem in the city," said Irene Baldwin, executive director of the Association for Neighborhood and Housing Development, a consortium of housing organizations. "At least now they are acknowledging the problem."
And, as the urgency for affordable housing grows, several ideas for solving the problem seem to be getting more attention.
Stem The Loss of Affordable Apartments
Hundreds of thousands of apartments in New York City fall under some type of regulation that prevents landlords raising their rents to market rates. The mayor is asking state legislators to pass laws that require the apartments that leave the Mitchell-Lama program to be put under rent stabilization, which would prevent landlords from dramatically increasing rents on the apartments. The mayor's proposed legislation could also protect almost 40,000 other apartmentsin buildings that were constructed in the 1970s with help from the federal government.
Some see rent regulation as part of the problem, saying that it acts as a disincentive to build affordable housing. Others say this simply isn't true, pointing to reports from the city's Rent Guidelines Board that rent-stabilized buildings are profitable for their owners and have gotten more so over the last 10 years.
Give Large Apartments To Large Families, Low-Rent Apartments To Low-Income Renters, Etc.
At least one developer of affordable housing believes in "rationalizing" the use of affordable apartments in order to free up thousands of affordable apartments. In public housing, for example, almost 40,000 apartments are "under-utilized," a spokesman for the New York City Housing Authority said, occupied mainly by tenants who have raised families but now live alone in apartments with two or three bedrooms.
Similarly, in rent stabilized apartments, some large apartments with low rents are being occupied by people who have enough income to afford to pay more.
Mark Alexander, who has been involved in building affordable apartments for almost 30 years, said efforts should be made to assure that only people who really need affordable apartments actually get them. Alexander admitted his was not a politically popular point of view.
Others put it more strongly: "Is he heartless and cruel enough to go up to someone who is 70-something years old and say get out?" asked Howard Marder, the spokesman for the housing authority.
Use New, Cheaper Construction Materials
If construction costs were lower, developers said they could build more affordable housing. "Right now, the price of steel has doubled in the last year, and so has the price of copper," said Jeffrey Levine, of Levine Builders. If the city's building code allowed the use of new, cheaper materials, Levine said, costs would be lowered.
Change Zoning
Some developers said that the most effective way the city could help them would be to allow them to build more housing on the land available. This means changing the zoning.
How land is used in the city is dictated by the city's zoning code. On most of the land that is zoned for residential use in the city, developers can build one- or two-family houses. In areas where big apartment buildings can be built, "inclusionary zoning" allows a developer to build more apartments (in the language of planners, increasing "density") in return for a commitment to keep them affordable. (The affordable apartments do not have to be built on the site of the main development). It is called inclusionary zoning because it encourages developers not to exclude renters with lower incomes.
The Housing Development Corporation, a public corporation that finances the construction of affordable housing, has built 8,853 apartments using inclusionary zoning since 1987. In these "80-20" buildings, 80 percent of the apartments lease at market rents and 20 percent are reserved for families of low and moderate income.
"Nothing is going to change in terms of the costs of materials, union labor and land," said Hugo Subotovsky, a developer who has built affordable housing in Manhattan and the Bronx. "These are political issues that are probably going to get worse. But if you create more square feet it will amortize the cost of land. We should work very closely with city planning to improve zoning."
The Department of City Planning has proposed allowing inclusionary zoning in several areas of the city where it has not been used before, including parts of West Chelsea and the far West Side of Manhattan.
Inclusionary zoning has its drawbacks. In some small-scale neighborhoods, residents have balked at the idea of big apartment buildings even if those buildings would help solve the affordable housing problem.
Not Lacking In Ideas
There are many other ideas. The New York chapter of the American Institute of Architects, for example, last year put out a report entitled "Ten Steps To Create More Affordable Housing In New York City"(in pdf format), which recommends specific changes in the building code and the zoning resolution (such as eliminating some requirements for parking and allowing for the construction of smaller studio apartments) -- changes that could be accomplished "without significant public funding." The National League of Cities offers "Practical Approaches To Affordable Housing Challenges" (in pdf format) and PolicyLink, a national nonprofit organization, offers an "Equitable Development Toolkit"
"It's not like there is a lack of ideas that could work," said Senator Krueger. "We just don't seem to be able to get people to understand that, for the future of the city and other areas in the state, we need housing for people to live in."
Joe Lamport, Gotham Gazette's housing topic page writer, is assistant director of the City-Wide Task Force on Housing Court, a coalition of community housing organizations.