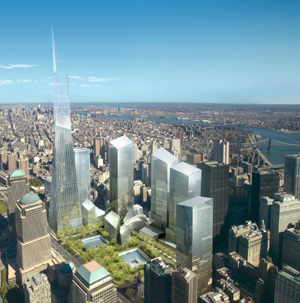 Freedom Tower Design (September 2004)
This month at Learning from Lower Manhattan, a national conference presented by the American Institute of Architects New York Chapter, Daniel Libeskind, the designer of the master plan for Ground Zero, Michael Arad, who designed the Ground Zero memorial, and Santiago Calatrava, the architect of the transportation hub at the former World Trade Center site, spoke together in person for the first time. The discussion was led by Leonard Lopate of WNYC radio.
After presenting their individual projects, the architects spoke about
An edited transcript is posted below.
Leonard Lopate: Gentleman, I'm told that this is the first time that all three of you have sat down to talk to one another. Is that true?
Michael Arad - I think all at once, yeah.
Lopate: You've met singly but never all at once. Is that typical on a project of this size?
Daniel Libeskind: - I think it's understandable. There are so many different components, everyone has to develop them to a point, and then they can speak in dialogue to one another. I think that it's not unusual in a project the size and the complexity of this one. There is a time for that, and we still have time. I'm sure that in the coming months there will be much more intensity as the projects really come to a critical point of implementation.
Lopate: Before I go on to my questions, now that you're all together, and you have the opportunity, is there anything you'd like to ask one another? Have you been thinking "If I ever get the chance to sit down with Santiago I would like to ask him a question."
Arad - As a group we haven't all sat down, but I've met with Daniel a number of times; I've met with Calatrava as well. But I will pass it to my elders.
Libeskind - Don't get the impression that we are not in close communication; we are. We are not often on a stage together because of the obvious - there are so many things happening. But we are in close communication about the development of these projects.
Lopate: The feeling I got from all three of your presentations is that you're not just concerned with how your plans will interact with each other, but how the whole will interact with the immediate area, the downtown area in general. Yesterday, one of the people here said to me that his concern was whether he is going to be able to get to Chinatown from the World Trade Center site without going through Brooklyn. Are you really thinking about that; are you thinking all the way to South Street Seaport and Chinatown?
Libeskind - Absolutely. We are reintegrating the site in a way that it was not before 9/11. Before 9/11, as you know, the World Trade Center plaza was an obstacle, a blockage, a huge podium. There was very little retail on the streets, all the retail was underground. We have been making an effort to put retail on the streets, which is not always easy. As the Port Authority understands, there are already people underground; it is an easy way to sell things.
But we are making an effort to create vibrant streets, streets that are interesting to walk, that do not just connect points. With the memorial, with the station, these are streets that are going to have hundreds of thousands of people on them.
Lopate: -- People were really unhappy with the way the old World Trade Center worked. That plaza was a dead space, and it's been determined, I gather, that for the first time in 37 years New York City owns those streets. Will they have a say in how the streets will work with this?
Arad - I can really speak to a more limited area than Daniel, in the sense that I am working on the more limited area of the memorial. We're working with transportation planners, we're looking at what the pedestrian experience is, what the expected number of visitors to the memorial is every year, and how many people come to work here every day. We're planning very carefully how to tie this site back into the neighborhood; how to make this a significant place for downtown residents while also maintaining the sense of a space that is sacred, and has great importance for the memorial. Finding the right way to balance these concerns is something we are doing every day.
The paths, for example, for tourists, down towards Battery Park, coming through the site, coming from the train station, have to balance with the people going to work, going to the financial center.
Lopate: Santiago, when you showed us the plans for that beautiful housing development you have designed, were you seeing it as connected with your PATH station?
Santiago Calatrava - Well, in my presentation I showed how I approach a design: trying to learn from examples in New York. However, I would have to say my background is European. I look at New York today as a city that could be a European city. I would like to say that my vision of the city is much more related to plazas, as elements to build a city. Everything we have done to build the station goes in this direction. In terms of recreating, you see a place which could in a way have the quality of the plaza; I have a big hope in seeing the 11th of September Plaza, which I'm not designing, but which I think is very important for the project.
The consequences that this area will have to go as far as, without any doubt, to the place where we are doing that tower, and also to the waterfront with the whole storybook background of the boats, and Brooklyn, and so on. I still have a lot of difficulties to understand the city -
Lopate: Paul Goldberger has written, I'm quoting "the genuine craving for an architectural response to the crisis, a wish for architectural aesthetics to heal a broken world." Has that been a problem from the start, that the site had to satisfy not just commercial needs but also emotional needs? I throw this out to all of you, because I do believe that all of you have thought of this.
Libeskind - I do believe that architectural is not just intellectual - it is an emotional art; it is communicative art. Particularly on this ground, I believe that every building, and every prosaic activity will have a resonance that goes beyond whatever it is. In that sense, I believe there is nothing on the site - not even an entrance to a building - that does not require special thought. It has to relate to everything else on the site, since this is not just a site that is to be developed for commercial reasons.
Lopate: People see it as sacred ground.
Libeskind - And it is.
Arad - I'm from Jersualem and -
Lopate: Is anyone on this stage born in the United States except me?
Arad - Well, we are in New York.
In something Santiago just said about a European city, I was thinking about home. This issue of, I don't want to say religion, but spirituality. How do we deal with that in a city like New York? To me, lower Manhattan became a very spiritual place after 9/11. I lived downtown , and I remember being in that area that was cordoned off, and not being able to sleep at night. I got on my bicycle and rode around and saw that late night response of people just standing around in a place like Washington Square Park, and the vigils of strangers coming together. If I am able to capture some of that spirit in the design in the plaza, in creating a space that is different from other places in New York -
Lopate: -- Santiago, do you think that the same thing will happen in Madrid when the train stations that were blown up are rebuilt? Will that be seen as sacred ground, or did 9/11 take on a significance that was a little different from the terror acts afterward?
Calatrava - I was in Madrid the 11th of March, the day of the attack, so I followed a bit from close in the first moments. What has happened since then I have to say I am not aware of what the people in Madrid want to do today. I think they tried to overcome the problem in another way. Pyschologically, maybe they used the Spanish way to think. I say that because Spain has come from a dictatorship into a pure democracy, we still have work to do. Maybe we are in this kind of amnesia; the thing is different.
Lopate: Daniel, in the Winter Garden of the World Financial Center is an exhibition - From Recovery to Renewal by the Lower Manhattan Development Corporation. How instructive is the comparison of the two models that show the plan you envisioned in 2003 and the design as its evolved - the twisting Freedom Tower, the transportation hub, and the landscaped memorial that turns the Twin Tower outlines into water -filled voids.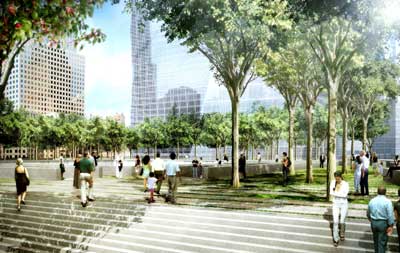 Depiction of memorial
Libeskind - I think it's a confirmation of the success of the consensus that the master plan has brought to so many different issues. We are only a year and a half after that competition, and the master plan has created a consensus between those various stakeholders. This site was not declared a site that is controlled by a single authority, or a single person, or a single political power. It's a site that is developing within the complexity of the city, and within the complexity of the marketplace, and within the complexity of what it means symbolically and spiritually to the world. As such, it's kind of an instruction of how to develop a city.
We often concentrate on aesthetic issues: is a tower going straight up, or is it twisting? But what relationship does that have to do with the true fundamental issues of the city? We don't discuss that.
Often people see those two pictures and they say "Mr. Libeskind, is that the same picture?" and I say "yes it is, because the function of shaping this large space was not conceived in the 20th century, old master planning way, where you do a plot plan and you say "build up to this height, build up to that height." That is the way Potsdamer Platz in Berlin was created, which I think is in the end not a successful urban vehicle. It doesn't have much life. It has nice buildings from famous architects from all over the world, but it doesn't sing.
I thought we should do something different here. We should allow a balance between individual freedom, which has to be the message of the site, and also something in the end that delivers a coordinated and integrated plan that is a composition that has integrity. That balance, between flexibility and openness on one hand, and definition and precision on the other, is a contemporary 21st century idea for developing a site plan.
Lopate: Is the plaza with the Wedge of Light, is that still in place?
Libeskind - Not only is it still in place, Santiago Calatrava's interpretation of it has made it much more profound. It goes beyond simply defining an edge; it creates a central point where all the people using the station will be a part of a kind of unfolding drama in the skies of New York no matter the weather. I think it shows that with creative ingenuity and great architecture, a master plan can really flourish.
Lopate: It's been reported that when you learned of the vote in favor of Michael's memorial plan that you were horrified. What bothered you -
Libeskind - No! That's absolutely not true. All sorts of things are attributed in the press to me which are not true. In fact, when I saw Michael's project people said "aren't you horrified?" I said no, because if you look at what he has done, he has followed every master planning criteria: he has gone down to 35 feet below street level, and at bedrock at other points. He has created a space that is meaningful, that has a profound relationship to the Twin Towers.
The problem was that many people thought that what they saw for the master plan was a design for things. Of course it is a design for the spaces, but it is not a design for the buildings, or for each individual structure. I thought Michael's memorial was extraordinarily sensitive, simple, something that will really contribute to that site being an important one.
Lopate: But Michael, didn't you eliminate the cultural buildings, and even the trees from the block initially?
Arad - I can understand Daniel's take on this, especially the highlighting of differences. But I think there are many issues which the master plan set which were the principles from which I found guidance in my efforts to think about the site. The street grid was a cue, which I took as something that meant that the site must be reintegrated into the city.
The cultural buildings were an issue. The idea of actually bringing cultural buildings to the site is something I find extremely important, and will change the nature of the site. Finding the right way to do it within the designs as they evolve is a challenge.
The architects for these buildings - I think the short list just came out today -- will be involved in this. Things will continue to evolve. The question is are the basic and most important tenants of creating a memorial there, and will the site be preserved? I think it will be.
Lopate: Well I want to get to the cultural buildings in a moment but how do you think the slurry wall will end up being used? You didn't want to actually use it all originally, did you?
Arad: I didn't plan to develop it. But right now it is a major component of the underground museum, the Memorial Center. I am focusing for the most part on the development of the memorial. There will be another architect who will be designing the memorial center.
Lopate: And that's where it will be. It won't be visible?
Arad: The top of the wall is just below the level of the plaza. So the question is how it will be visible - perhaps through skylights, perhaps we'll have openings in the plaza itself.
Lopate: Is there still a plan to create a bus garage below this whole thing?
Libeskind: No, certainly not. I think one of the achievements of the last month was being able to remove the complex infrastructure and much of the security concerns from below the memorial . The memorial that is being designed can reach bedrock, and can have freedom to develop spaces for the public.
And that is not a small achievement because we were also able to create a new park which was not part of the original competition. The site is on Liberty Street, a park for the neighborhood. And I just want to remind all of you that the memorial is 4.7 acres out of the 16 acre site. And if you take the streets, public spaces, the wedge of light, there are probably just 10 acres of public space created on the site. So it's necessary to ask the question how do you create public space and also accommodate the developers and contract which calls for 10 million square feet of commercial density on the site.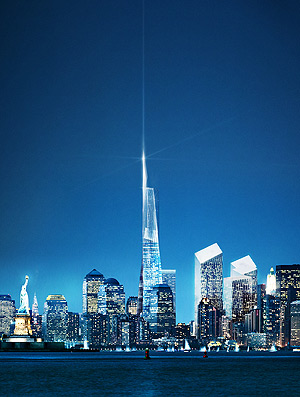 Lopate: Santiago, David Dunlap of the New York Times wrote that you have produced such a striking design at the PATH terminal that it almost appears as if there could be too many distinctive buildings on one intersection. He says imagine Grand Central Terminal and the New York Public Library across the street from one another. There is a concern here that this whole thing could turn out to be a mish-mosh of great buildings. Was that a concern for you as well? Have you made plans to connect the PATH station to the other transportation, the more practical stuff, like the MTA's Fulton Street hub?
Calatrava: There are two things: the one is the practical aspect, as you say, and the other is the way you go into a design. I keep always distinguishing very much between form and content. I'm from an old school, a Greek school, a Platonic school, which says you should be making a difference between the body and the soul of the thing. So finally in my mind there is a kind of interpretation of the area. I try to identify a scheme with a certain scale in which the building fits.
The problem of the scale is a major problem in terms of the space of buildings and kind of building we are putting in. It's a link between the persons moving around. Then we discuss also the relation between this building and the surrounding buildings many times.
I think it's very important to understand that the whole open space doesn't go until South Street. It appears many times in the configuration of the plans that it goes until the World Financial Center. If you have in front of you a model, on a very small scale, then you can see that the space you have is much larger than the space truly delineated by the footprints of the towers and the area where the garden and plaza should be. But it is much larger.
And the center of this estate is the corner to the east of the September plaza, with the station and the cultural buildings. So it seems to me, that there is a capacity there to reconsider the relation between those three important buildings, particularly the art performing center and the museum, and situate them in relation, not only to the station, which is my problem, but also to the rest of the configuration.
And it appears from the point of view, , and this is another aspect, the volumes of those cultural buildings that are just gravitating over the mezzanine of the PATH station are so tremendous that if we have to carry them, all the transparency we want to achieve in the mezzanine will be very deeply compromised. And the idea of bringing daily life into the clouds will also be very deeply compromised. So finally I think that there is a way looking forward, working together to reconsider the situation since we are all partners, committed, and instrumented by idea of articulating buildings in harmony and working in consequent with a master plan.
Lopate: Actually someone just sent up a card from the audience. It says 'does the siting of the museum complex in the master plan create any problems with the transportation hub as you've designed it." You kind of answered the question but that was a concern of yours as well Daniel?
Libeskind: It's a problem not to see each project just as being by itself. There is a station, well people say "oh, there is a station." There is a memorial, there is a tower, there is another tower, there are 5 towers all together, there are public spaces, there are the streets, there are things under the street, there are parks and so on and vistas and perspectives. It is very important not to reduce music to a single note, to a single series of notes, discordant or uncoordinated, because the entire efficacy of the master plan, of the city, is how these things go together .
I don't have any of the worries of Mr. Dunlap that New York will be too interesting. New York needs an interesting set of spaces. Ground Zero needs to be developed in a 21st century way, not just the dark alleys that we know from Wall Street. And therefore I think New Yorkers will see something very different on the site, very exciting, and also very spiritual.
Lopate: But isn't there also a danger of this looking like a sculpture garden where you have realistic and abstract sculptures that have nothing in common with each other all just sitting side by side of each other?
Libeskind: It's been said that every building in New York is a piece of sculpture with plumbing. They happen to be sculpted in a certain era, a certain type. I think the architecture of Santiago Calatrava and the memorial of Michael Arad, and whoever does the cultural buildings, I think there will be both a distance and an identity, both a relationship and an individuality. That balance will create a place that is attractive over the years.
Lopate: Keven Rampe, the president of Lower Manhattan Development Corporation announced the finalists for the performing arts center and museum yesterday, and the developent corporation says that risk taking was a quality it sought when choosing architects for the cultural buildings. You Daniel, are one of the finalists for the performing center aren't you? Hadn't you expressed a preference for designing the museum?
Libeskind: No I am so delighted to be involved in this, being already involved in this grand site it's such a privilege. It's also a humbling experience because we all know that we are not just there in a solitary way, that we all have to work together, closely and in a profound way. I think that's also a reflection of how great cities are built. There are boring cities, and unfortunately, often we admire cities built by dictators that have been imposed on the public and we later forget what they really mean. But a city done this way, in turmoil and complexity and energy, and with fights and anxieties but also communication will turn out well.
Lopate: It can also turn out to look like Toronto; I don't know if that's so great. You decided not to enter a proposal, Michael.
Arad: My hands are full.
Lopate: Santiago, did you also apply for either museum or performing center?
Calatrava: No.
Lopate: So your hands are full as well.
The cultural buildings are expected to be completed by 2009 and I was looking at them, they include six theaters ranging from 99 to 1,000 seats each, large galleries for drawings and artifacts related to freedom, a pilates studio, we couldn't have left one out. When I think of all the organizations that wanted to get in and the pilates people got in…There also will be gift shops, bookstores, a dance rehearsal studio visible to pedestrians, special events space with a kitchen on a terrace overlooking the site, a ceremonial space where naturalized citizens can be sworn in, and then there will be the performing arts complex that will have the Joyce Theater and the Signature Theater Company as well. They've been moved a bit from the original haven't they, and been made a little more compact?
Libeskind: There have been, of course, a lot of discussions, and they are not my decisions, these are decisions of many others, of the City of New York and the Lower Manhattan Development Corporation. How large should the cultural facilities be, how realistic is it to have them programmatically related, and in what way should they be related?
As master planners, we did a lot of work in terms of showing the possibilities. Remember the New York City Opera wanted to be on the site. Many organizations wanted to be. There was a consensus on the scale and content of the cultural facilities; of course this was a decision made by the Lower Manhattan Development Corporation and by others. Those decisions have been made and now we are moving forward on those institutions.
Lopate: Well, the New York Times wondered if any architect would risk challenging the kind of thinking that requires locating the museum complex within the northeast corner of the memorial precinct. What was your thinking in placing the complex where you did?
Libeskind: It was very simple I think. When you take the sequence of Lower Manhattan from north to south, east to west, you see that the intersection of Greenwich and Fulton Street; it is an important nexus. It's not just another intersection within the grid, but it's important in pointing, in thinking towards the Hudson River and the entire shoreline. We often forget how close we are between the East River and the Hudson River when we are at the point. It is a true point of meeting, September 11 Place is a true place of meeting.
We also have the Freedom Tower, on the western side we have the memorial, we have busy streets on the eastern side. So the thinking was a very simple one. One has to create a medium or mediation between the sacred nature - and the very quiet and sad nature - there will forever be of the memorial, and the vitality of streets that are unabashedly New York, where you can see advertising, people, and retail. We don't want the sadness of September 11, which is eternal, to become the sadness of lower Manhattan. That is the strategy. There was a lot of thinking to where those buildings were placed. It was not arbitrary; it was not just forms and functions. It was "how do you strategize by creating a city that is vibrant and that at the same time never forgets 9/11?"
Lopate: The museum will be divided between a larger international Freedom Center and a smaller Drawing Center, which sounds like apples and oranges to me. I'm sure some architects will think of separating the two because it sounds hard to integrate them. Will there be resistance to changing the whole thing after Kevin Rampe says that the intersection of Fulton and Greenwich Street is the 100 percent corner because the museum will share it with the performing arts center, and the PATH terminal, and the transportation hub, and all the stores and hotels and everything else?
Libeskind: Well I think there is a difference in content and amount of space needed for the Drawing Center and the Freedom Center. These are institutions of very different nature, requiring different spaces. It is not that they are two equal institutions. The Drawing Center is not at the same scale as the Freedom Center and therefore requires a different architectural response.

PATH Station design from above
Lopate: If the museum were removed from the corner ,one effect might be the creation of visual access from Santiago's Path Terminal to the barrel-vaulted skylight over the Winter Garden at Battery Park City. Since many visitors approach from that direction it has been proposed that such a clearing would create a break in the dense fabric that lower Manhattan presents. Is that something you would like to see Santiago?
Calatrava: I come back to the question of how you read the city. I'd like to underline the aspect , particularly in European cities , the importance of the plaza is so high that you can even get a city of plazas without streets. So it also has a signification as much as you can speak from past tense as a kind of metaphysical understanding, a poetic understanding, you can speak of about voids -
Lopate: There are parts that attract people and there are parts that don't -
Calatrava: No, no. Let me be a little more peripatetic, it will take just a minute. The situation is this, in New York you see corners and corner situations, and crossing. It is very habitual; the city is almost a grid. But also you see whenever you discover one of those plazas, it appears as an oasis, an unbelievable appearance. The void is also very appreciated because it delivers a very global view, it delivers a public ground, maybe full of trees or whatever.
I could imagine that effectively the density that you create in a corner of the composition among all these tall buildings - putting all three of those buildings around the corner - is almost too much. So I understand very well the statement of Dunlap. And indeed it is possible in the letter of the whole situation that the hierarchy of the buildings can be related to each other and, in a way, to even the absence of the memorial.
It is now the moment to discuss what will be soon. Because as I say I always approach the problematical design in the context very much inspired by the context and content of the master plan. The modernity of this master plan, according to my capacity of judgment , gives signification to the things. Which is very different, very modern, and very few times done.
You see, as it has been said here before, bringing it up in a level of discussion in which you can start speaking about absence, about void, about cutting a piece of the sky in Manhattan. This is the magic context in which we are moving. However, I think we should do whatever we can, get feedback, reposition ourselves in a dialogue in order to deliver and be conscious and be responsible in front of those who will judge us.
Arad: I want to add to Santiago's comments. While I agree with all of them, I wanted to mention Union Square, Washington Square, and Bryant Park as good examples here in New York of the type of space that I think Santiago is referring to.
Lopate: Daniel, you originally had gardens in the open-air structure above the enclosed portion of the Freedom Tower. And you've taken them out. Do you know if David Childs is willing to drop the wind turbines which have upset so many bird lovers?
Libeskind: No. It was an interesting compromise because the gardens which I proposed originally to restore the skyline of New York were something about healing, something very positive, something that is inspiring when you look at the sky. But I also thought of them as an ecological component. It was not just a symbolic component of nature. But what can we do, how can we mark a new awareness of the sky in the 21st century? And I think as someone's response, the windmills were a very inventive response . It wasn't literally the garden, but it had a lot to do with harnessing energy and how to create something that connects that great height with the roof planes at a much lower height. I actually thought it was a very good idea.
Lopate: But it might kill a lot of birds, I've been told, and that is a concern. Someone asked me if this is all a matter of symbols and how much was someone as hard nosed as Larry Silverstein willing to finance symbols?
Libeskind: Well you have to ask Mr. Silverstein , but I don't think that Mr. Silverstein does something because it is symbolic, he does things that are profitable. The amount of energy that will be generated by those windmills is very impressive, at least in the design that I stood by. It is a very pragmatic solution to energy needs.
Lopate: You said in your presentation that the Freedom Tower will be 1,776 feet high but the Times reports that it could be higher, up to 2,000 feet, or we hope if were sticking to dates, 2001 feet. Does it really matter?
Libeskind: Yes, it does matter. Often people think of the height of 1,776 feet and a Wedge of Light and the memorial as just symbols, but let's talk about practical things. The amount of height that this tower reaches has an urban application. We don't want to dwarf the memorial; we don't want shadows cast at critical times of the year on the memorial and on the street. We don't intend to simply build buildings that are by themselves, as we had before, and as we have in other cities, Singapore, Chicago, wherever. We want buildings that relate to a new neighborhood. That requires a coordination; it's not just about building the highest building, but how does that building act on the street, what happens on the base?
And I have to say I did not win all my battles. Just south of the Freedom Tower I proposed Hero's Park, which I though was an important part between the memorial itself and the placing of tower. Because the tower is much bigger in its base, I lost the park. It was a loss, I admit. I couldn't win it. I tried my best. I was fortunate to be able to gain a park space south of Liberty Street.
I just want to say that this process is dependent on public participation, dependent on people voicing their opinions, voicing their likes and dislikes, bringing in new ideas, I believe that with such pressure on the project, it is only the public that could steer it in a way that it is enlightened. Because this is under pressure and why shouldn't it be-- life is always under pressure.
Lopate: Part of that 1776-foot tower will be a broadcast antenna won't it? Most people did not like the old World Trade Center towers, and then they stuck that thing on top of it so one of them had a spike on top of it all. That even ruined the design even a bit more. This will be integrated into it?
Libeskind: The designs that the public saw, which I stood by, which are presented by the governor, and the mayor, and by Skidmore, Owings, and Merrill, and the developer, mark the skyline in a meaningful way. Again it's not a 150 story office building. It's a 65 story tower, with five stories of public programs, and antennae that reach all the way to 1776 feet; there are the ecological windmills in between. And I thought it was a very interesting and very successful tower, albeit a tower that is molded from many different angles.
I actually disagree with Paul Goldberger who said that the tower, because it was designed by these forces he said somewhere that it looked like a camel designed by the committee. First of all the camel wasn't designed by committee but by God, and there is nothing wrong with a camel because they have to go into the desert.
(laughter)
Lopate: But you should recognize that Paul Goldberger was trying to come to your defense when he made that statement. We have run out of time but I really want to give each of you a chance to say anything that you feel you wanted to say if you wanted to say something, and I was stupid enough not ask you the right question to elicit that statement. So is there anything else you wanted to add Santiago?
Calatrava: No, just to say that I am very thankful again for the opportunity to have spoken here, and that this one year of work have been an unbelievable experience. Seeing, as I said before, my client, the Port Authority, my partners and everybody working together under this high profile and still deliver the very best we could.
Lopate: Michael?
Arad: I just wanted to thank you, and thank you all for coming here.
Libeskind: It's great to work with great people. And again I just encourage everyone, not just New Yorkers, but anyone who cares about the development of Ground Zero, and who doesn't, to be part of it. I truly encourage it. Because it is only the public enlightened process that will make this site into something that will not just be sad, or business as usual, which is so often the case.
Lopate: And I want to say thanks to Rick Bell and the people involved here. When they gave me the opportunity, I jumped at it because the prospect of talking with three such amazing designers, creators, was very exciting for me. Thanks so much for participating and thank you all for coming.
Â