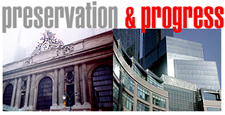 This series, in partnership with Open House New York, looks at the physical city since the birth of the preservation movement.
Name a problem that can be solved with real estate and inevitably someone offers up Governors Island.
School crowding?
Let us "move parts of City University to Governors Island, thereby freeing up classroom space," said Mayor Michael Bloomberg.
The United Nations' need for a more modern facility?
"Governor's Island should be designated the new home of the United Nations," Peter Fleischer wrote in 2001.
Bringing the Olympic Games to New York?
Build a stadium on the island. "What better way of priming the pump for New York City's 2016 bid than by offering this utterly spectacular site," wrote Michael Sorkin, director of the City College Urban Design Program.
So far, none of these plans approach reality - but neither do any of the other proposals for Governors Island. With much of the island a designated landmark district, it could emerge as a shining example of how the city can both preserve the past and enhance its future. But if the planning falters, it could instead illustrate, once again, just how hard it is to build anything in New York.
A SLOW START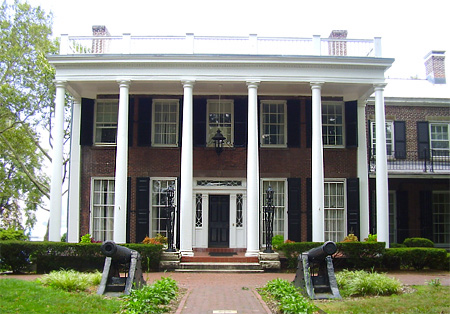 The Admiral's House, a landmarked building on Governors Island, features an elegant interior, which is also landmarked. President Ronald Reagan, Soviet leader Mikhail Gorbachev and then President-elect George Bush held a summit meeting here in December 1988.
Back in 2003, when the federal government transferred Governors Island to the city and state, officials vowed to move quickly to create facilities that would benefit New Yorkers. "We're not going to spend the next ten years debating what should happen here," Randy Daniels, then the state's secretary of state and board chair of the preservation corporation, said at the time.
But by this spring, with progress seemingly stalled, Daniels had lost his optimism. "It takes two years to clear your throat in New York," he told the Times.
And earlier this month, Daniels prepared to leave the board, saying "We can make this something really special. We truly don't know what it will be but we have a general idea of what it can be."
Today, more than two and a half years after the federal government sold the island to the city and state for $1, the tranquil island -- with its stunning views, green spaces and historic buildings -- still remains largely off limits to space starved New Yorkers, except on summer weekends and during the Open House New York event in October.
To try to move things forward, the Governors Island Preservation and Education Corp. (GIPEC, pronounced gee-pec for short) recently set a timetable, aimed at having a plan in place and ready to go by late 2007 or early 2008. The corporation also announced a public meeting for October 19 and provided general concepts for Governors Island.
Will this work? "Hope springs eternal," said Robert Pirani, executive director of the Governors Island Alliance, a coalition led by the Regional Plan Association.
THE PLANNING PROCESS
Ever since the Coast Guard announced it was leaving the island in 1996, the 172 acres off the Battery have been a fantasy island for New Yorkers.
Casino or Shakespearean Theater?
The owners of Copenhagen's famed Tivoli Gardens mulled putting a huge entertainment extravaganza there. Former Mayor Rudolph Giuliani wanted to gamble on a casino, while real estate moguls salivated at the prospect of high rises with water views on a crime-free island 15 minutes from Wall Street. Those plans died, some on their own, some because of federal restrictions on the land.
Earlier this year, the preservation corporation called for suggestions from the public about what to do. By June about 100 ideas had come in. "Some people went out of the box," said Peter Fleischer, senior vice president of GIPEC, "Some people focused on one building, others on the whole island."
A partnership of nine organizations proposed Harbor 360, an environmental education and research facility on Buttermilk Channel. It would include a boat building and repair shop run by the Harbor School, which is a small public high school, and CUNY research facilities. The plan gets its glitz - and perhaps some of its financing - from a two-acre scale model of New York Harbor that would allow people to get their feet wet and experience different aspects of the waterfront.
Others see Castle William, a circular fort, as home to the New Globe Theater, which has ties to the Shakespearean theater in London of the same name. An aquatic park and places for cutting edge technologies are also being considered, along with some CUNY facilities, though probably not an entire new campus. Carter Craft, director of the Metropolitan Waterfront Alliance, said he would like to see things "that create an opportunity for New York City kids -- and urban kids in general -- to get outside," while Pirani envisions a "large flexible green space."
Iconic Island, Innovation Island
Faced with this cacophony of ideas, the preservation corporation came up several concepts, such as "Iconic Island" and "Innovation Island." All would preserve the historic buildings and rebuild much of the southern part of the island, home to such icons of mid 20th century America as a Burger King and a Super 8 motel. All call for a mix of uses. Hotels - probably not a Super 8, though -- seem an essential ingredient, as are conference centers. The "concepts" also call for parks, education, research, hotels and arts facilities. They differ in emphasis and in how dense the new construction would be.
But the plans provide few details. "I want to underscore the word 'illustrative,'" said Daniel Doctoroff, the deputy mayor for economic development and board chair of the Governors Island corporation. "We don't have a plan. I see this as an interesting range of possibilities to get people thinking more concretely."
PROMISE AND PROBLEMS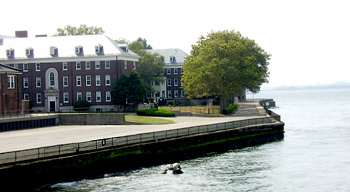 It is a long road from concept to reality. Any big project in New York faces obstacles and this one faces more than most.
Assets as Liabilities
Many of the island's advantage complicate matters. Perhaps its greatest feature - being "an island at the center of the world" as a publicity brochure puts it – presents a transportation headache. Any plan to develop Governors Island would have to provide ferry service that, in Pirani's words, is "frequent, flexible and safe."
Another singular attraction - the 92-acre landmark district — also poses difficulties. It contains 62 buildings, constructed from the mid 19th to the early 20th century, whose exteriors must be preserved. In three of them, the interiors must be kept as well, and some landscaping also has landmark status.
Many see the landmarked buildings that once housed sailors eventually housing students. Smaller buildings could serve as bed and breakfasts or add to the growing list of New York boutique hotels.
"I don't think anyone thinks preservation restrictions are the real problem," said Fleischer. "These buildings are wonderful, and they should be preserved."
In addition, the National Park Service has 22 acres on the island, including Fort Jay and Castle William, which are largely intact. The service has not yet decided what to do with this, though an expert on the island suggested that the onetime cellar in Fort Jay could make a great place to store wine.
Government Restrictions
The federal government did not give up Governors Island without setting lots of restrictions. People in Washington, it is said, wanted to make sure that Donald Trump didn't take over the island.
And so the transfer agreement states that any plan must include 40 acres of parkland, 20 of them contiguous. There has to be a waterfront esplanade. The development cannot include permanent residences, industrial uses, casinos, parking or electric power generating beyond what is necessary to meet the island's own needs.
"It is clearly a site that is so encumbered with public restrictions that it's very difficult to develop," Kathryn Wilde, president of the New York City Partnership, a business group, told the New York Sun. "You're not going to see a private for-profit proposals that is very aggressive."
But others view the guidelines as essential. "They're necessary to protect the public interest," said Craft. "If you allow residential development, it's only a matter of time before it becomes a private enclave…a floating Tudor City."
The island is also supposed to be environmentally friendly. Already, workers there drive about in small electric powered vehicles.
Finances
But it may be easier to make the island environmentally self-sustaining than financially self- sustaining. The idea is that commercial development would fund public amenities. Other money could come from the School Construction Authority or from dormitory funds - assuming, of course, the final plans include schools or dormitories. "What's going to be required is a concept that passes the market test," Daniels said. "This is not a load that the government can carry."
The city has committed itself to putting up $15 million for capital improvements this year. The state is expected to put up a similar amount.
But that is a drop in Buttermilk Channel. Paul Kelly, interim president of the preservation corporation, told the board that infrastructure improvements would cost between $212 million and $368 million. Just repairing the old buildings would cost $60 million. "These are not repairs that can be waited on," he said. "If they're not done now, the buildings will further deteriorate."
And while the improvements have a price tag, the advantages the government could reap from putting up the funds could be priceless. Business needs to see the state and city come forward, according to Pirani. "To meet the confidence level that research indicates the private sector is looking for, they have to put money on the table," he said.
Politics
Bloomberg and Pataki have sung the praises of Governors Island. But some involved with the planning wonder whether the politicians have had the deep commitment needed to push the project through - and get the money for it. "In many ways it has fallen off the central radar screen both for the city and the state," Albert Butzel, president of Friends of Hudson River Park, told a reporter last spring. "I don't see any really strong advocates within government."
The state commitment remains in doubt with Pataki set to leave office in January 2007. But some see reason for optimism at the city level.
With the hopes for the Olympics dashed and the West Side Stadium officially dead, the man behind those schemes, Doctoroff, heads the Governors Island corporation and has promised to "push for a sense of urgency." People say he has already made a difference.
"It's clear that Dan Doctoroff has made this a priority," said Pirani. "That's going to be an asset."
Perhaps. But only if he manages to break his losing streak.
FOR MORE INFORMATION
Governors Island Preservation and Education Corp
The city-state entity that runs the island
Governors Island Alliance
A coalition of organizations working to celebrate the island, create parks and public spaces, and ensure appropriate reuse of its historic structures.
Governors Island National Monument
"New York's' Next Great Place" (.pdf format)
The findings of a workshop on the island, held in June 2004 by the Governors Island Alliance.
"The Many Faces of Governors Island"
Governors Island
An exhibition of photos by Lisa Kereszi and Andrew Moore. Includes a slide show.
What Should We Do With Governors Island?
An on-line discussion sponsored by the Gotham Center
Â