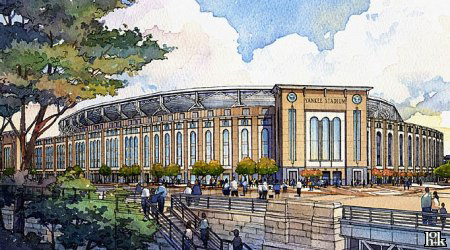 When a new Yankee Stadium (above) was approved by the City Council one day before the Mets unveiled their design for a new stadium in Queens (below) last week, it was just the latest episode in New York City's sports building frenzy.
Nine sports teams in the metropolitan area –- the Yankees, Mets, Knicks, Rangers, Jets, Giants, Devils, Islanders and soon to be Brooklyn Nets –- all have plans to build new venues. And there are even plans to build a NASCAR race track in Staten Island.
Together, the projects will cost more than $5 billion and require hundreds of millions in taxpayer subsidies. The plans have also sparked vigorous debate over jobs, the use of parkland, and traffic –- and whether public money would be better spent elsewhere.
In an effort to win over New Yorkers, the baseball teams in particular aren't just arguing that their new stadiums are good for the city's economy - they are trying to appeal to feelings of nostalgia in a town where baseball was born, the first ballpark hot dog was served, and some Brooklynites still mourn the loss of a team that left a half a century ago.
"I almost feel like I'm walking through the rotunda, 8 or 9 years old, holding my dad's hand," said Mets chairman Fred Wilpon, his voice cracking as he described the new stadium design meant to evoke memories of Ebbets Field, where the Brooklyn Dodgers played until they left for California in 1957.

Click Here for a Photo Essay on New York City Stadiums and the Issues Surrounding Them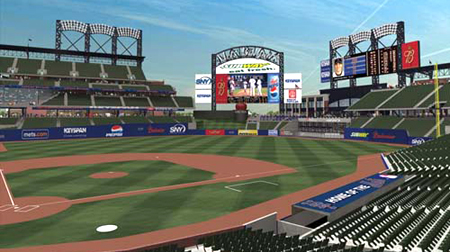 Â