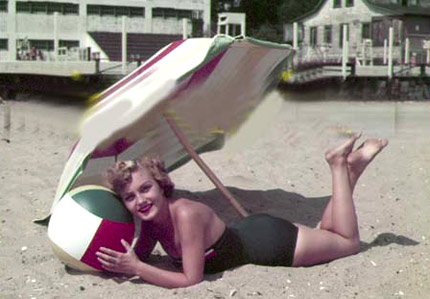 Where can New Yorkers enjoy a private, shorefront club, bayside swimming, a pebble beach and a restaurant with a beautiful view of the water?
You might not have said the Bronx.
That's because few New Yorkers have heard of the Bronx' century-old private waterfront clubs, which have provided generations of local families many of the same luxuries enjoyed by mansion dwellers in the Hamptons and Westchester. The clubs offer members-only pools and bars and private piers for fishing and boating -– all within walking distance of Bronx homes.
"It's family-oriented," said American Turners Club trustee John Maloni. "We've got old-time members, and their kids are members now."
But with the economy in trouble and developers eyeing the area's valuable shorefront properties, these little-known clubs are struggling to stay afloat.
Several independent beach clubs have sold their valuable property to developers. Of the surviving clubs along Clarence Avenue in Throgs Neck, several belong to larger national organizations or societies, which has so far helped them avoid selling their land.
"There's five beach clubs left," said long-time Turners Club member Frank Polgano. "There used to be nine or ten. The economy is destroying us. Not only is it expensive to run the place, but it's tough for people's personal expenses too. We're on the verge, we're extremely close."
Developers Versus the Community
Many locals fear their clubs will fall victim to the development in Throgs Neck. An influx of new families in the neighborhood over the last five years has made it especially appealing to condo developers and chain retailers.
"The area has been discovered," said Kenneth Kearns, district manager for Bronx Community Board 10, which covers Throgs Neck and the surrounding communities. "It was traditionally a nice viable, economically stable community of one to three family homes and mom-and-pop stores. And now it's changing because the city is changing."
Local businesses like the Silver Beach Deli now compete with the national chains lining Tremont Avenue: McDonalds, Wendy's and Dunkin' Donuts.
According to Kearns, the easy commute and the larger homes are wooing Manhattan families. He predicts that the new Yankee Stadium will spur even more development.
"Every day there's something else that wants to come in, and every day there's a fight," Kearns said. "It all engenders great controversy. People come in with lofty ideas for what they want to do. It usually runs counter to what current residents want. So there's a lot of debate and a lot of concern, and a lot of issues have to be resolved."
The district was recently downzoned to in an effort to limit development and crowding. But locals still worry about change, especially as the beach clubs – a summertime staple for many families – seem threatened.
Clubs at Risk
For a century, beach clubs provided a place to swim with the family next door. Members say they foster community and provide convenient and private alternatives to Orchard Beach or the public pools a few miles away, which are swarmed on the summer's hottest days.
But neighborhood changes have had an effect.
"It's not like it used to be in the '80s and '90s when the club was full of families and kids," Polgano said.
The Turners Club no longer has a waiting list for membership, and it suffered more than $100,000 in losses last year, according to Polgano. Maloni declined to confirm that number.
"People can't afford the luxury anymore. We have fewer members, and the bills are going up," Polgano said. He estimated a yearly membership costs around $1,000.
Unlike other areas of the Bronx -- a county notorious for its poverty --Throgs Neck boasts upper and middle class families who can afford such luxuries. In 2007, 41 percent of households had incomesof more than $75,000.
The economy, though, is not the only reason for declining membership. As new families move in, many of the kids who grew up in the area are leaving.
"We live in a very mobile society," said Lloyd Ultan, history professor at Lehman College and Bronx borough historian. "Usually in these clubs, memberships go through the family, from father to son, mother to daughter. If the sons suddenly live in Oshkosh, it's a long walk back to the Bronx."
"The kids move to Westchester, and the people who are all up here are grandparents," Polgano said. "The parents aren't joining anymore, and when member families move away, they're not really being replaced."
Sticking to the Neighborhood
Facing shifts in local dynamics, the clubs are hesitant to expand their outreach beyond the neighborhood, reluctant to tinker with their insular, community focus.
"They're very happy to be on their own and enjoy what they have," Kearns said.
It's no accident that the clubs aren't common knowledge. Local hang-outs, similar to neighborhood bowling alleys or card clubs, they aren't pitched at people from outside the surrounding community.
"The clubs are only for the people in the neighborhood," Ultan said. "Most members are just living a stone's throw off the waterfront anyway, so the clubs are just part of the neighborhood. It started out to serve the people in the neighborhood, and it was a way where people could get together and all had equal access to the water among themselves."
Membership applications include a vetting process. At the Danish American Beach Club, applicants need to be sponsored by a five-year member in good standing.
As Carol Richardson, manager at the Turners Club, recently said to a reporter, "It's a strip of heaven that we try to keep secret."
Even with their institution struggling to survive, Turners trustee Maloni said the club will not change tactics or expand outreach, continuing to confine advertising to local churches and the Bronx Times.
"We're going to stick to the neighborhood," he said.
Â