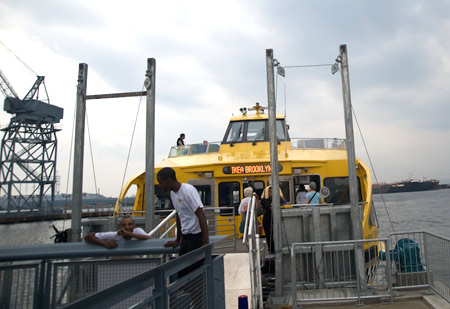 Photo by Julia Vitullo-Martin
How does a thriving, growing locality retain the attractive, small, independent businesses that helped make it distinctive while permitting - even encouraging - the entry of large, inexpensive, national chain stores to serve customers' everyday needs? That retail conundrum confronts otherwise prosperous urban communities throughout America - not to mention Manhattan. Now, across the East River, Brooklyn appears to have quietly solved the puzzle.
And can this be done without converting a unique area into Generica (the definitely pejorative term for "Generic America," meaning all those features, like strip malls, that are identical no matter where you go in the country)?
Brooklyn's answer seems to be yes, promoting a "my way" kind of thing with its retail sector - big stores and small, chains and independents, ordinary and idiosyncratic, garish and subtle, high end and low, traditional ethnic, cool retail, small handicrafts, hip entertainment, etc. Statistically Brooklyn still looks "under-retailed" compared to Manhattan, says The Real Deal, since Manhattan has 52.2 square feet of retail space per capita, and Brooklyn has only 10.8. But downtown Brooklyn and Williamsburg are starting to compete hard and successfully.
If Brooklyn were an independent city it would be the nation's fourth largest. Instead, it's been until recently a junior partner to Manhattan, which has always been far richer though smaller. But for the last few years Brooklyn has been going through a startling economic resurgence that included the addition of some 660,000 square feet in retail space last year alone -- versus 33,000 square feet in 2006, according to Marcus & Millichap Retail Research.
Destination Shopping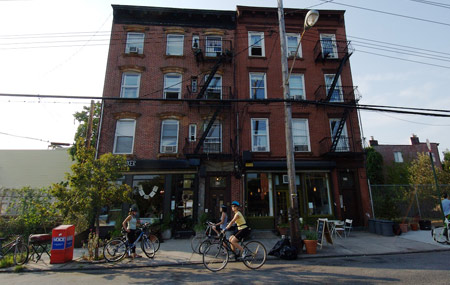 Photo by Julia Vitullo-Martin
So many Manhattanites head across the bridge that you could easily conclude that Brooklyn has become New York's destination shopping borough. It certainly looks that way from the crowded deck of the Water Taxi that carries passengers bound for Ikea from Pier 11 at the South Street Seaport to Red Hook. Once docked, shoppers keyed up by the stirring trip through the harbor, can head into Ikea - perhaps the most spectacularly situated big box store in America - or make the 10-minute walk to the Fairway supermarket, located on the waterfront in renovated 18th century warehouses.
But the startling part is that Brooklyn seems to have developed its industrial waterfront into a retail mecca while still nurturing its great ethnic heritage -- old and new. Its traditional neighborhoods have never lost their top rankings as foodie capitals -- Greenpoint for pierogi, Carroll Gardens for cannoli, Canarsie for fish, to name the obvious -- even as new ethnic immigrants have enlarged the feast. Thus, a few blocks south of Ikea, past the long-unused grain silo (soon supposedly to be a concrete factory), lies one of the culinary treasures of New York: the Red Hook food vendors, who in good weather serve horchatas, pupusas, huaraches and other Latin treats in the Red Hook Park ball fields at Bay and Clinton.
It's true that the losses of beloved mom-and-pop stores vex many neighborhoods, as a photographic exhibit, "Counter/Culture: The Disappearing Face of Brooklyn's Storefronts," documents.
Yet an extraordinary number continue to thrive, particularly those that have "a real niche," Jonathan Bowles, director of the Center for an Urban Future, told the Daily News. "The businesses that get hurt when chains move in are the ones that don't change with the times," said Bowles. "They don't update their inventory to appeal to the new constituency; sometimes they have signs that are decades old."
Many experts think that, in addition to providing diversity on the retail scene, smaller retailers provide tangible benefits. Civic Economics, a Chicago-based economic analysis and strategic planning firm, argues that local business owners keep more profits in the community offering better service.
Attracting Stores
Anther part of the story is the entire CoolTownStudios sensibility, which seeks to promote natural cultural centers and gathering places and finds its very epitome in Brooklyn's Dumbo (Down Under the Manhattan Bridge Overpass, the small area between the Manhattan and Brooklyn Bridges on the East River). Excellent restaurants, bookstores, bars, small manufacturers, and music and art venues are sprinkled through the former industrial area that was forlorn until the late 1980s. Dumbo reaped an average price per square foot in the second quarter of 2008 of $917, says the Real Estate Board of New York, making it Brooklyn's most expensive neighborhood. Second was Brooklyn Heights at $834. All those high-paying residents are good for retail.
Robert Walsh, a Brooklynite who is commissioner of the city's Department of Small Business Services regularly detours through Dumbo on his morning run. "Dumbo's developer," he says, speaking of David Walentas, "really knew how to get the retail he needed. When he saw a business proposition he liked, something that would improve the neighborhood, he'd offer the owner or entrepreneur a bargain rent. The result is that you're now you're looking at one of the most successful retail areas of New York."
Walentas laughs on being told of Walsh's theory. "There wasn't anything in this neighborhood when we bought in but a little tertiary manufacturing that was going out of business. We needed to make the streets attractive for condos. My wife went to a gym in the Heights, where she spotted Peas & Pickles Grocery, an excellent market. We offered them two years free rent to open here and a very low rent after that. We made them money and they made my neighborhood."
Walentas relates a series of anecdotes about daring, young entrepreneurs with a vision - Jacques Torres Chocolates, Mikey's Hookup - and his willingness to subsidize them, at least in the short run. ("It's not forever," he adds, just in case there's any misunderstanding.)
And while his company, Two Trees Management, hasn't rented to any Generica chain -- Dumbo's Starbucks is in someone else's building - Walentas regards Ikea as "great," asking why should families have to go to New Jersey, when Brooklyn had all that vacant industrial land sitting on the waterfront? "Middle-class families just want to stay in the city," he says. "They want to shop where they live."
City Help for Retail
The retail boom would never have happened without the city's aggressive rezoning, which simultaneously sparked the residential boom, bringing in all those customers, and allowed commercial development in former industrial areas along the waterfront. Walentas says it took 20 years to obtain the rezoning of One Main Street to allow residential "even though Jesus himself couldn't have saved shipping and manufacturing in this neighborhood."
Even if the current financial crisis holds rents down in the short run they will surely rise over the long run. Still, rents are likely to remain substantially below comparable space in Manhattan. Circuit City at Triangle at the Junction -- the intersection of Flatbush and Nostrand avenues -- recently signed a lease for $100 per square foot, about half that for comparable space on Manhattan's West Side. Urban Outfitters is paying $90 per square foot on Atlantic Avenue, and Duane Reade signed at $50 per square foot on Myrtle Avenue, which the New York Times recently called "a crossroads of the gentrified and the ungentrified.")
The Bloomberg administration did something else that has been far less heralded than the rezonings: It figured out how to link up the local workforce with new retailers. This had two effects. First, it provided a crucial service. Second, it undermined community resistance to development by delivering a formerly elusive benefit - jobs.
In mid-2003, the Bloomberg administration quietly transformed the Department of Small Business Services from an old-fashioned, do-nothing, so-called employment center to an aggressive, private-sector oriented, human resources-like division that finds, screens and interviews candidates for the new retail jobs. Retailers say the agency has saved them enormous amounts of time and money. Modell's Sporting Goods, for example, staffed its new store on Fulton Street mostly from applicants interviewed at small business serves' office down the road at 9 Bond Street.
"We're a hometown sporting goods store," says Thomas Tilley, senior vice president for human resources. "We try to hire to and from the community, to be as local as possible."
Modell's looks for applicants who will be able to "communicate with the customer - people who listen well, are respectful and responsive." Tilley notes that Modell's keeps close track of costs per hire - which were reduced by about a third by small business services.
When the Fairway Market was planning its Red Hook store it was determined to hire from the neighborhood, says Ruth McGonigle, head of human resources. "We couldn't have done it without the city's help, screening and supplying over 500 people for us to interview. We took our chances on people who had absolutely no experience, but they struck us as being dependable, as having good attitudes. We hired 85 cashiers, and bused them for two weeks to other stores for training. We're very pleased."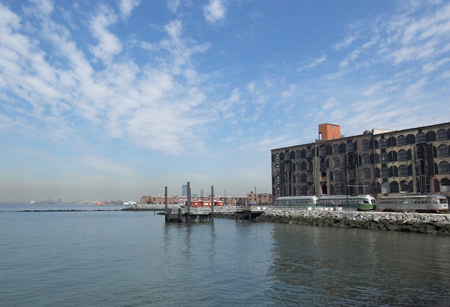 Photos by Julia Vitullo-Martin
Many residents of Red Hook complain about the traffic resulting from the new commercial development, but Sam Schwartz, Ikea's traffic consultant, says, "The horrible predicted jams never materialized. People are biking, schlepping, ferrying, busing - and some are driving. But there's been no discernible changes in the quality of traffic a few blocks away." Will this change as Ikea reduces the Water Taxi schedule, making trips by water far less convenient and trips by land an obvious alternative? Possibly.
Alexander Lopez-Bey, an ex-Marine and a lifelong Red Hook resident who works for Ikea, says, "Ikea gave jobs to the community. A quarter of the people in my building work here. They see the bigger picture. They don't want a life of sitting at home doing nothing. Now they receive a paycheck and good benefits. They're self-sufficient. They get training for the future and the opportunity to move up in the company. Ikea helps the individual get to the next level."
He says he's proud to work for a good employer who promotes from within and develops employee loyalty: "I look at all the shoppers who come here who don't know Red Hook and who are so surprised by how nice it is. You know, Brooklyn is the New Manhattan."
Getting through the Financial Crisis
The pace of "the ongoing transformation of the market" in Brooklyn may slow in the months ahead, warns Marcus & Millichap, due to "credit market difficulties" and the softening of the residential market. Total employment in Brooklyn is forecast to contract 0.2 percent, or about 1,000 jobs, versus last year when 1,000 jobs were added.
According to The Real Deal, brokers say that retail in Park Slope's Fourth Avenue, Williamsburg, Dumbo, and downtown Brooklyn remain strong, mainly because the surrounding residential market is strong. Ultimately, the most successful neighborhoods will be those that follow the Dumbo model of integrating commerce and residences.
Julia Vitullo-Martin is a senior fellow at the Manhattan Institute.Â