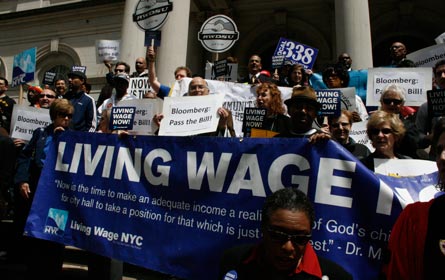 Photo by Jane C. Timm
Council Speaker Christine Quinn is determined to keep politics polite — even if that means storming out of a press conference.
At a rally for the Living Wage legislation, Quinn declined to give her prepared remarks and excused herself after hearing a protester call Mayor Michael Bloomberg "Pharaoh Bloomberg" because he plans to veto the bill and has threatened to take it to court.
Turning around to face the crowd, Quinn demanded for an apology and was met with silence. "Democracy gives everyone the right to have differing opinions, and I'm not going to participate in name calling," she said before leaving City Hall steps amidst boos and puzzled looks.
The Living Wage bill, which raises minimum wages for jobs in projects that are subsidized by the city, marks the Speaker's latest and strongest stand against the Mayor as she leads up to her expected mayoral candidacy.
Battling for Fair Wages, Political Office
Advocates of a Living Wage have been fighting for the bill for over two years. Quinn's support, which was only just garnered earlier this month, required a significant round of edits to obtain — particularly ensuring that only owners and not tenants in projects subsidized would not be required to pay higher wage. In the end, Quinn's office estimates the legislation will only affect an estimated 600 workers a year.
Bloomberg has expressed unwavering opposition to the Living Wage bill and said last week he would veto the bill and take it to court, when he vetoed another fair wages bill that would have boosted minimum wages for employees in buildings where the city subsidizes the project or leases the majority of office space.
Under Quinn, the Council has overridden just 15 mayoral vetoes in the six years since she was elected Speaker. Three of those overrides have come in the last five months and yesterday's bill, along with the other fair wage bill passed last month, will add another two to the tally.
Just as today's legislation marks the Council and Quinn's latest stand against the Mayor as she prepares to run for the office he's held for the last three terms, the Speaker's outburst seems to reflect Quinn's efforts to preserve her long-held relationship with the Mayor and his supporters.
Commenting later on her outburst, Quinn said that she felt strongly that government needed to be "civil, not personal. And that doesn't involve name-calling."
Quinn and the Mayor's relationship has often been criticized for being too close, but Quinn said yesterday that much of her success has come from the pair's "commonality and civility," on issues like passing each year's budget. "I'm very proud of my record — the part where we agree and the part where we don't agree."
The Impact
Though the day's headlines will go to Quinn, the bill's passage is quite personal and important for 29-year-old Kimberly Ortiz and her two children.
The bill would raise the hourly wages for jobs created in city-funded developments to $10 an hour with health benefits or $11.50 an hour without them. Studies show that that is what New Yorkers need to earn to stay out of poverty. The current minimum wage of $7.25 an hour forces many people who work to live in poverty, the bill's advocates say. The requirement only would apply to future jobs in developments, such as shopping malls, that received a tax break or other subsidy from the city.
Ortiz has worked for the last five years at the Statue of Liberty's gift shop making just $9.25 an hour. She has struggled for years to support herself and her two children, using food stamps to make ends meet and forgoing visits to the doctor because she can't afford it.
On the steps of City Hall, Ortiz was cheerful and excited.
"This is the first time in a long time that I'm not angry on these steps," Ortiz said. "Mayor Bloomberg calls this bill a job killer and all I have to say is that jobs that keep people in poverty should have died a long time ago."