"So most people look at this as a David and Goliath sort of thing," Fernando Ferrer was saying last month, describing the mayoral race to a group of reporters. "But I do remember my Bible studies, when all the smart money was on Goliath, the guy with the shiniest armor, the biggest guy. All the Philistines were on the sidelines placing bets on their guy. And here was David. And the rest is history."
To an outsider, it might seem strange for Ferrer to liken Mayor Michael Bloomberg to a nine foot tall Biblical giant – for one thing, the mayor is 5'7'' (at best), three inches shorter than Ferrer. It is also hard to call Bloomberg a Philistine when he has donated so many millions of dollars of his personal wealth to the arts. But one can understand why Ferrer might feel as though he's armed only with a slingshot. Ferrer had spent $1.4 million on his campaign at the time of the last campaign finance disclosure in mid-July. Bloomberg had spent $23 million.
If the mayor's campaign looks big and shiny to his opponents, it is for one main reason: his money. Bloomberg has spent about six times the total amount spent by the four major Democratic candidates combined. Indeed, the money he has contributed to his campaign so far is reportedly 40 percent of all the money contributed by anybody and everybody to almost all 200 or so local political campaigns this year.
His television ads alone – which started running in May -- have cost him $8.8 million; no other candidate had even run a TV commercial until Ferrer aired one last week. And if several of his opponents have stumbled lately over their campaign literature, the mayor's glossy eight-page booklet is even more impressive than it looks: Whole pages of it are different depending on which specific neighborhoods it is being mailed to. Italian neighborhoods get testimony from Rudolph Giuliani; Latino ones get Herman Badillo.
Overall, Bloomberg is expected to spend $100 million -- two and a half times what John Kerry's campaign spent securing the Democratic nomination for president.
Bloomberg's billions have become a major campaign issue, as they were in 2001, possibly the only issue that puts the mayor firmly on one side and his challengers united on the other:
Anthony Weiner's Web site keeps a running tally of the mayor's campaign spending, a la the national debt clock. The site also has a video clip entitled "Ideas Not Money," where Weiner stands in front of a Bloomberg ad and outlines part of his platform;
Gifford Miller alternately describes the mayor's campaign spending as "obscene" and "flabbergasting";
Conservative Party (and erstwhile Republican Party) mayoral candidate Thomas Ognibene was asked about the major difference between himself and the mayor at last month's mayoral forum on poverty issues (Bloomberg was invited to the forum but did not attend). "He's got $6 billion and I don't," Ognibene replied. "...I think he thinks that the Republican Party and the people of this city are for sale." [Read a transcript of the poverty forum].
"Bloomberg spent $74 million running for mayor in 2001. That's an enormous amount," Ferrer said recently. "When the reporters asked him why, he said 'well, I have to get New Yorkers to get to know me.' Now he's going to spend tens of millions of dollars more even than that in an effort to get New Yorkers to forget what kind of mayor he's been in the last three and a half years."
The incumbent is attacked for his wealth itself, such as in an email sent out by the state's Democratic Party after it found out how much Bloomberg spent to set up his campaign office: ''Only an out-of-touch billionaire could afford to spend more than $1 million on office remodeling," the email read. "No amount of campaign propaganda will convince New Yorkers that billionaire Mike Bloomberg understands their cares and concerns."
It's his campaign spending, though, that is generating much of the criticism. In effect, his opponents accuse Bloomberg of trying to buy his office.
But even some of his supporters (and those who keep officially neutral) worry about the long-term effect that his campaign spending might have on a program that, though just 17 years old, is considered in some quarters to be a hallowed institution -- the campaign finance program.
Last week, the city's Campaign Finance Board sent out $13.4 million to 53 candidates in various city races -- money that many of them would surely say is the only reason they are able to run for office.
Bloomberg has not only opted out of this program; he also has questioned its value.
Gene Russianoff of the New York Public Interest Research Group is (like the city's other good-government gurus) not pleased with Bloomberg's snub of the program. "At its worst, it certainly chips away at the campaign finance system," he said.
"I'm not chipping away," Bloomberg shot back when told of Russianoff's remark. His wealth, Bloomberg said, gives him a level of independence that his predecessors have not had; he is beholden to nobody. And besides, he added, "I have a right to spend my own money."
CAMPAIGN FINANCE IN NEW YORK
Campaign finance reform became a major issue in New York City quite suddenly one day in January 1986 when Donald Manes, then borough president of Queens, was found bleeding in his car near Shea Stadium. Manes, who had recently being caught taking bribes from companies seeking city contracts, had slit his wrists with a kitchen knife. He later died of his wounds. For the next several years, the seamier side of New York politics was exposed again and again, with more than 25 public officials indicted on corruption-related charges.
In response to such systemic corruption, Mayor Ed Koch decided to pursue a campaign finance program. While the scandals were not directly related to campaigning, the mayor hoped that tough campaign restrictions would cut down on two problems they had exposed – one, that private interests were using money to influence officials; and two, that the political system was inaccessible to outsiders, who to that point had found it difficult to run for office against well-financed political clubhouses.
"I think there is a perception ... that there's too much of a closed system in which access to government is dependent on access either to private money or the political party apparatus," said Koch's Corporation Counsel Peter Zimroth at the time. "I think it is incumbent upon us to look for ways to open up that system to increase the competition, to increase the number of people willing to run for office, to increase the ability of less-rich people in this city to participate in campaigns."
The Campaign Finance Board was established in 1988. Its program works by offering to supplement the money that candidates raise with public funding if those candidates agree to limit the both what they raise and spend, and to put it all on the record. They are also required to take part in debates. The program, which is often cited as a national model for local campaign finance reform, is lauded for its rigor and its ability to adapt.
In New York, participation has become somewhat of a political imperative, said Democratic political consultant Hank Sheinkopf. The editorial boards of newspapers and good government groups "hold the campaign finance regulations sacrosanct," he said, "and to cross them by opting out would result in not getting valuable endorsements."
Evidence of the program's effectiveness, say its boosters, is the way that it has held officials accountable. Mayors David Dinkins and Rudolph Giuliani were both fined by the program for inappropriate campaign spending. They each struck back – Dinkins by firing then chairman Joseph O'Hare (he was reinstated); and Giuliani by attempting to cut the program's budget and move it to Brooklyn (he failed).
But if some candidates have bristled at the board's aggressiveness, increasing numbers have found that the program's benefits outweigh its burdens. The number of participants rose from 57 in its first year to a high of 353 in 2001 when the program – along with term limits that left an unprecedented number of city offices to open competition – led to a full-scale changing of the guard in city government. This year, 188 candidates are participating; 50 are on the ballot without taking part in the program.
But in 2001 and again this year, there has been much attention dedicated to a certain elephant in the room -- the billionaire who won't participate.
BLOOMBERG: A NEW CHALLENGE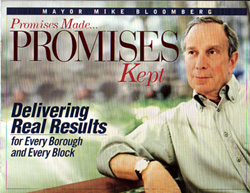 When Michael Bloomberg ran for mayor in 2001, he became the first major candidate to do so without participating in the campaign finance program since its inception. Instead of accepting public funds, Bloomberg spent $74 million out of his own pocket. He edged out Democrat Mark Green, who spent $16 million, about $4.5 million of which came from the campaign finance program.
Because he opted out of the program, Bloomberg could have also chosen not to take part in the Campaign Finance Board's debates, required of those who take public funds. But Bloomberg did debate Mark Green in 2001, and he says he will debate his Democratic opponent this fall.
Green's campaign complained that it was outgunned in the weeks running up to the 2001 election, and Bloomberg's self-financed campaign caused concern among advocates of campaign finance reform who saw his private wealth as a new challenge to the program's relevance. "But," said Rachel Leon of Common Cause, "I believe it is a challenge that the program survived virtually unscathed."
In assessing whether the program works, said Nicole Gordon, executive director of the Campaign Finance Board, "the question is whether all serious candidates have the opportunity to get their message out." Paul Ryan of Campaign Legal Center, and author of Statute of Liberty: How New York City's Campaign Finance Law is Changing the Face of Local Elections, said that in 2001 the program did this: "There were few voters who didn't know who Mark Green was."
Still, concerns remained, and, late last year, the City Council made an attempt to address the problem of Bloomberg's money. They tread carefully. The United States Supreme Court has ruled that mandatory limits on how much a candidate can spend violate the first amendment of the Constitution. The campaign finance program can put such limits only on candidates who receive public money. If someone with access to their own resources rejects public financing, there is little the city can do.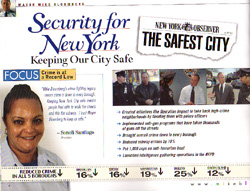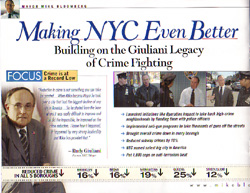 Page 4 of Bloomberg's 8-page glossy brochure -- in Sunset Park, above; in Carroll Gardens, below.
Over the mayor's veto, the City Council decided to give participants in the program a higher matching fund if they face high-spending candidates. Bloomberg 's Democratic opponent in the general election will get $6 in public funding for every $1 he or she raises. The council's law also lifted the expenditure limits for candidates facing a non-participating opponent who spends over a certain threshold, which Bloomberg has already surpassed.
For the first time, all candidates have to disclose their contributions and expenditures, whether they get public financing or not. Information about Bloomberg's contributors contain no great revelations – a search on the Campaign Finance Board Web site shows ten contributions, all from a city employee named "Bloomberg, Michael R". But as opposed to 2001, when Bloomberg did not have to disclose what he was spending, the fact that his campaign has spent $412,100 on polling expenses and $53,600 on buttons and stickers this year is now a matter of public knowledge.
There was also a special category created for Bloomberg, who said he didn't want to take the public's money: the "limited non-participant." The council hoped to entice the mayor into accepting spending caps by setting up a program that would give his opponents less money if he did so.
But Bloomberg decided against participating at all, which makes him the first sitting mayor to opt out of the program.
REAL CAMPAIGN REFORM?
When critics attack Bloomberg for his wealth, his spokesman William Cunningham replies with calculated digs at his political opponents: "They are jealous. He made that money, he doesn't take it from any special interests, he doesn't take it from landlords, he doesn't take it from people who have contracts with the city."
When he is attacked for his campaign spending, Bloomberg questions whether the system is achieving its purposes.
"New York likes to consider itself a national leader in campaign finance reform," he said in a speech at the Fund for Modern Courts. "But I think it's fair to say that on the most basic criteria, restricting the influence of special interests, we have fallen behind many other jurisdictions."
Far from opening up elections to outsiders, Bloomberg says, the current electoral process in New York "is an inside baseball game. This is the party bosses, they pick the people in every place." Real reform, he says, will come with the institution of non-partisan elections – which he pushed for in 2003, unsuccessfully. "Short of that, I don't care how much matching funds [you give someone].
Late last year, Bloomberg took up the cause of restricting funding from city contractors. Regulating so-called pay-to-play has been on the campaign finance board's list of things to do since 1998, when city voters called for such regulation in a referendum. To date, however, the board has not managed to form a real response.
The mayor recently proposed a plan that would make candidates responsible for disclosing contributions they get from those doing business with the city, and would cap such contributions at $250. The city has moved forward on creating a computer system that would track city contracts of over $100,000. This would not affect the self-financed mayor, but it would be a burden on his opponents.
Civic groups have been receptive to the general idea of the mayor's proposal, if not the specifics, and the campaign finance board has lauded his administration's work on establishing a computer database as a good first step.
Investigative journalist Wayne Barrett called the proposal the best opportunity for reform in the program's history – even if the mayor is pushing it for self-serving reasons.
"To Bloomberg, this proposition offers the added advantage of distracting attention from his own wholesale disregard of decent campaign finance," he wrote in the Village Voice. "As impure as his plausible motive might be, and as flawed as the versions of his initial plan are, Bloomberg is again reaching outside the box for a transformation of city politics that will, if tried, be appreciated long after he is back to being a billionaire."
Despite a hearing earlier this year, however, the proposal has gained no momentum in the City Council. The campaign finance board doesn't believe the database of city contractors is ready yet, and has not even formed a solid definition of "doing business with the city." The mayor's proposal has been shelved until after the election.
THE FUTURE?
Some say that Bloomberg's fortune has not undermined the campaign finance system where it really counts. "The fact that the campaign finance program may not be working in an ideal fashion in the mayoral race doesn't indict the effectiveness of the whole system," said Paul Ryan. "It's working for the people who need it most" – the races at the level of City Council.
Others are not as sure: "The question New Yorkers have to ask themselves is do we only want candidates who are independently wealthy, or do we want a system that actually encourages grassroots campaigns?" said Leon of Common Cause.
There are plenty of signs that finding a way to help candidates of modest means compete with self-financed opponents may become a big issue in the future. The United States Senate has long been referred to as a "millionaires club", where personal wealth is almost a prerequisite for membership. Across the Hudson, two multimillionaires are currently competing for the governor's seat in New Jersey. And as the Republican Party begins looking for a successor to Governor Pataki, the personal wealth of the potential candidates is being taken into account.
The party is considering grooming billionaire Tom Golisano for a gubernatorial run "if for no other reason than the man is rich," state GOP chair Steven Minarik told reporters late last year. "I would be willing to consider anyone who could bring $100 million to the table."
Related Article
Pushing Papers and Principles (May, 2001 article on the Campaign Finance Board) Â