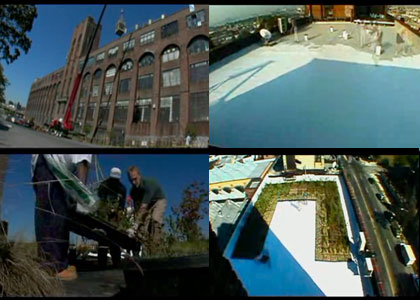 Living in a neighborhood plagued by pollution and poverty, South Bronx residents would like to see more green in their midst – namely, trees, open space and money. Mayor Michael Bloomberg's PlaNYC2030 would seem to provide it. The plan calls for a million new trees in neighborhoods across the city, with special focus on underserved neighborhoods like East Harlem and the South Bronx. Recently, the city also announced a new training program that will provide horticultural jobs for 30 New Yorkers.
Despite those lofty goals, Sustainable South Bronx (SSBx), a long-standing local environmental justice group, finds that PlaNYC 2030 falls short and even undercuts its own efforts to ensure a sustainable future for the South Bronx. "From our perspective, [the plan's creators] really missed the ball on the issue of what sustainability means," says Miquela Craytor, SSBx's executive director.
Training Environmental Stewards
As an example, she cites the administration's tree planting efforts. Craytor points out that new street trees slated for the Bronx do not compensate for the green space lost to development projects like the new Yankee Stadium. Moreover, only 50 percent of new street trees survive, mainly due to lack of maintenance. This means that, unless the city provides money to care for the new trees, they could die and leave the neighborhood no greener than it is now.
The city is addressing maintenance through the training program, which launches this November and its Summer Youth Tree Steward program. This year, its first, that program employed approximately 35 youths from the metropolitan area for six weeks. Some experts wonder these initiatives will provide sufficient staff and funds to maintain one million trees. Staffers at SSBx, which has operated its own highly successful tree stewardship program for the past five years, also wonder why the city created a new program instead of working with their organization's initiative.
These are just two of the million questions SSBx is asking about the sustainability of PlaNYC 2030 and how it will address the very real problems of their community.
Approximately 40 percent of South Bronx residents currently live at or below the poverty level. Not coincidentally, the neighborhood houses 15 waste transfer stations and four power plants, and 60,000 trucks travel through it each week. In 2001, long-time South Bronx resident, Majora Carter began SSBx in order to create more green space in her neighborhood and advocate for neighborhood improvements. To assess residents' biggest concerns, SSBx's fledgling staff held a series of public meetings. The response was clear – in addition to cleaner air and more parks, residents wanted jobs.
In response, SSBx launched the Bronx Environmental Stewardship Training in 2003. A 10-week intensive job-training program, it confronts environmental, health, poverty and quality of life problems by equipping urban residents to work in "green collar" jobs such as ecological restoration, hazardous waste cleanup, green roof installation and maintenance, urban forestry and landscaping.
Importantly, the program targets people who are facing barriers to employment. "These are folks who have been incarcerated or on public assistance," Craytor explains. "When they rebuilding the Bronx and the city through ecological restoration," she continues, "They're also rebuilding their lives and it affects not just them but their families as well."
The training runs quarterly, graduating approximately 60 trainees per year. So far, it has placed 85 percent of the graduates in jobs, and another 10 percent have gone on to college.
As successful as the environmental stewardship program has been so far, however, it cannot place its trainees in green jobs if those jobs do not exist. While it seems as though PlaNYC2030 would create such jobs, SSBx staffers find that, in many places, PlaNYC2030 misses the chance to help make a "green collar" workforce into reality. This seems surprising considering the attention that even presidential candidates have paid to developing green collar jobs, and SSBx's national notoriety (Its founder, Majora Carter won a 2005 MacArthur Foundation "genius grant" for her work in that area).
Sustainability and Sewers
As an example, SSBx cites PlaNYC2030's treatment of combined sewer overflows. Every year, stormwater overwhelms the city's sewage system, causing approximately 27 gallons of raw sewage and polluted water to be discharged into New York City waters. This is a particular problem in the South Bronx.
"Everything on the street -- oils, anti-freeze, trash, metals -- all that gets released into the river untreated," explains Craytor. Not only does that reduce water quality overall, but "it means kids can't play out in the river on a summer day, or on the beaches."
Just before the release of PlaNYC2030 in April 2007, SSBx joined over 40 environmental and community organizations from across all five boroughs to form Storm Water Infrastructure Matters (S.W.I.M). Created to ensure swimmable waters around New York City, S.W.I.M advocates for sustainable storm water management measures such as green roofs, rain gardens, disconnecting rain gutter downspouts from shared drains (which tend to overflow), and porous pavements. All of these treat storm water as a resource to be captured and re-channeled to help create and maintain green space. Not only does this approach keep the city's waters clean, but green space also cools and beautifies the city, provides recreation and improves air quality. And, the retrofitting needed to put these mechanisms into place creates green jobs.
PlaNYC2030, however, fails to adopt such an approach – it expands the capacity of current water treatment plants rather than seeking innovative alternatives. This, Craytor contends, is the opposite of sustainable thinking.
"Every dollar we put into expanding sewage treatment facilities is one less dollar to put into doing something that has multiple benefits. Do we want to invest in one thing that only gives one type of yield?" she asks. "Or do we want to invest and spread the rewards in terms of cleaner air, reducing the heat island effect, providing jobs, creating habitat space and improving the quality of life, and the psychology of our community – seeing green space as opposed to just the urban gray concrete fabric?"
SSBx is working to boost PlaNYC2030's sustainability. On June 24, 2008, the state legislature agreed to provide tax credits to offset $4.50 a square foot, approximately 25 percent of the cost of installing a green roof (roofs that are either partially or completely covered with vegetation). By capturing stormwater, green roofs prevent it from entering the sewer system, while also keeping buildings warm in the winter and cool in the summer. Not coincidentally, more green roofs in New York City also mean more jobs for B.E.S.T. graduates.
Although the tax abatement is only a pilot program that expires in one year, SBBX and SWIM members will try to persuade the state to extend it. In the meantime, they will focus on implementation. "Right now, the important thing is that city agencies make [the credits] easy to apply for, and make the process open and transparent, " says SBX policy director Rob Crauderoff.
Advocates believe that creating clear goals, timelines and ample opportunities for public participation will help PlaNYC2030's suggestions become sustainable realities with a life beyond the current administration. "A plan in and of itself doesn't mean anything," Crauderoff comments. "We want to see the plan as a tool."
Melissa Checker is assistant professor of urban studies at Queens College, City University of New York. She is the author of Polluted Promises: Environmental Racism and the Search for Justice in a Southern Town, Â